Most work life balance conversations are between stay at home versus career mum but what about mumpreneurs? The career mum might struggle with juggling her 9 to 5 (or more like 5 to 9) and missing some milestones. She might have to decide between the sales pitch and her daughter's prize giving day in school.
The stay at home mum gets the chance to attend all the school plays but then stares longingly at her degree hanging on the wall. She wishes there was a way to do more than being just mum. These are starkly painted scenarios but the common extremes of the choices most mums have to make.
We introduce the third group, the mumpreneurs - you know the mum who is not quite a stay at home nor the typical 9 to 5'er. She is the one who is most likely working from home, expected to attend school events because she has her own hours. She is also expected to deliver on her projects and business on time. After all, her customers do not see a mum - they see a business.
This brings us to the need for a new conversation on how Mumpreneurs juggle work-life balance. Here are some of the things to deal with as a Mumpreneur.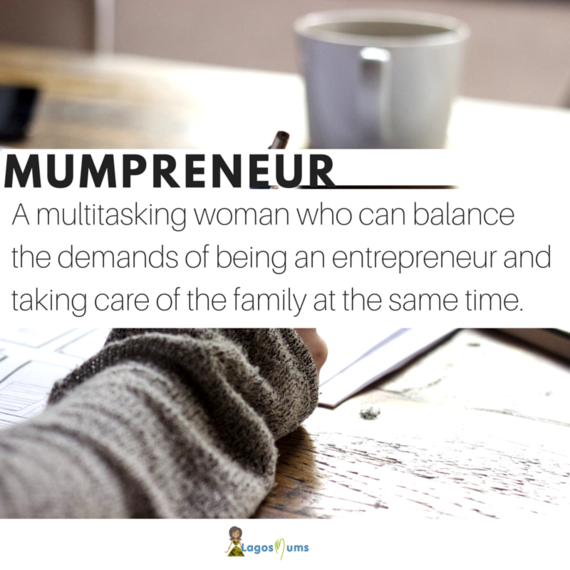 Are you Stay at Home? Mumpreneurs struggle with the working from home bit and the demands of the family. If you have young children, your toddler sees mum at home and expects mum to play with him. If your children are older all they see is mum at home but not accessible. They start to make comments suggesting that you are ignoring them or wonder why you are working all the time! So how do you stay productive while at home with children?
Friends Drop By - When you are a mumpreneur you have more unannounced visitors. You know when your friend is passing through the neighbourhood and decides to pop by because you are home during the day. What should be a quick 20 minutes conversation can turn into a one-hour hangout. Once the friend leaves, you need to get back into the zone, pick up where you left (if you can remember) and deal with the emails that have piled up.
Distractions from staff - If you are a mumpreneur in Lagos you can be sure you will get interrupted because your security guard wants to get permission to buy food or you need more diesel. The gardener shows up and wants to tell you that the weeds are very stubborn. There is always some domestic interruption.
No closing Time - Most mumpreneurs do not really close for the day. Work is at home and also tied to your smartphone, there is no shutdown time. Working from home tends to include working round the clock unless you make a conscious effort to "close" from work mode.
Summer Speciality - Now the summer speciality comes into play because the children are home on summer vacation and unless they are in a summer camp they are at home with you all day! Children on summer are especially demanding. They want to know where they are going, what they are eating, what you are doing and just wonder when you will stop working.
So if you are like me after weeks of having the children on summer break, keeping them entertained and also working round the clock you are just tired. If your children are anything like mine all they see is that mum is always working. All they hear is "guys I am working". Once you are in the house, they think you should be able to hang out with them.
Sometimes we need to remember that we should just take some time off because many of us are guilty of never stopping! So today I decided to do just that and take the day off. Our day off meant that we just hung out together - and I did not work! Let me be honest I did work but at a much slower pace. So we went to the bookstore and bought a few books, we read our new books together, I got my exercise in and we just had fun with each other. It was a nice and relaxing day.
So here I am after tucking them in bed to get a quick blog post in! The life of a mumpreneur is really round the clock and I wouldn't have it any other way. Have you figured out the best way to balance it all?