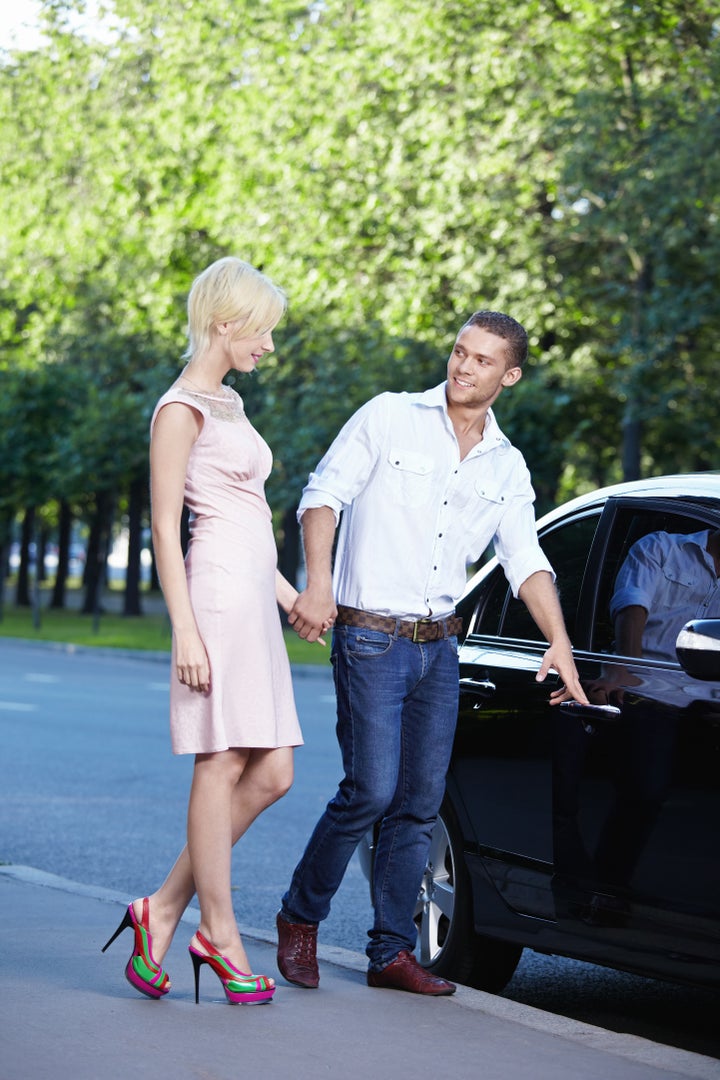 What happens when you're a recent divorcee or you've just ended a serious relationship and you find out that your ex is dating someone younger? What do you do?

This happened to me twice in my journey to find love. The first was less painful. My ex-husband, straight out of our 17-year marriage, did what many 42-year-old men (and women) do: he got into a relationship with a blonde 25-year-old. As I was also dating someone younger at the time, I could not criticize. And quite frankly, I was so relieved not to be living in the day-to-day sadness of my marriage that I simply ignored it completely.

The second time this happened to me, however, it stung. The younger man with whom I had been in a painful off- and on-again relationship for nearly two years had finally ended it. I was devastated. He was supposed to be my big do-over: the Universe's way of saying it was "okay" to end my marriage and break up my family of five into two pieces.

His reason for leaving me? He had met a younger woman. She was also 25 and blonde. And as truth is stranger than fiction, a game show "tile-turning" model. To make matters worse, she was skinnier than I and a born-again Christian.

I could not compete, and at the time I wanted to. During this time of my life I didn't handle it well at all. I did every "don't" in the book, in fact. I called and texted him, screaming in all caps about how he needs to date someone his age and judging his obvious yet early midlife crisis. I did the drive-by attempts at seduction. I looked for dirt about her on the Internet. I questioned my judgment. My divorce. My love-ability.

To ensure you're able to handle your pain with more dignity and perhaps learn from my lessons, here are the official "dating with dignity" guidelines about what you should do when your ex dates someone younger.

1. Remember that your ex's life is really not your business anymore (unless you share something like kids, a dog, or finances)

If you don't have kids with your ex, then it truly is time to move on. This means avoiding any and all Facebook stalking. When you're with people who used to be part of your "couple" friends, avoid the "Have you heard how Ed is doing?" question completely. Although it can be painful to hear news about your ex's dating life, and probably more painful when you hear he's dating someone your niece's age, it's not something to focus on. If you started dating a younger guy, for example, you wouldn't want your ex involved at all.
If there are kids in the picture, make sure you do not ever ask your children about Dad's new gal, including questions about her values, looks or how often she's making them pancakes in the morning.

2. Do not ask for details.
If you've convinced yourself that you're "friends" with your ex, try to avoid casually discussing who they're currently dating. Catching up with each other on your love news can be painful, especially when you have to muster up the fake smile and words of encouragement to mask the stab you feel in your heart. We've all been there and done that.

Dating is totally acceptable to discuss with your high school boyfriend whom you see once a year but not with your most recent serious boyfriend or current ex-husband who just happens to be dating a 25-year-old.

3. Get to the gym.
Let's face it: if you find out that your ex is dating someone much younger than you, you probably start to question your own attractiveness and fitness. (I know I did!) As a result, that may be precisely the time for you to get into the fitness or mental health routine you've been meaning to start since New Year's Day three years ago.

Getting your confidence up is paramount to moving on with your single status. Start that yoga class or try out pole dancing. Get your body and mind back. Do what you can to own yourself and your awesomeness, and do what it takes to fall back in love with the person who matters most: you.

4. Stop griping. It might be a rebound; and even if it isn't, who cares?
You can tell your girlfriends all you want about how the girl who just graduated college is just a pretty face for you ex. While it might be just that, talking trash about your ex and his poor judgment actually anchors the pain right into your heart. Let go of your need to be "right" about this one. Each and every time you tell the story with disdain, it prevents you from being able to move forward, cementing the hurt and negativity in a way that creates a wall no man can ever hope to penetrate in the future.

No matter what type of relationship your ex is having with someone else, your relationship is over for a reason. Creating negative energy around someone you hardly know, or harboring resentment for someone you used to share your life with, is not a very positive way to live your life. Plus, your friends will quickly tire of the "story" and pushing them away them at a time in which you need friendship and support is not going to help your cause.

While some of these relationships last, know that detaching yourself from the outcome as quickly as possible will ultimately help you get on with your life. And if it does end (both did in my case), the satisfaction that does creep in feels a little less yucky because it no longer is a reflection of you, your value or your love-ability!