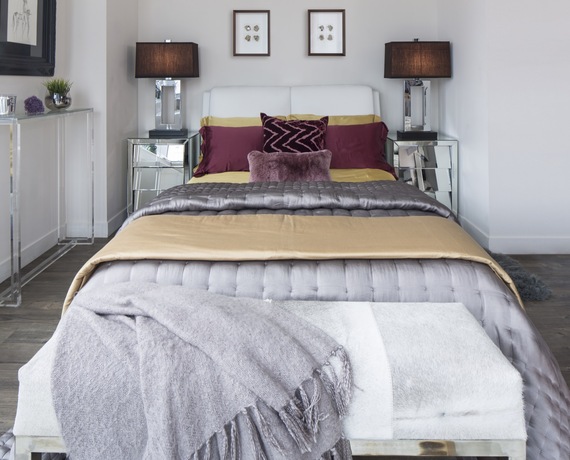 Decorating a bedroom, like most things in a relationship, require compromise. But even if you don't get everything you want, design-wise, that doesn't mean you have to sacrifice style.
Plan your space carefully.
When you're single, you push one side of your bed against the wall and it wouldn't matter. But when you're part of a couple, that's, well, pretty inconsiderate. Make sure to position the bed so that you can each comfortably get in from either side, and leave enough space that you can both have a (matching) bedside table.
Make organization a priority.
In every relationship, one person tends to be neat and tidy, and the other tends to be...less so. Set yourself up for success (and avoid passive-aggressive comments) by adding plenty of organizational accessories for each of you, like clothing hooks, valet trays, and benches with built-in storage. The more spaces you each have to hang and stash your stuff, the less likely you'll be to argue about it.
Choose cozy textiles.
Your bedroom should be warm, intimate space, so go for plush and inviting bedding and accents, like cashmere throws, faux fur decorative pillows, and soft, high-quality sheets. Layer textiles so that the bed feels like a place that you two never want to leave.
Set the mood with lighting.
Skip the harsh overhead lighting in favor of softer (and more flattering!) options like bedside table lamps, and perhaps an additional floor lamp. Get three-way bulbs or lamps so you can adjust the brightness.
Related