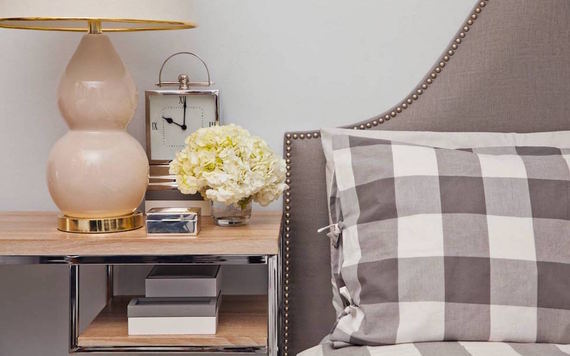 One of the most important qualities of a great host is anticipating your guest's needs-including those that even they didn't realize they had. (Extra blanket? Check. Carafe of water? You bet.) Designing the ultimate guest room is all about creating a space that is tranquil, and makes the guest feel at home. Here's how:
When choosing the color scheme and decor for your guest room, look for inspiration from luxury hotels. That doesn't mean that your space should be soulless and anonymous. Rather, it should feel elegant and inviting. Choose calm, neutral colors for the walls, window treatments, and upholstered furniture.
When it comes to artwork, avoid anything jarring, like an aggressive abstract painting. Instead opt for photography, paintings, or prints with a more laidback vibe. Also, avoid displaying too many photos of you and your family. You want your guest to feel like they're in their own space, not your bedroom.
You want your guest to feel rested and refreshed when they're staying with you, so having a sumptuous bed is key. Invest in crisp, high-quality sheets and a fluffy down or down alternative comforter. Don't go overboard on the pillows (you don't want your guest to have to embark on an archaeological dig to find your bed); two to four bed pillows should do, and you can stash a couple more in the closet in case they need extras.
Opt for simple, neutral bedding, like solid white, which sets a serene tone and will make them feel like they're at a high-end hotel. Avoid intense patterns and bright colors, which can make a room seem too busy, and the opposite of relaxing. Drape a luxe throw blanket across the foot of the bed for a cozy touch, and extra warmth.
Even if you have a jam-packed itinerary, your guests are going to need some downtime. So, if you have enough space, add an armchair or settee to your guest bedroom. Position a floor lamp next to it and it instantly becomes a reading nook where your guest can unwind at the end of the day or before the next activity. Add a side table and top it with local magazines or books so they can get ideas for places they might want to check out, or read up on the history of your area.
Part of making guests feel at home is physically making space for them. If you use the guest bedroom closet to store some of your clothes, clear a space so that they have room to hang up their things or stash their suitcase. Also, leave some dresser drawers or shelves open for them so they don't feel like they're living out of their bag. Consider adding a bench or luggage rack for their suitcase (and so they don't put it on your clean white bedding).
While you're thinking about how to help your guests recharge physically, don't forget about how they'll have to recharge their phones and laptops. If your electrical outlets are inconveniently positioned behind furniture, plug in an easily accessible power strip for all their charging needs.
If you have a TV in the room, leave a list of instructions explaining how to use the remote (sometimes a quick tutorial late the night of their arrival is quickly forgotten). Make sure to include your wireless name and password.
So much of being a good host is in the details. On the bedside table, place a tray with a carafe of water and a glass, plus a few local sweets or snacks. Add a bud vase with a single blossom, or a tiny succulent in a cute planter. For an extra thoughtful touch, leave them a handwritten note welcoming them and telling them how excited you are to have them here. If you're not going to be around when they get up, let them know if you left breakfast out for them, or give them suggestions for local coffee shops or restaurants.
Don't stress yourself out trying to be the perfect host or hostess, whatever that means. Just create a warm, welcoming environment for your guests, and they'll feel right at home.
Support HuffPost
A No-B.S. Guide To Life
Related
Popular in the Community