Ever wondered how to decorate your space like an interior designer would? We're lucky to work with many fabulously talented designers in our offices and we asked one of our favorites, Caitlin McBride, to give us her professional insider tips on decorating a space, using one of her recent living room projects. Using her 5-layer approach, anyone can transform room into a space you'll love.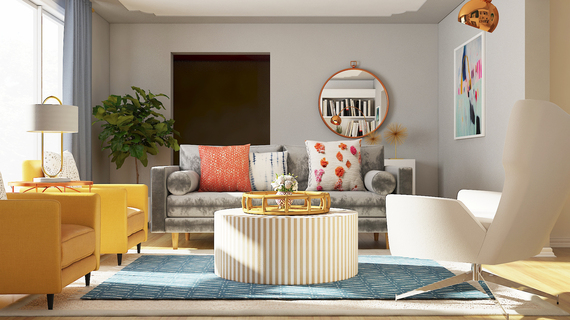 1. Start with your main pieces in neutrals
Since these items - in this case, the sofa and the armchair - are likely to be your biggest investment pieces, get them in neutral colors to give yourself the most flexibility. Anchor the main pieces of furniture in the space to define the area; if your space is large, a great cost effective tip is to use an inexpensive large sisal rug to cover most of the area.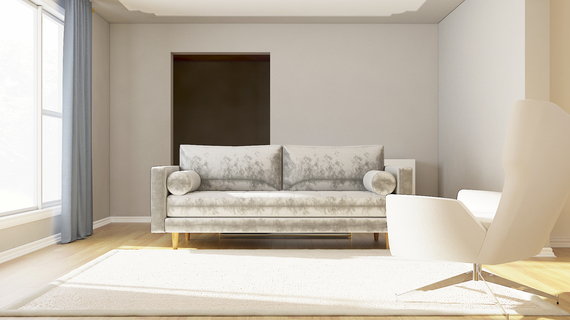 2. Have fun with your smaller furniture items
If you want bold color, pick 2 smaller armchairs in a vibrant shade or print, which gives you more flexiblity than a sofa in the same color. Layer on a colored rug on top of the sisal rug - it's much easier and less expensive to find a smaller rug to layer on top of the sisal rug than to get the colored rug at that larger size.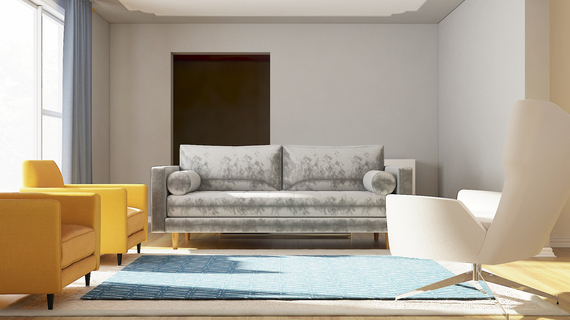 3. Round out the seating with tables
Thoughtful space planning means setting up enough side tables and coffee tables for the seating you have, so that there is a place for guests to set a glass down (or for you to prop your feet up). In this case, since all the seating furniture is angular, the side and coffee tables in a round shape are a nice counterpoint. Don't match the tables either - it's much more interesting visually to mix and match different materials.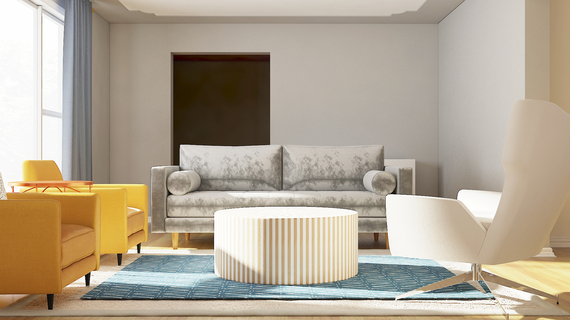 The next layer is important but often overlooked: lighting. This room has fantastic natural light so lighting here is more about task lighting - a gold table lamp for the armchairs and a copper standing arc floor lamp for reading in the armchair. Plus, a mirror is a great way to reflect the natural light and brighten up a darker corner. For a little extra gleam, all the lighting has metallic details (don't get too hung up about matching all the metals).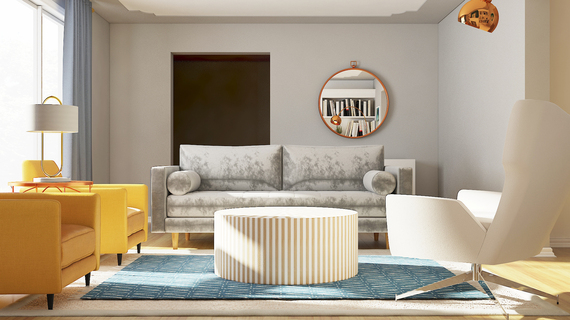 5. Amp up the accessories
This is where you can go all out and take some risks. Accessories are also the best way to get a particular look that is a little more trendy, since you can easily change them out or move them to another room when you want a different look (note that up until layer 3 above, the room is still neutral enough that this could have ended up in many different design directions). For a modern-eclectic look, we first selected a beautiful modern art piece with a blue, dark orange and shocking pink palette, and then picked out those colors for the pillows. And finally, no room is complete without a touch of nature - every room looks better with a lush green plant in the corner.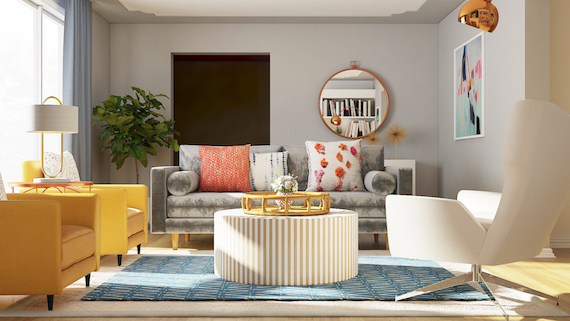 Decorist is an interior design technology start-up. Have a quick design question? Try our Decorist Design Bar and get answer to your design dilemma by one of designers - for free! Need more help pulling your room together or creating a fresh new look in your style and any budget? Learn more about our award-winning Decorist Room Makeover.
Related