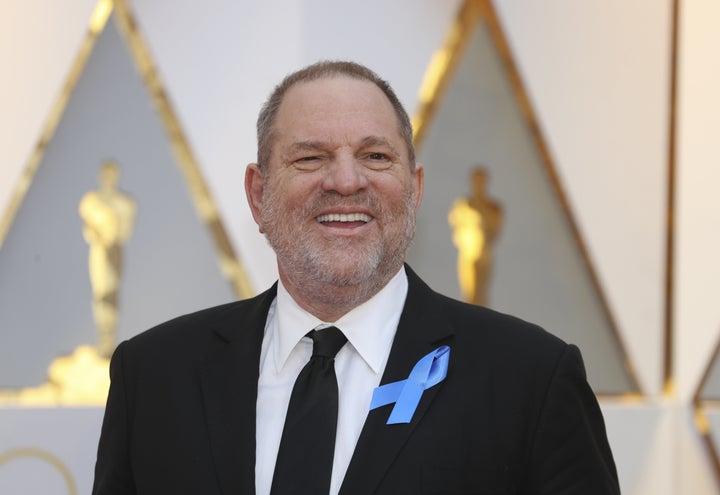 Finally, a sexual predator gets seriously hammered. Are we at a reckoning point?
As downfalls go, Weinstein's is pretty thorough and dramatic. And sexual predation is the cause, not the usual trigger of financial malfeasance or personal rivalry. Does this mean that the crime of sexual assault ― and it's important to remember it is a crime of violence, not passion ― is finally getting serious attention?
If so, does this mean that ruination of career and reputation will serve as the magic deterrent, in ways that legal threats and moral appeals have not?
Hollywood has long been plagued by sexual predation. The Academy acknowledges as much, saying in a statement about Weinstein's ouster:
Of course, the problem of sexual predation afflicts not just Hollywood, but other spheres ― notably the military and college campuses, where rates of sexual assault in recent years have risen to historic levels. Why the increase? Conjectures are many, but my take is that it is in reaction, brutal reaction, to several decades of women advancing in the work world and acquiring some measure of political power. How reactionary is seen in the election last November of predator in chief Donald Trump to the White House (put there, sadly, by a preponderance of women voters).
To those of us who prosecuted the problem early on, present reality is discouraging. In the late 1970s, as equal opportunity officer for the City of San Diego, I drafted one of the nation's first municipal policies prohibiting sexual harassment on the job, to protect the women we were moving into nontraditional areas like police work and firefighting. (This was before the Equal Employment Opportunity Commission promulgated its guidelines in 1980.) Our policy required a complainant to keep a journal of offenses, while maintaining exemplary conduct. Resolution was reached by sitting both complainant and alleged offender down with their department head, the boss, where enlightenment invariably took place, e.g., porn festooning a workspace was quickly understood to constitute a "hostile work environment," thus not permitted; pulling a woman's hair constituted "battery," also not permitted.
But keeping a journal of offenses does not suffice when facing a boss like Harvey Weinstein and his defense team. And a sexual predator in the White House may cue a new normal in the acceptance of what is in actuality a hideous, traumatizing crime.
More is needed ― much more. In a word, allies are needed. Peers, to exert on the miscreant in their midst the kind of pressure that can count the most: peer pressure.
Thus the call for "good guys" to speak up ― "guys" here meaning men (women speaking out against predators get nowhere). Needed are men who are profiles in courage, like actor Brad Pitt, who confronted Weinstein on behalf of his then-girlfriend, actress Gwyneth Paltrow. That move freed Paltrow of Weinstein's advances, but all other women remained his targets. Meanwhile, it beggars belief that so many Hollywood players now profess themselves to be "shocked, shocked" at the revelations of Weinstein's predation ― it's long been an inside joke. The joke is stale, Hollywood, and is emphatically not funny.
Likewise, good guys in the military and on college campuses and elsewhere: When you hear of sexual predation, you need to step up and speak out on behalf of the women who are your fellow soldiers, sailors, pilots, and Marines, the women who are your fellow students---the women who are your fellow human beings.
So, perhaps the pincer strategy ― the threat of career ruin on one hand and the peer pressure of good guys on the other ― can stem the scourge of sexual predation. Predators at large, before they make another nasty move, should picture their hard-won career going down in flames, like Harvey Weinstein's, spelled out in headlines running daily for two weeks now in The New York Times, the paper of record.
And, calling all good guys: Enough with serving in the reserves. You are needed at the front. Speak up!
Carla Seaquist was Equal Opportunity Officer for the City of San Diego 1977-80, for which service she received N.O.W.'s Susan B. Anthony award. Her latest book is titled "Can America Save Itself from Decline?: Politics, Culture, Morality." Also a playwright, she published "Two Plays of Life and Death" and is at work on a play titled "Prodigal."
Support HuffPost
The Stakes Have Never Been Higher
Popular in the Community