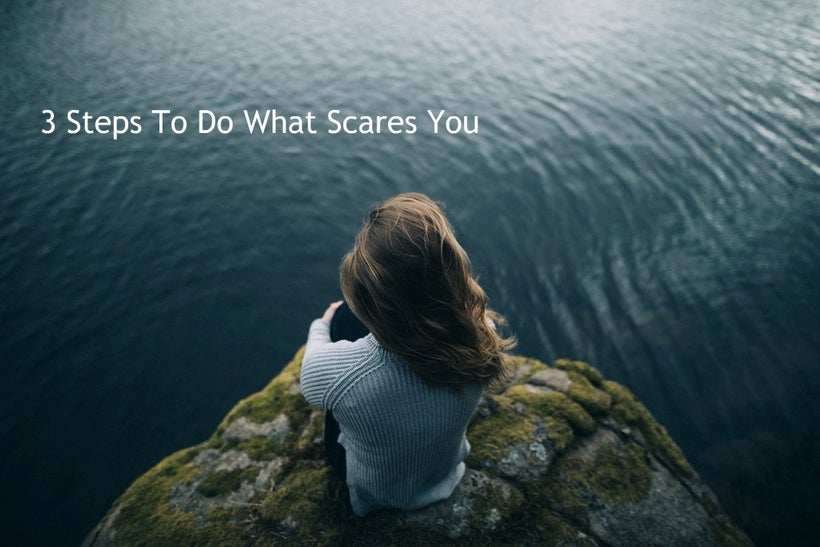 Fear used to rule my life. Fear of not being good enough, not doing things perfectly, feeling dumb in a situation…I could go on and on.
My fears kept me in my comfort zone. Playing a safe game.
Today on a call, a prospective client who I met at a recent key-note I gave, was talking about her fears of having to actually do what she's been avoiding.
I shared with her how nervous I was leading up to the talk she attended. I had never delivered my content to 250 people and was absolutely scared. She was surprised and could not tell.
When I agreed to deliver a "How to Authentically Self-Promote, with Confidence" key-note, I had made the assumption that there would be no more than 100 people in the room. My perceived sweet spot.
The week before the event I was informed that over 200 had registered. Gulp.
In that moment I knew I could:
Option A | Freak out …which I did quietly for a bit on the other end of the phone.
My mind was racing: Am I going to be good enough? What happens if the room has no energy and nobody is engaged? Can I take such a large and smart group of people through and do it authentically, with impact and on time, etc?
In smaller groups these insecurities don't creep up because I know my stuff and have a gift for relating to my audiences, and people are always willing to speak up and to share.
But...in a group of 200 plus. Argh.
Swimming in my negative thoughts wasn't going to help me with a kick-butt delivery. I knew that there was no value in reminding myself all of the reason why I can't do it, and do it well.
So my other option was Option B | put my big girl panties on and do what scared me.
I went with B. To get out of my own way, to #GOOYOW.
3 Steps to Do Exactly What Scares You:
1. Stop Focusing on Can'ts
We do this to ourselves all the time. Choosing to focus on all of the reason why we can't do something, vs the reasons why we can, let alone why it's in our best interest to do it. For those you of you who have worked with me, cross-reference your Values List and identify which value you are honouring by doing what scares you.
Our minds are so powerful and too often use negative thoughts to try and keep us "safe" and in our comfort zone. When my negative inner voice was trying to take over and spiral me into a tizzy, I would keep replacing it with my Key Message of "I'm doing this in service", over and over. I was choosing to focus on the fact that I was there to give value to the audience and trusting that I could. It wasn't about being perfect. It was about trusting that I was prepared, that I would show up powerfully, and deliver content that would resonate and impact the audience…which it did.
3. Put your big girl panties on and do it!
Seriously, just do it. My mother always used to say "what feels like a 20 foot fall is a 2 foot step". Rarely is it as scary as we make it out to be. Avoidance isn't going to help you to live the life you want for yourself.
I ended up rocking it. Doing what scared me, ironically, opened my eyes to my ability to play an even bigger game. Now I am actively seeking to do larger-scale conferences and events. [Insert authentic self-promotion: if your team or organization would benefit from learning "How to Authentically Self-Promote, with Confidence", click HERE for an overview and let's connect.]
We have no idea what we are missing out on when we play small… And I didn't even realize I was playing small. I thought I was just in my zone, where I thrived.
Because I was willing to step out and to do what scared me, I was able to receive this kind of feedback and more, in return:
"Fabulous presentation this morning at WXN! I was impressed with your ability to introduce your material and move a large group through your worksheet in a timely way. I think you would be great for an event through XX, and to this end, have flagged your expertise for the Events Committee…"
"As someone who has been a speaker for over twenty years, I always appreciate a great speaker. I've often been disappointed — but not this morning! As you know, the debate has ranged forever in our profession over the value of 'motivation vs content'. You demonstrated how to have both in the same speech."
I'm not. I'm simply sharing exactly what can be available to all of us when we choose to #GOOYOW and to do what scares us.
So let's do this together!
What are you done avoiding and are ready to take action on?
You can post here or in our #GOOYOW Facebook group where like-minded people show up authentically to share and celebrate. It's a closed group so you can trust that whoever is in there, wants to be there.
Nobody has it all figured out and we have so much to leverage from each other's experience ….so do share!
Calling all HuffPost superfans!
Sign up for membership to become a founding member and help shape HuffPost's next chapter
This post was published on the now-closed HuffPost Contributor platform. Contributors control their own work and posted freely to our site. If you need to flag this entry as abusive,
send us an email
.