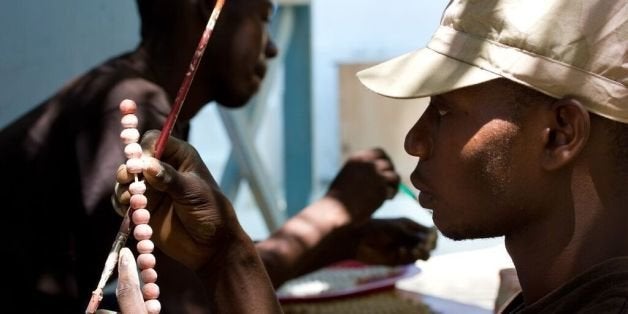 Images & Video Courtesy of Urban Zen.
Special thanks to Alex Dolan, Colin Hofman, David Belle and Junior Jovin for their support with the film.
People always ask me "Why Haiti?" where I've been on a mission to empower its artisans to succeed in the global market. Here's why: I look at Haiti and I see a future model of a soulful economy -- where what is bought and sold directly benefits the community that creates it. I see hope -- for Haiti yes, but also for a world of artisans and a way of life that I'm passionate about preserving. But when it comes to helping people, you need more than hope. You need a plan.
I'm big on plans -- especially those that marry philanthropy and commerce. In 1990, when AIDS was literally killing the fashion industry, I knew we needed more than just a fancy dinner to make a difference. My idea: to set up a massive flea market sale with all our designer discards and raise awareness as well as funds. Thanks to Anna Wintour and the collective passion of the CDFA, we created Seventh on Sale and in three and a half days, raised $4.2 million. When my friend Liz Tilberis, the Harper's Bazaar editor, was diagnosed with ovarian cancer, we created Super Saturday, the annual designer sale in the Hamptons to raise funds for OCRF (Ovarian Cancer Research Fund) -- yet another marriage of shopping and a good cause. Now in its 19th year, we raise well over $three million annually.
As a fashion designer, I've always had a need to dress and address my consumer. You get a woman in the dressing room, and she'll tell you about a family health issue, or her frustration with her child's education. When I hear about problem, the problem-solver in me wants to help any way I can. In 2007, I founded the Urban Zen Foundation, where we have three interrelated initiatives: 1) to put the care in healthcare (as inspired by my late husband's cancer journey) which resulted in our Urban Zen Integrated Therapist program, nicknamed UZIT. 2) To put mind, body and spirit into the educational system, and 3) my creative initiative, to preserve artisan culture, a vanishing way of life in a world of modern technology.
When the earthquake struck Haiti in 2010, everyone wanted to help. 230,000 people died, 300,000 were injured and 1.5 million were displaced. Urban Zen help raised money for temporary housing and later sent our UZITs and supplies to aid the international workers. Through the inspiration and support of the Clinton Global Initiative, I went down to see Haiti for myself, and I'm so glad I did. I fell in love with its beauty, its spirit and most of all, its people.
As I traveled around the country, I stumbled upon various artisan communities. "Why doesn't anyone know about this jewel of a country?" I wondered. The answers were soon apparent: they didn't have any infrastructure or vocational training. Moreover, the products, soulful as they were, weren't of the quality and desirability the consumer market would want. As a woman who has spent her career designing and creating products, I can tell you one thing for sure: people don't shop for good causes. They shop because they want the product. It has to seduce them. Now that was something I could help with.
Until recently, it was just me and my team, often sitting in the dirt, working directly with artisans and creating products for Urban Zen. As an example, we worked with Magalie Dresse to turn traditional Haitian paper mache crafts into chic woven handbags. You're only as good as the people you work with, and I have been surrounded by an Haitian posse of amazing artisans and guardian angels -- Philippe Dodard, Pascale Theard, Carolina Sada, Shelly Clay, Marie-Therese Dupoux and Paula Coles, just to name a few. We celebrate this Haitian work wherever we can: Urban Zen in New York hosts many exhibits, and at Donna Karan New York, we put accessories and Haitian-inspired designs on the runway. We also photographed our ad campaigns in Haiti to show off its vibrant beauty and culture.
But I knew for future artisans to take it to the next level, we had to create a place and a space in Haiti for artisans to meet, collaborate and learn -- a true vocational center.
I dreamed of having a Parsons School of Design in Haiti. (Parsons is my alma mater and I sponsor an MFA program there.) So I brought Dean Joel Towers and Alison Mears to Haiti, and together, with artisan Paula Coles and Marni Lewis, my Director of UZ Partnerships, we made that dream a reality. In June 2015, we created a vocational training center named D.O.T. (Design, Organization, Training Center for Haitian Artisans). Parsons brought the educators by way of graduate students, who work with DOT as well as the original Haitian artisans I started with. As recent grads, they are flexible and this is a great creative opportunity for them. Urban Zen provided the initial grant, as well as an annual grant to host the graduates program. Less than a year later, DOT has five full time employees, and is a destination/home to approximately 300 artisans, designers and visitors per year.
The success is in the sophistication of the work. The handcrafted pieces are breathtaking -- be it the leather and horn jewelry, the woven accessories, the stone or iron sculptures or the dramatic crystal and wrought iron lamps. Not only do I personally wear and live with these pieces -- I never go out without my leather necklaces or woven handbags -- but I continue to show them with our luxe UZ designs, and my daughter Gabby has furnished her Tutto il Giorno restaurants with so many of the décor elements. Urban Zen sells the Haitian pieces in our stores, online, at, and we also wholesale them under the label "Naturally Haiti." Each piece is unique and handmade -- you feel the soul that created it.
I won't pretend this has been easy. There have been endless challenges and hurdles to pass, with many still on the road ahead. Fundraising is the most frustrating part of all, believe me. Yet we're all dedicated to making this work.
There's that old expression "If you give someone a fish, they eat for a day, but if you teach them how to fish, they eat for a lifetime." Helping artisans in places like Haiti to create products people love and want to buy is the first step to advancing a soulful economy. Conscious consumerism may be the future, but a sympathetic backstory only gets you so far. First, you have to fall in love with it. So "Why Haiti?" Simple: I fell in love.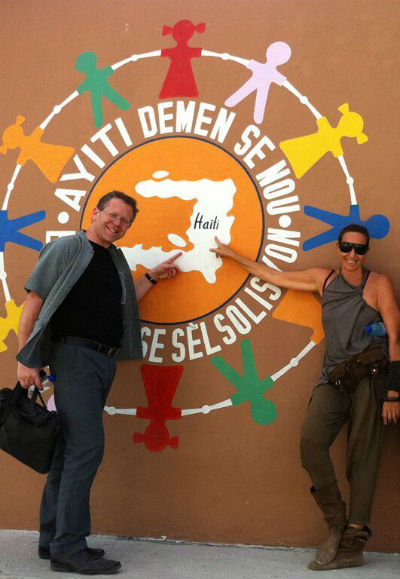 Image Courtesy of Urban Zen.
Follow Donna Karan's soulful journey on Instagram @urban_zen
Engage with her mission on Instagram @Urbanzen and @DOT.HAITI
This blog post is part of the "Soulful Economy" series produced by The Huffington Post and Same Sky, a trade initiative that creates employment opportunities for women struggling to lift themselves out of extreme poverty. The series is running in conjunction with New York Fashion Week, and aims to use shopping as a force for good. To learn how to become a conscious consumer, read here. And to join the conversation on Twitter, look for the hashtag #SoulfulEconomy.
REAL LIFE. REAL NEWS. REAL VOICES.
Help us tell more of the stories that matter from voices that too often remain unheard.