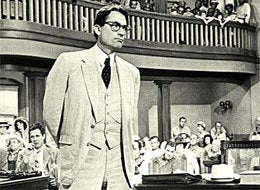 Now that Season Five of my favorite show, Project Runway, is on the air, I have returned with renewed vigor to my purpose-driven life: that all of us lawyers dress well, and get happy about it!
Unlike TV shows, in real life, most lawyers do not dress well. I recently saw a woman lawyer wearing a denim jacket to court!!! Another one donned Adidas slides (the ones you wear only if you are a high school boy traveling to your basketball game, or you are showering at the gym and don't want a fungus...) Last Friday, at Saks Fifth Avenue's 70 percent off Consolidation Sale, I spotted a woman riding the escalator in a gray, professional suit for fall, by Theory, with summertime ESPADRILLES!!!!!
Fine legal acumen, skillful cross examination, and persuasive appellate brief writing do not translate into a confident ability to dress. Instead, many women lawyers have given up because they are not good at putting an outfit together; or they don't want to spend money on clothes when their kids need tutors; or they don't like their bodies; or they are intellectually above it all and are too smart to waste money on fashion.
Take my friend "J." Like most working mother-lawyers, she has a full plate: ill parents, growing children, bat mitzvah preparations, and tons of work. Suffice it to say she can stand up to anything life throws at her. But before the dressing room mirror in Brooks Brothers recently, she quaked "Are you sure I can wear a pink sweater under this blue suit? I thought you weren't allowed to do that."
Another friend, "N," a talented lawyer, former social worker and now successful head hunter, has asked for "off the record" help to disguise her "Eastern European hips." Another woman friend who heads a major sports organization in New York City was asked to join a prestigious Board of Directors of another major sports organization. She'd love to do it, but declined because she had "nothing to wear." No one could carry this woman's jock, but here she was: declining an opportunity to advance her career because of clothes!
I wish to nudge women back to caring and enjoying what you wear in your waking hours.
Don't Cop-Out on Looking Good. There are many resources to help with whatever is blocking you from enjoying your clothes (what is blocking you, by the way?). No matter what your shape, there are stores and lines that will suit you. If you don't know what goes with what, try Chico's. They organize clothing by coordination. An outfit is displayed on the front of a rack. Everything on that rack goes with that outfit. Select a blouse, pants, jacket from that rack and you've got an outfit, or 2, or 3 to mix and match.
Work Within Your Budget. The costs of suits vary. You can spend $2,000 for a Michael Kors or $300 for an Ann Taylor, and there is much in-between. At the Saks Consolidation Sale, I bought a basic black jersey dress by Ralph Lauren on sale for $263; originally priced at $895. I will have it for 10 years and can wear it to court in the day with a jacket and out to dinner that night, without the jacket.
You can also save by shopping at the end of the season for the next year. I have three wool turtleneck sweaters in chocolate brown, black and oatmeal, perfect for under a suit because they are thin. Purchased in February 2008, they are packed away in tissue paper for Winter 2009. I also have a pure white summer suit hanging in its Brooks Brothers' garment bag purchased at the 50% off sale in June 2008. I promised myself not to open it until Memorial Day 2009.
Make it interesting. Lawyers in my age group (50) were groomed to dress plainly so that nothing would distract Judge and Jury from your intelligent argument. It was strongly suggested then that we stick to a navy or gray suit and pearls. Today's women lawyers still use that basic formula. But you can make your style interesting with shoes, pins, bracelets, flower appliqués, ties, and chokers, to name a few accessories. Different color combinations help. I've discovered that I like black with navy, an atypical combination. The discovery of new color combinations can be accidental: they've come to me while sorting laundry, even when folding different color towels.
I am excited that Brooke Shields will be guest judging this week's Project Runway and that the contestants will design for a "strong professional woman." This is exactly the kind of judge this lawyer really loves to appear before.