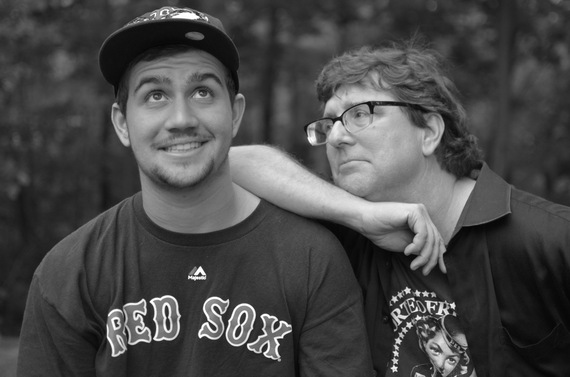 So after nearly 18 years of making sure all vegetables were eaten, all homework was done and all tears were dried by bedtime, I'd dropped my son off for his freshman year at Lasell College near Boston. This meant that, as I rode the train to the airport, pride and self-pity duked it out to see who got to sit on my should all way back to Los Angeles.
Luckily, a couple of 30something dads and their kindergarten-age boys got on the train. As the dads gabbed about golf (pro) and ex-wives (con), their kids fussed and fought with each other. The only interruption was when one of the dads said, "Don't forget... we're goin' to Fenway Park and beatins' are free there. So sit down and shut up!"
I had been ready to weep openly during the 3,000-mile trip home, but watching these guys got me thinking about what kind of dad I'd been. Lord knows I was far from perfect. I heard all the warnings from nearly everyone about how divorce destroys children, and went through with it anyway. But on the plus side, at least I never offered free beatings.
Any time we went anywhere, I engaged him in conversation rather than ignoring him. Suddenly, I felt like I could let my melancholy fly ahead and wait for me in my son's room. Those strangers on a train got me looking back my days as a dad by focusing on facts instead of feelings. Hence, I've developed this list for my son. It compiles all the important numbers (some estimated) that spring to mind as I contemplate life with a son who is now on his own.
5,681
Miles driven to and from baseball games. Not that I minded being Dad's Taxi Service, and getting you to places in Southern California I'd otherwise never have heard of. Quite the contrary. The fact that you found something that you loved so much -- pitching -- made every mile worth it. Although couldn't you have let me hear music instead of sports talk radio at least once?
3,468
Baseball cards. We all have markers of our childhood, things that obsessed us at the time and still remind us of whom we used to be. For some, it's comic books. For others, it's dolls. For that quiet kid up the street, we assume it may be toenail clippings. For you, it was baseball cards. Whether they were a reward for good grades or a way to keep you quiet on a long trip, you loved them and they still take up space on the book shelves at home you no longer need. Just FYI, I won't be throwing them out until I at least get them appraised.
1,783
Hours you spent playing video games. I know, it's a generational thing. I come from an era that forces parents to remind kids it's beautiful outside and you have a nice bike you could ride, while you are the generation that sees nothing wrong with sitting in the living room shooting enemy soldiers or tossing touchdowns.
1,782
Hours I spent telling you it's beautiful outside and you have a nice bike you could ride. Sorry. It couldn't be helped.
907
Pictures I've forced you to pose for. Including the one posted here, which our friend Sharon Brody took minutes before we parted ways. It perfectly sums up how you felt each and every moment I made you stand still and smile for the camera. Look at it this way. As I've repeatedly promised, you'll appreciate it in roughly 30 years.
367
Hours spent watching that stupid video about dump trucks. Okay, so this happened when you were 3 years old but still... I haven't forgotten. I get it. Big trucks are loud and funny looking. Which makes them fun to watch when you're just discovering the world. But why couldn't it at least have been fire trucks? Those things have lights and a siren, which is much cooler...
63
Times I now realize I was an a-hole to my parents. There's nothing like having a moody, self-absorbed teenager to make you realize what a rotten son were back at his age -- ignoring parental advice, not calling on Sundays to check in, accepting donations without responding with thank you notes. Not coincidentally, this is also the number of times I've said to my son, "I hope you have another you when you grow up so you know what it's like."
9
Years since I moved out on you. I still sometimes get mired in the sadness that goes with the decision to have you grow up in a two-household family. Meanwhile, you took this lesson that life can occasionally suck like a Hoover and used it as a tool for getting smarter and stronger with each year that went by. Which makes you the one who has taught me a thing or two all this time.
2
Words of advice. I spent weeks trying to come up with my final words of fatherly advice when we I took you to college. I settled for two. The first will hopefully remind you that it's okay to be afraid as you face your future - "Fear is your inspiration, not your termination." The second comes from philosopher/football player Marshawn Lynch, who did what may be our favorite plumbing commercial ever -- "Stop freakin'. Call Beacon."
1
Shoulder to cry on. It was there when you were four years old and lost the balloon you'd gotten after your haircut. It was there every time one of your beloved dogs had to be put down. It was there when your baseball coach said you weren't good enough to pitch in your senior year. And I promise it will be there when your heart is broken, when you miss out on that job you want or when the Red Sox let you down again.
0
Regrets. Actually, that's not entirely true. I'm the sort who still feels guilty because I cut a guy off in traffic in 1994. However, dwelling on regrets is like worrying how Samuel L. Jackson is going to get rid of all those mother-blankin' snakes on that mother-blankin' plane. Both situations are over. Finished. Gone. Look forward to what's to come, not what's already done. And how did I learn this valuable lesson? By looking into your beautiful, happy face a few hours ago as we said goodbye. (Which reminds me, would it kill you to shave that Brillo pad of a beard you've got going?)