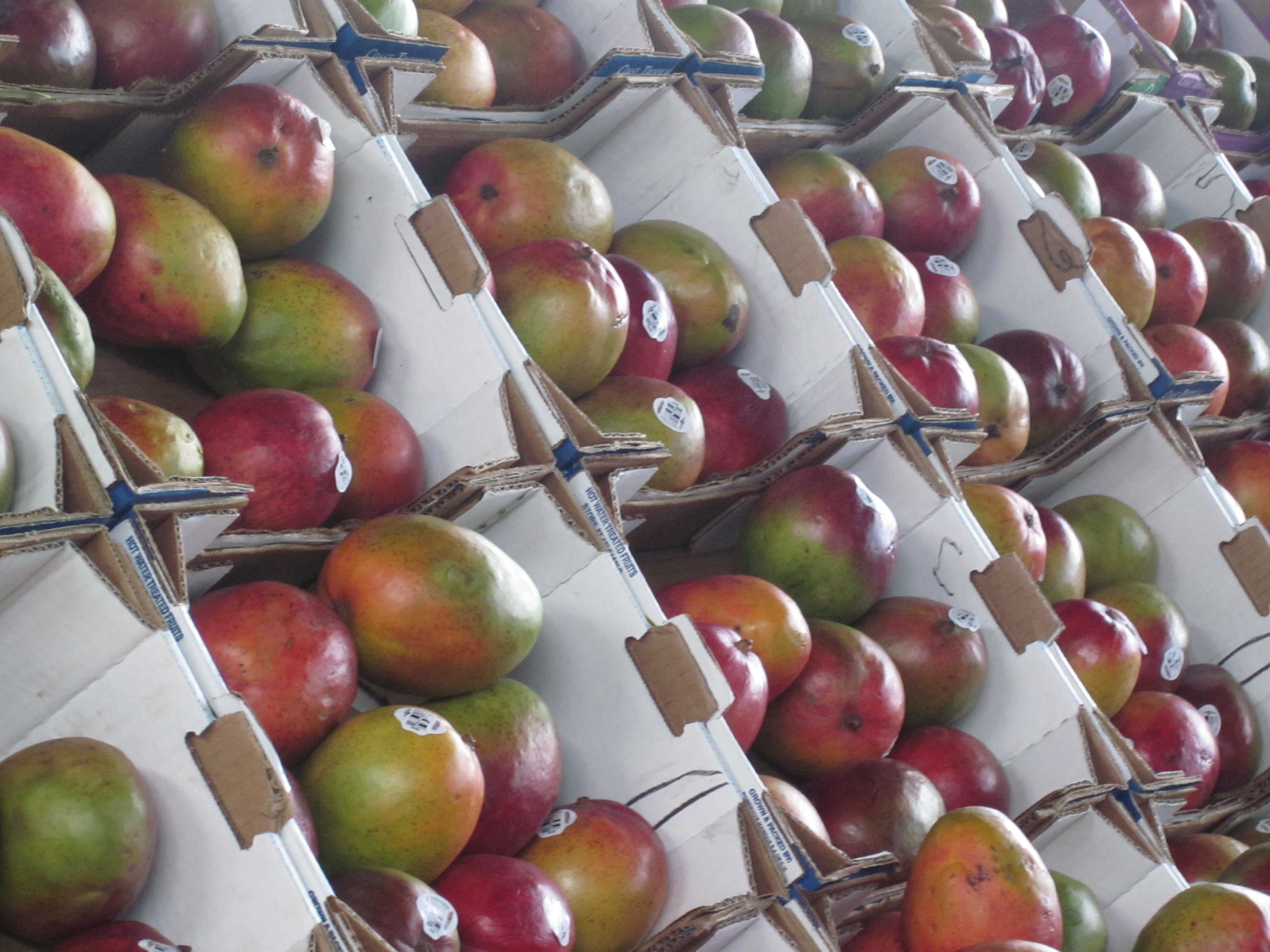 kind of like an egg with a loop.
It's sweet and the flesh is juicy,
without getting quite messy?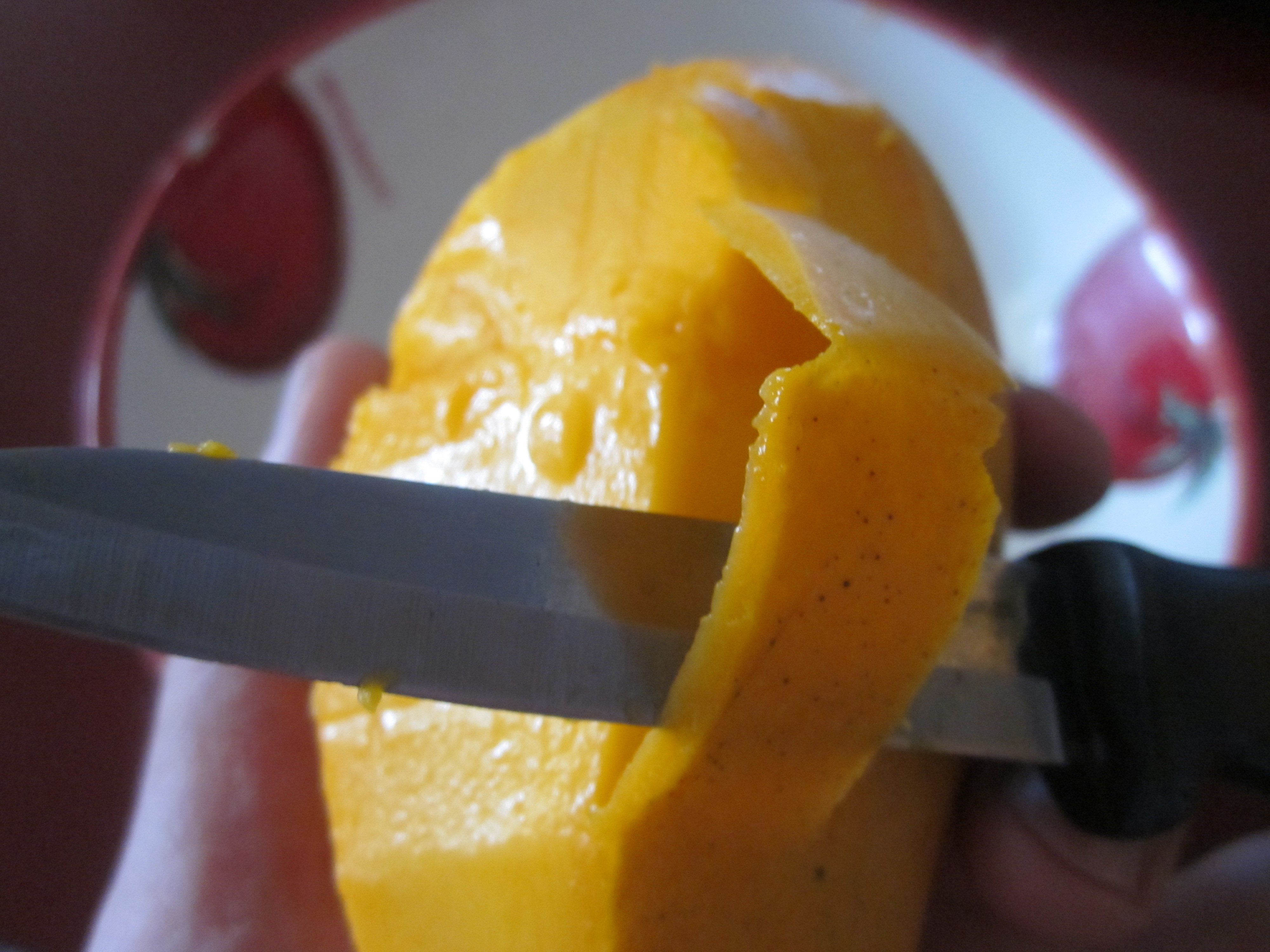 If the fruit is soft and pliant to grope,
like what you might find in a ripe cantaloupe.
That means it is ripe and ready to eat.
The problem is, how to do it neat?
I hear there are over 1,000 varieties of mangoes around.
But where I live only a few types are to be found.
What I see in stores and on street carts,
come from places like Mexico, Salvador, Peru and Brazil.
They have names like "champagne,"
"Ataulfo," "Tommy Atkins," "Kent," and more.
I'm sure there is a difference,
though this mango novice can't tell for sure.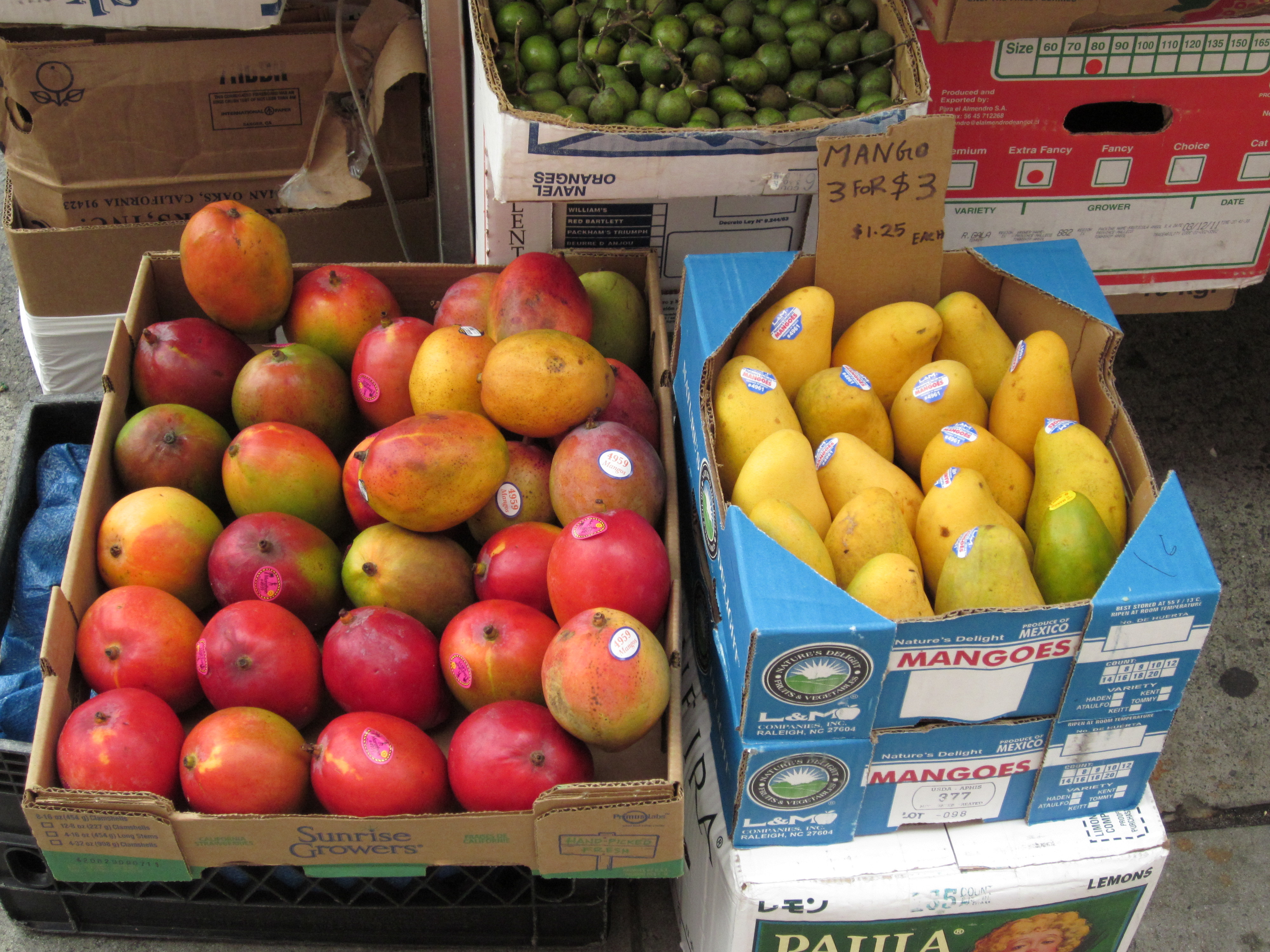 It was sweet and luscious.
Once peeled, the nectar quickly
That Julie made such a mess,
a beach towel was needed,
are long and light green.
This fruit's flavor is special,
the taste, a mango fan's dream.
But there are drawbacks, I'm afraid.
and eating it most certainly can be a chore.
You can peel the tough skin with a knife.
Pull it down and try to slice.
Be careful before you start chewing,
Oh my, how the bright orange flesh stains so.
No doubt, your nice white shirt, will soon be aglow.
and give up on the slice.
Just suck through the flesh,
This chore is one, you need to handle alone.
The temptations are many.
You'll soon learn, that won't be right.
Like a thatch of thorns that have you entangled,
your teeth will be riddled with tough fibers at every angle.
To dislodge requires little cost.
All you'll need is plenty of time,
and two packs of dental floss.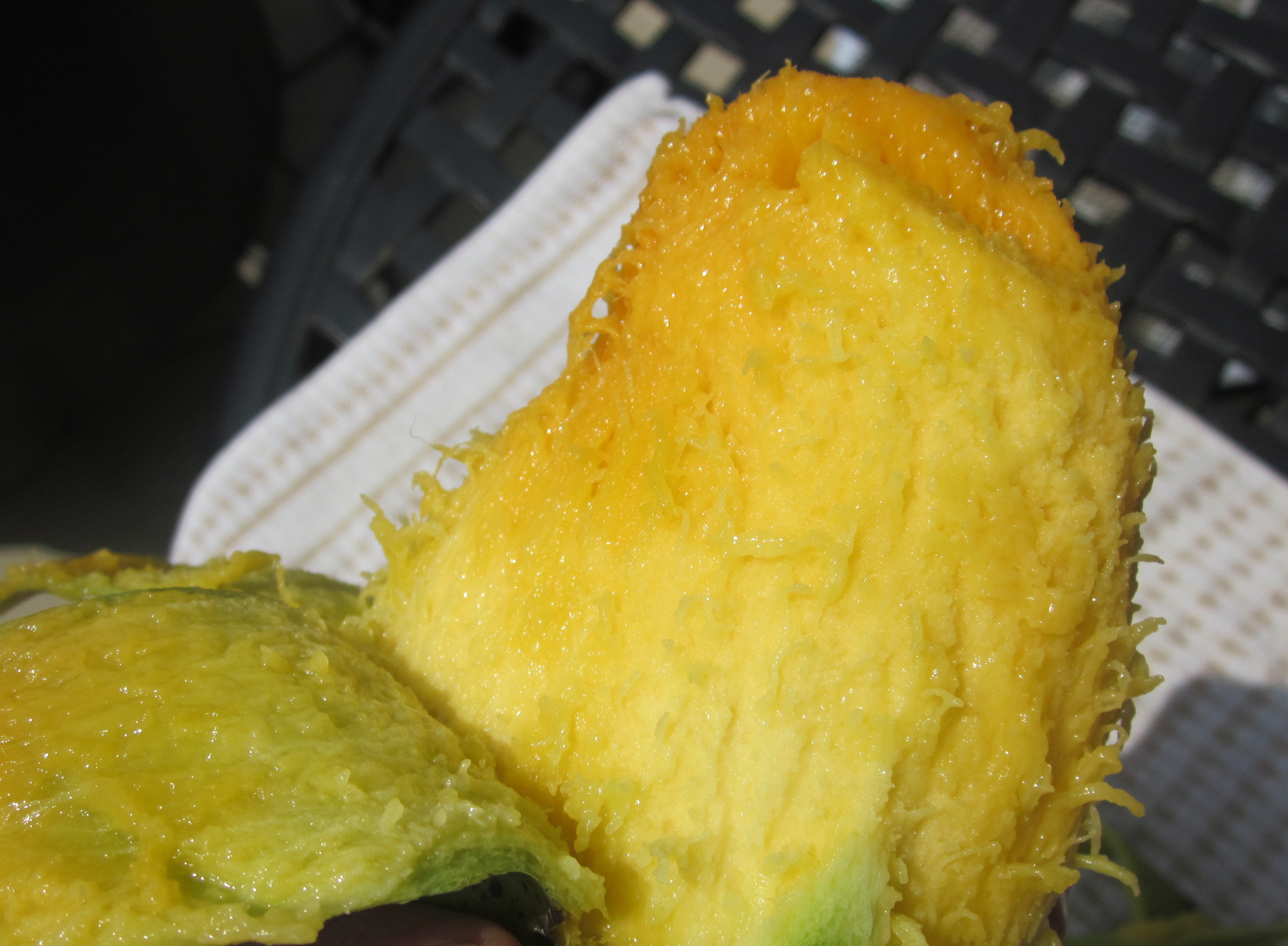 Some say the best way to eat a mango
is one where you cut into the flesh;
Turn the skin upside down,
with gentle firmness, you'll press.
The pieces will fall into a bowl or dish.
Eat with a toothpick, fork or chopstick.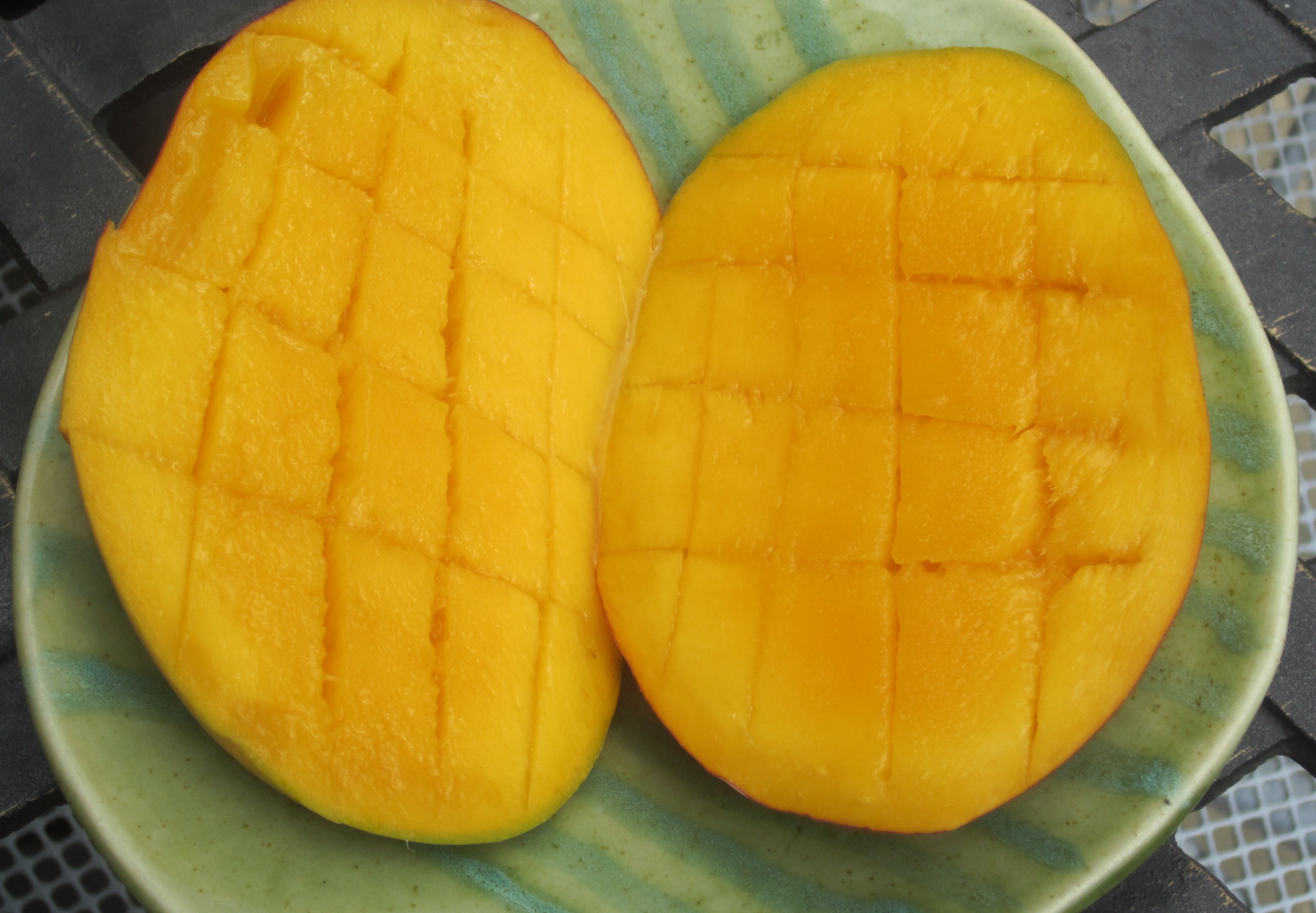 Like the many varieties of mango,
the choices of how to eat one are plenty.
And while I waste my time,
with these ridiculous rhymes,
I'm sure the list will grow.
Suck, nibble, bite or chew?
Who am I to tell you what to do?