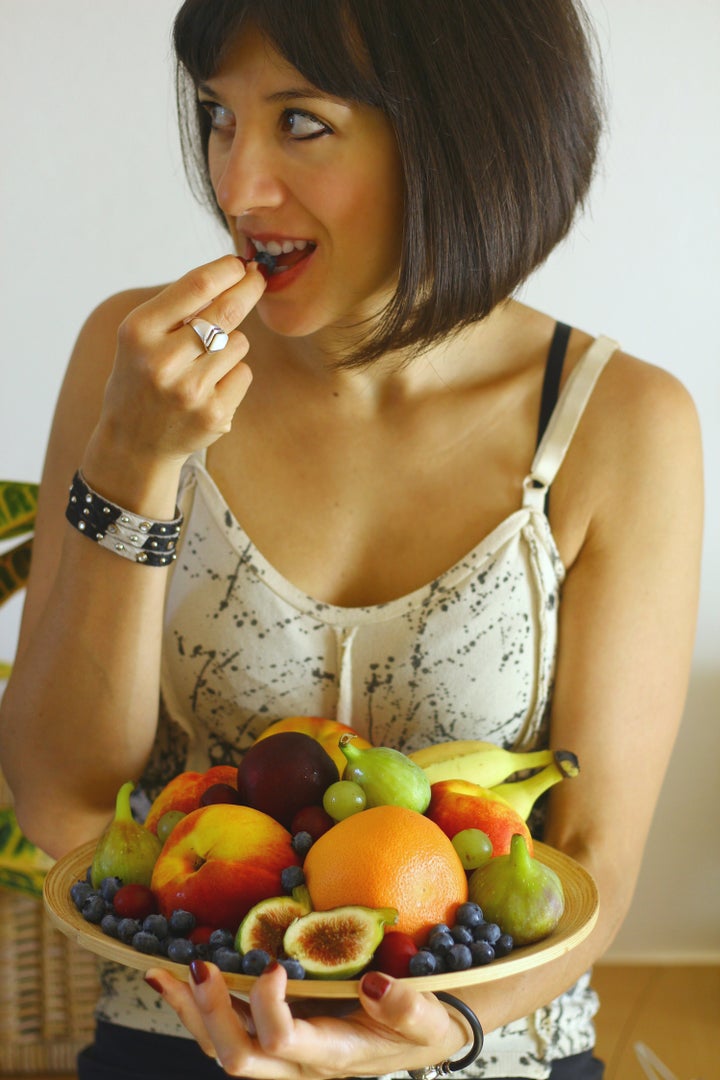 As much as traveling can be fun and enriching, it can also be upsetting and disruptive to a healthy diet… so much that, at the end of the trip, you can feel like all you want is stay at home, make salads and drink green juice.
For some reason, it seems like the tourist's diet consists of white sugar and refined flour.
Seriously! When you envision the stereotypical tourist don't you picture a guy with a camera around his neck, a sandwich in one hand and an ice cream in the other?
The common thought is: "Well I am on vacation. How bad can it be if I indulge with some 'not-that-healthy' food for a week or two"?
Well, while we assume that leaving our healthy eating habits at home while we travel is a pleasure, we end up feeling miserable, heavy and lethargic.
The truth is that, in order to truly enjoy the pleasure of exploring, one needs to stay healthy on the road. And the good news is: it's easier than you think!!
Here are my best tips to eating healthy while traveling:
1. Eating clean ON A ROAD TRIP:
Pack the right food! Only bring the items that are absolutely necessary and that don't need to be refrigerated. Shelf-stable foods such as nuts, raw wraps, healthy snacks or your favorite protein powders are the best. I also like to take with me some super food powders (like maca or acai) stored in Ziploc bags so that I can add flavor and nutrients to my shakes.
Follow the farmers! Find out when the local farmer's markets are and stop there daily to purchase fresh, local, organic produce! This will allow you to always have access to the highest quality food!
Create fun stops on the way! Part of taking a road trip includes enjoying the local cuisine. Locate the restaurants along your route that suit your eating habits. Google, Happy Cow or Find Me Gluten Free are really useful tools that will prevent you from stopping at Subway just because you were hungry.
2. Eating clean ON THE PLANE:
Call ahead! Most airlines provide their passengers with the possibility to select their meal preference. Cathay Pacific, for example, offers gluten free and vegan meals onboard and the food is excellent! Just remember to call the airline at least 24 hours before your departure!
Pack smart snacks! If you are boarding a short flight, make sure you have access to quick and easy meals while on the plane. Make your own trail mix, kale chips, dried organic apples, some nuts and a big bottle of water that you can buy after you go through security.
Make sure you have no liquids! Yogurts, plant based milks, dressings, soups or packaged smoothies won't make it through security. Double check what you packed and leave those items at home.
Check out the agricultural restrictions! If you are flying internationally, inform yourself about the possible agriculture restrictions.
When I fly to countries that don't allow to bring in fresh produce, I like to prepare salads (those are ok because the veggies are chopped) and dishes with cooked vegetables or rice.
Prepare your own plane meal! If you are flying long distance, bring enough food to be covered for the hours of your flight. And make sure you don't use any of the ingredients that would annoy the passengers sitting next to you: NO onions, NO garlic, NO broccoli!
If you need some inspiration to make sure you have access to lots of healthy foods while flying… this video is for you!
3. Eating clean WHEN RENTING AN APARTMENT:
Make it be like home! When you are staying in a place for more than 2 or 3 days, renting an apartment is the way to go if you want to eat healthy! Get a few cheap kitchen tools that can make your life easier: a good knife, a peeler, a portable spiralizer… and you will start to feel at home.
Select a nice kitchen! Make sure the apartment you are renting has a nice kitchen so that you'll feel like you want to spend more time in there and create deliciously healthy meals. And, if the pictures on the website aren't clear enough, ask the owner to send more photos.
Live the new culture! Cooking with some new, exotic food, trying new seasonings or discovering new baking products is a great way to establish a connection with the culture of the country you are visiting.
Know your way around! Learn everything about the area surrounding your place. Where is the smoothie bar? …Where is the health food store? Again the Internet is your best advisor. Search, search, search!
4. Eating clean WHEN STAYING IN A HOTEL:
Research in advance! Many hotels offer allergy programs that are promoted right on their websites. Call ahead of time and ask the manager if they can accommodate you, given your food allergies or restrictions.
Get your own water! Staying hydrated is the key to staying healthy. Not only does our body need water to work correctly, sometimes we confuse hunger for thirst. And a big glass of water can prevent us form snacking on unnecessary calories!
Before you even check in to a hotel, stop at the closest grocery store and buy a 6 pack of water to make sure your hydration is never compromised.
Refill your minibar! As you check in, inform the concierge you're on a special diet and ask them if you can bring your own food to the room. They are usually understanding and remove all the sodas and junk food from your minibar so that you can use it as a refrigerator.
Find the nearest health food store and stock up on healthy stuff!
No matter where you are, the information is all there: one click away from you. Use Google or Yelp and locate a health food. Even a simple grocery store will work as nowadays they all offer an organic produce section.
Now it's on you! What are your best tips for eating healthy while traveling?
Share all the details in the comments below.