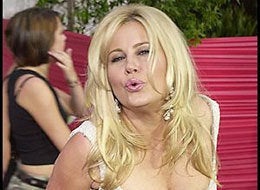 First of all, you moms are already Hot Chicks! We want you to embrace it and start treating yourselves like the confident, empowered, smart, sexy women that you are. We know you're so busy that on most days you feel like you've gotten hit by a train, so here are some simple tips that will boost your energy, improve your mood, and cut hundreds of calories from your day so that you'll be able to guiltlessly indulge in the foods that you love.
#1 - Stop drinking your kids' juice
Juice is so full of sugar that it's downright sticky, and it's totally not hot to ingest anything sticky, ladies. Anyway, we don't care if it's all natural juice with no added sugars, either. Sugar is natural, but it also makes us fat. It's soooooooooo much better for you to eat a freaking orange and chase it with a ton of water than it is to suck down 300 calories of sugary orange pulp from a carton. Go ahead and give your toddler apple juice, but bite into a juicy Red Delicious, instead. You'll save yourself hundreds of calories, which will help you squeeze back into those pre-baby jeans in no time.
# 2 - Have "date night" with your husband without the stress of babysitters and reservations
Once your kids are asleep, prepare an easy, sexy picnic in your very own home. Make a giant spinach salad, toast some bread, and put out a few different cheeses and fruit. Open a bottle of wine, spread out on the floor, and you'll feel as sexy as if you two were eating in a little European bistro. Just clear the dishes off the floor before you start getting too hot, though. Chunks of ceramic in your butt aren't very hot. This cheap and easy picnic is not only good for your body, but it's good for your soul - you overworked moms need to give yourself something easy to look forward to. Sometimes a relaxed night out in your house is all you need to feel happy and hot.
#3 - Choose your meat as carefully as you chose your husband
Hot Chicks don't fake it. That goes for everything, but especially your deli meats. Go for the real thing - none of this fake, processed nonsense that's coated with poisons and disguised as meat. All of that packaged crap has been treated with hormones and preservatives, and is loaded with nitrates and enough sodium to make you swell up like "Violet" in Willie Wonka and the Chocolate Factory. All of the chemicals that make us puffy also just slow us down and make us moody. Next time you're at the grocery store, get your meat sliced fresh. Your lunch will taste better and this easy switch will make you feel better, too.
#4 - Don't drink dessert for breakfast
We know that some of you moms look forward to stepping out to the local coffee shop to get some yummy, creamy mocha coffee drink for breakfast, but this is a terrible idea. All of these sugary concoctions have about the same amount of calories as your favorite decadent dessert and will end up zapping any little bit energy that you have. It may perk you up for an hour or so, but that huge moody, sugar crash is not worth it! Your kids need you happy and alert, and you'll feel so much more energized if you just enjoy a cup of regular coffee in the morning. Save those chocolaty calories for when you make brownies with your kids later, and you won't feel guilty about licking the bowl.
#5 - Eat from our mother Earth
As you run around mothering and feeding and nurturing your little ones, don't forget to feed and nurture yourself. The best way to do this is to try to eat something from our hot mother Earth every few hours. (Mother knows best, right?) Start your morning with warm, creamy satisfying oatmeal, enjoy a bowl of fruit when your baby is napping, and grab a handful of almonds to snack on while you straighten the house. It is essential to keep your energy up and your metabolism running smoothly by eating mini-meals throughout the day. Just make sure that they were either plucked out of the ground or fell from a tree.
For more tips, pick up a copy of How to Eat Like a Hot Chick by Jodi Lipper and Cerina Vincent or visit www.heydayprodcutions.com.