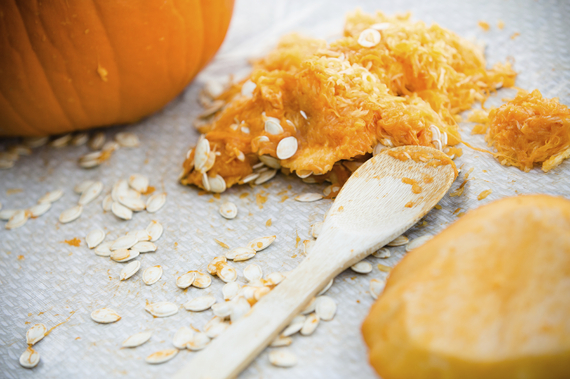 While Halloween festivities are often filled with fright, cleaning up after the fall holiday fun shouldn't be. Here is a list of some of the scariest Halloween stains you may encounter along with quick DIY eco-friendly fixes that will help you get your clothing, furniture and floors back to their pre-Halloween cleanliness.
Pumpkin
Before you even start carving, place pumpkins on newspapers for an easier cleanup. If your little pumpkin carvers get some of the jack-o-lantern parts on your table or floor, put white vinegar on the stain and wait a few hours before you vacuum or wipe. When Halloween is over checkout 5 ways to reuse your old pumpkins.
Sticky Candy
Lollipops and taffy are the delight of kids young and old, but when you lay sticky candy down on your carpet or couch, the stain isn't so sweet. Scrape as much of the candy off as possible and then blot with a mixture of vinegar and warm water. Continue to blot until the stain is completely removed--rinsing well with water to remove all the sugar.
Chocolate
Who doesn't love to indulge in chocolate during a Halloween outing? If chocolate lands on your furniture of clothing, rub the stain in a circular motion with warm, soapy water or a borax solution. Rinse with cold water.
Gum
If you find yourself with gum on carpet, furniture or clothing, press ice to the sticky area until it hardens and then scrape it off (a piece of clothing can actually be placed in the freezer until the spot hardens). Gum in your hair? Gently rub the strands with olive oil or peanut butter to get out the wadded-up mess before shampooing.
Glitter
Although the princesses and rock stars have left the building, they've left a trail of glitter behind them. Once you vacuum up as much glitter as you can, try this tip from AllYou.com: Roll some Play-Doh over the mess to pick up the remaining sparkles.
Makeup
Halloween makeup is often used for dramatic effect, and tends to be heavier than everyday makeup. Use all-natural oil (i.e. coconut oil) to gently remove Halloween makeup from your (or your child's) face. For makeup on clothing put a few drops of glycerin on the stain and scrape off or gently rub with hydrogen peroxide.
Candle Wax
Nothing casts a scary glow on your home better than some well-placed candles (and it saves on electricity), but don't let candle wax sit on your table for long. Once the wax has cooled and hardened, use a dull knife or paint scraper to remove it from the surface. For carpet and fabrics, cover remaining spot with several layers of paper towels and press with a warm iron. Follow up by blotting with rubbing alcohol.
Toilet Paper
If you wake up to find your trees and bushes covered in toilet paper, don't waste any time getting out there to clean it up--it's much easier to remove when dry than when wet. Use double-sided tape attached to a long stick (like a broom handle) to grab the strands hanging from trees and bushes. If you were unable to get the cleanup completed before it rains, use a hose and clean the residue with diluted vinegar.
Talk to us: What is your scariest Halloween stain?