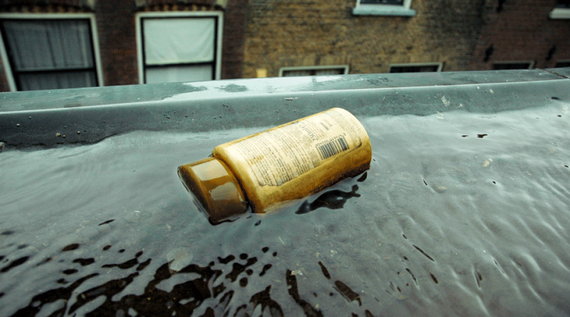 Because a good travel bottle is worth its weight in gold. This method is also great for removing conditioner, face wash and those fruity-smelling lotions.
I'm not ashamed to admit that even my toiletries are all nicely color-coordinated. But sometimes, I start feeling a little adventurous. Is it time for Mr. Suave to peace out in favor of Ms. Crabtree & Evelyn for a little bit? The swap is generally effortless thanks to one of the most timeless home-cleaning solutions known to man, distilled white vinegar.
Distilled white vinegar is one of the most effective remedies for cleaning gunk, grime and smells around the house. It's even a great tool for cleaning and sterilizing makeup bottles and brushes. Quite simply, it's an inexpensive, natural and biodegradable solution that is great for effectively removing substances and smells from most surfaces. Nothing brings happiness like seeing those last dregs of conditioner float away.
Though I often dump the entire bottle of distilled white vinegar into the bottle, most people suggest these steps:
Fill bottle in 1-2 teaspoons of white vinegar with hot water. (The point is to make sure you're using diluted white vinegar, not a full acidic solution.)
Sit for 15 minutes.
Dump water, rinse vinegar out.
Air.
In reality, I often rinse the white vinegar out with warm water and then fill it back up again with water. This gets left out overnight and in the morning, I air it. Though there's barely a whiff of vinegar left, the smell usually quickly dissipates. Most toiletries are heavily scented and dominate any remaining smell without much effort.
There are also a few other methods for cleaning out these bottles, including filling with warm water and soap, followed by vigorous shaking.
Is there a method that you've found works best? Let us know in the comments.
Read More
:
Related