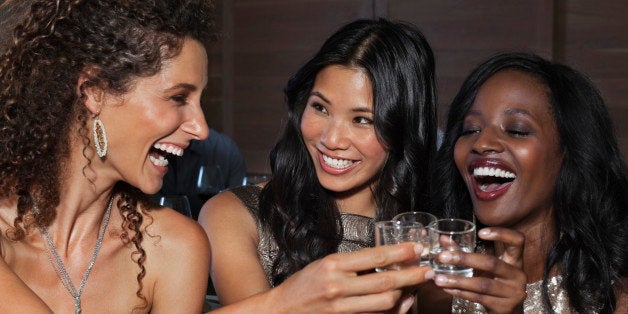 New year! New you! New opportunities! New energy!
Below is a list I created largely based on experiences I had and questions I have asked of friends. Some of the suggestions below are solely for the holiday season leading up to the new year, while other suggestions can be applied throughout the year. The point of the list is to give you ways to end the year on a great note and tips to begin the new year and be applied throughout the upcoming year! Enjoy!
1. Do something different with your hair -- get a trim, highlights, or dye it.
2. Sport a magazine cover look! In other words, go all out and take on an alter ego and dress glam, punk, hippie, posh.
3. Start a trend by claiming a drink! Name a drink after yourself, blog about it, and ask people to do the same.
4. Try something daring! Go a day without wearing underwear; get that tattoo you always wanted; tell someone you love them.
5. Try something new -- go to a grassroots concert.
6. Reflect on your accomplishments and failures!
7. Reevaluate what works and does not work for you!
8. Go on an adventure! Take a train ride to a nearby city, go to a local store, carry a book/magazine with you and make that a conversational piece with people... and blog about it.
9. Write an open love letter to yourself!
10. Forgive yourself and move on!
To do with your best friend:
12. Play "dress up." For example, go to a store, try on hats and take selfies!
14. Create a best friend language!
15. Make brunch an adventure by being in character. Pretend you have an accent and talk that way throughout brunch!
17. Have a stay-cation movie marathon!
18. Make pacts of what you will accomplish!
20. Do something that reminds you of your childhood!
21. Cook together; make a romantic holiday delight!
22. Have a private dance together!
23. Play games with each other and make bets!
24. Buy something that only you and your spouse would understand the significance!
25. Go to a roof top and watch New Year's fireworks!
26. Visit a Christmas village and kiss under the mistletoe
27. Find a gala and go to it!
28. Revisit the place where you met!
29. Practice a spiritual art together such as meditation or kundalini!
30. Write a letter explaining how you plan to live the next year with your spouse!
To do with close friends:
31. Holiday-themed dinner parties!
32. Create a time capsule!
33. Participate in a holiday potluck!
34. Go to a Winter Solstice festival!
35. Create a bonfire, make s'mores, look at the night sky, and drink holiday drinks!
36. Do something different, such as take a dance, wine tasting, or pottery class!
37. Club hop and sport New Year's masks!
39. Donate food, clothes, and toys!
40. Go to a tree lighting ceremony!
41. Have a family discussion about plans for 2015 and events of 2014!
42. Recreate a movie scene from a classic holiday movie!
43. Go on a mini family-only vacation!
44. Write anonymous letters to your family members about how they are an inspiration to you!
45. Create a family book of receipts and photos!
46. Talk about your problems and develop solutions!
47. Have an '80s/'90s Christmas party!
49. Help another family need by inviting a family over for dinner!
50. Buy tickets and attend a show that your family loves!
To do with your coworkers:
53. Toys for Tots donations!
55. Make one day a week a dress theme, such as wear your best Christmas tie or hat day!
56. Invite the Elf on the Shelf to your desk!
58. Give Christmas cards with a candy cane taped to the envelope!
60. Make New Year's predictions about the job!
61. Get rid of the old, such as clothes and mail, to usher in the new year!
62. Decorate per season or holiday!
63. Strategically place seasonal candles or oils in your home!
64. Buy seasonal flowers!
65. Cook seasonal dishes!
66. Change the color of your home by repainting your walls!
67. Play holiday music during dinner!
68. Place an active train set near the Christmas tree!
69. Place pictures from parties of past holidays around the house!
70. Set up a home made photo booth so people can take holiday selfies!
71. Buy someone a cup of coffee!
72. Help a local business owner!
73. Hire a photographer to take pictures of you and make holiday cards of the photos!
74. Make people smile by giving them a candy cane or a small denomination gift card to a shop!
75. Instagram record and shout out a musician playing in a mall to spread the holiday cheer!
76. Host your own fund raiser for the holidays!
77. Spread cheer by dressing up in holiday clothes and ask people to take pictures with you!
78. Dance when you hear your holiday song at a mall!
79. Manhunt! Hide gifts throughout your neighborhood (maybe get a local business involved), post about it, and ask people to find them!
80. Volunteer at a local event!
81. Get your pet a buddy, get a pet from a local shelter find a home or donate to a shelter on behalf of your pet!
82. Dress your pet for the occasion; put a holiday bow or reindeer antlers on the pooch!
83. Have treats wrapped in plastic for your pet to give to your guests!
84. Create a special Christmas stocking!
85. Sending a personalized greeting card selfie of you and your pet!
86. Let your dog pull the sled that the children are riding!
87. Get a gift for your pets and let them open it on Christmas day!
88. Get your pets their own Christmas tree!
89. Make special holiday treats for your pets!
90. Take your pets to a holiday festival!
To do on social media to help the general public:
91. Post your wish list and ideas!
92. Post your favorite places to go for the holidays!
93. Post who and what you're grateful for this year!
94. Post pictures of how you decorated your home or office!
95. Post recipes for food and drinks!
96. Post your list of your favorite holiday movies!
97. Post about festivities and other events!
98. Post about special shipping deals and holiday sales!
99. Post outfit and accessory ideas!
100. Post your personal note wishing everyone happy, healthy, and safe holidays!
One thing to do with the world:
1. A silent prayer just before midnight
Spiritual entrepreneur and Amazon best-selling author, Tia Johnson is the author of To Be Goddess: Every Woman Is A Goddess Discover Your Domain In Which You Reign Supreme. Tia blends her spiritual healing practice and business insights to help women flourish in their spiritual path and professional lives.
Tia is an Organization Dynamics graduate student at The University of Pennsylvania. Having created The Violet Sanctuary Spa in 2010, Tia focuses on coaching and promoting one's inner and outer spiritual growth. Visit her at www.violetsanctuaryspa.com.