Got a room that lacks purpose and pizzazz? Why not throw down a stylish rug? Not only will it anchor all the elements of the room but, if you choose one with a bold on-trend print, the look of the room will be instantly uplifted. Rugs sporting geometric designs, in particular, will produce a buzz and generally underpin most decorating themes, from classical to country. What's more, geometric patterns in housewares and interiors have become an ongoing trend, with new and rediscovered patterns being added each season. Choose from the many available, including chevron, herringbone, diamond, Aztec, Greek key or even the new kid on the block, honeycomb.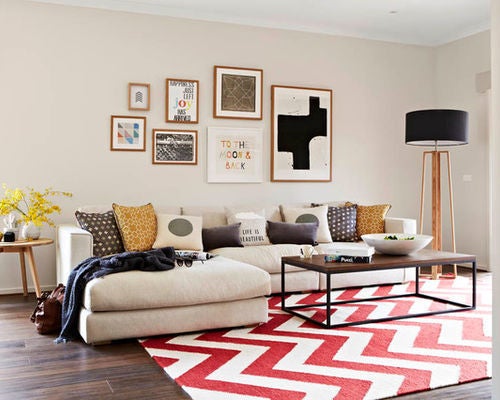 Chic chevron. Link furniture pieces in a large living room by anchoring them via a vividly patterned rug. This handwoven wool design features a chevron pattern, a fun zigzag twist on the basic stripe. As part of a decorating scheme, the rug's punchy red and white colors have been used to bring a bit of drama to what is a mostly calm and subdued color palette.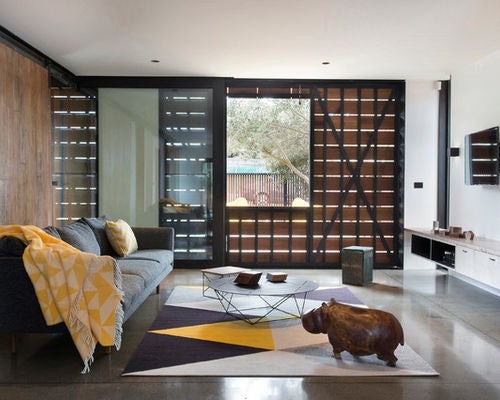 Oversized pattern. What do you see on this rug? Large diamonds or a group of triangles? Depending on the way you look at it, you'll see both geometric shapes, which together form a beautiful graphic focal point in this simple but stylish living room.
Cooking with color. You may be cooking up a colorful culinary feast in your kitchen, but if the space is all white, it could look rather clinical. One way to spruce up a sterile-looking kitchen is with a vividly patterned geometric runner-style rug.
To choose a rug that is suitable for the kind of foot traffic you'll get in the kitchen, select from those made from a hard-wearing, flat-weave natural fiber, such as wool. A woven polyester rug is also a good choice, as it is both durable and easy to wipe clean.
Tip: A rubber backing will help hold a rug in place in high-traffic zones.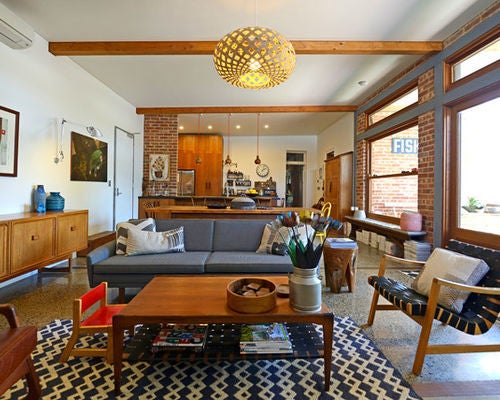 Retro twist. With so many wood elements competing for recognition in a midcentury home, the result in an open-plan living area can look rather flat. A strongly patterned and extra-large rug can change all that by pulling the room together. Choose one with a simple geometric repeat and a dark background to complement the many hues of wood in the furniture. In this house the homeowner has brought in a graphic black and cream rug to underpin her midcentury modern furniture finds.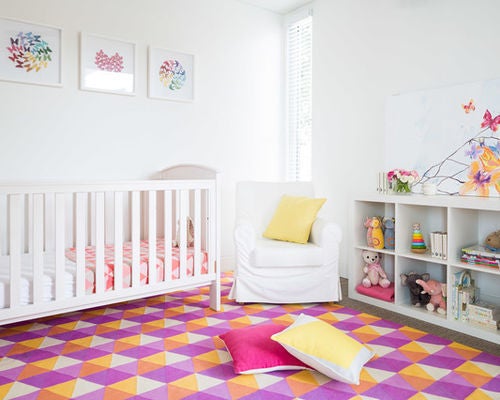 Visual illusion. This all-white room for a baby was in danger of looking more like an operating room than a baby's nursery before it was finished off with a brightly patterned Escher-style print (that almost looks 3D).
Luxe look. A quality designer rug is an expensive investment but will usually last a lifetime. The best are often made of wool, which is hard-wearing but soft underfoot. If the fiber is of a premium grade, the rug will stay looking good right to the end of its life.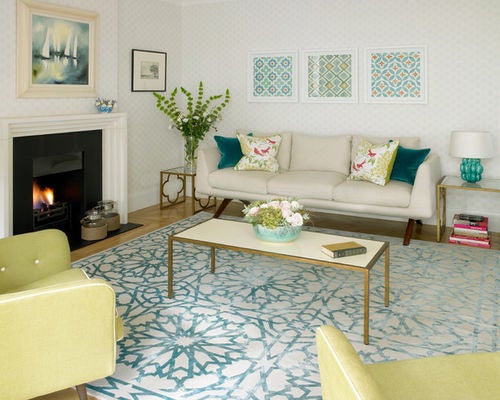 Turquoise trellis. A pastel color scheme can move dangerously into looking "as boring as beige" if the main elements of the room are not visually secured by a boldly patterned item, such as a rug. Drawing inspiration from 1930s interior design, the decorators of this lovely room added a pretty rug that sports a big trellis pattern. The rug also introduces the spotlight color of turquoise.
Color up. If a decorating scheme is hard to pigeonhole, go for a rug with timeless appeal or with global credentials.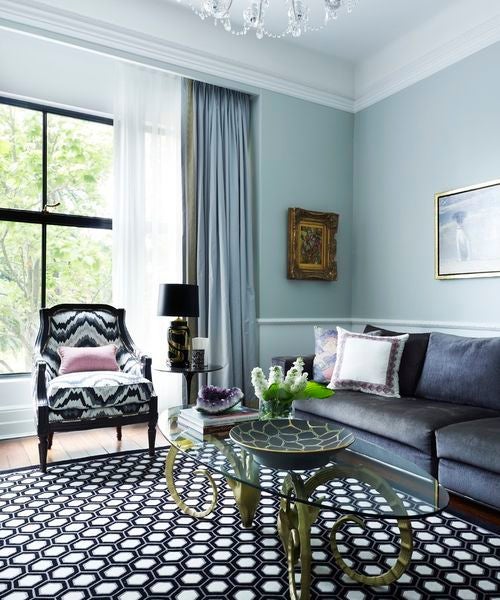 Honeycomb. Choose a newer geometric pattern such as honeycomb to modernize a classic decor scheme. The designer responsible for decorating this living room in the Astor Apartments in Sydney is the award-winning Greg Natale. He has his own rug collection, available through Designer Rugs.
Outdoor fun rugs. Brightly patterned geometric weather-resistant rugs can be used to heighten the party atmosphere in an outdoor entertaining area. If the deck or patio area you have is large enough, use more than one rug to create separate zones for dining or relaxing.
More is more. A wide hallway can be turned into a reading nook but may still look like a passageway without a floor rug. Give the space the stop-and-look-at-me treatment by choosing a rug with a striking geometric pattern.
Tip: Geometric patterns are bold and beautiful, but take care in teaming them in one room with other bold patterns on the walls or furniture. That's not to say it can't be done — but you may need expert advice.
Related
Popular in the Community