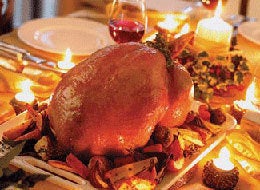 Are you looking to enjoy all your favorite foods this Thanksgiving, yet terrified of what the scale is going to say on Black Friday? If your main focus this holiday season is connecting with family and friends, and not putting yourself into a food coma, then perhaps you can make more mindful food choices. Of course the opportunity to over-indulge is always there, and by no means should you deprive yourself of the delicious pumpkin pie or sweet potato casserole you look forward to all year; however, can you find ways to avoid excess? Here a few suggestions to avoid the holiday bulge and burnout.
On Thanksgiving, if you are the cook you can try healthy versions of your favorite dishes or substitute healthier ingredients. Whether you're the guest or the host, don't go the table hungry. Make sure you eat a wholesome breakfast and lunch. We often eat faster and more when we are hungry, so that's a definite recipe for over-indulgence. Thanksgiving dinner is not an all-you-can-eat buffet. Fill your plate half with vegetables, one quarter with a lean meat and the rest with a starch of your choice. Eat slowly and stop when you are full. If you cannot control the ingredients that go into a dish, simply limit yourself to a smaller helping size; moderation is the key. What are your favorite traditional dishes? What can you pass on? When the day arrives, make sure you get some exercise! Make a decision to get a walk or run in before the big meal and then right afterward. Instead of crashing on the sofa, go for a walk to aid your digestion. You'll thank yourself later!
Remembering that the real meaning of Thanksgiving is gratitude and not food will bring the focus back there. Think about what your particular good fortune is, whether being with friends or family, having a stable job or source of income, or good health. Bring this to the table and express it before the dinner starts. Everyone can go around and share, creating a really meaningful experience of the dinner. If you are away from friends and family on Thanksgiving, consider volunteering your time at a soup kitchen or shelter. There are many people less fortunate that would appreciate seeing a smiling face.
Finally, whatever you choose to do over the holidays, enjoy yourself, but be moderate with food and alcohol, and strive to get enough downtime. Remember to keep up your own cooking with seasonal, locally grown ingredients and share with others during this season. If the majority of your food is healthy and homemade, the occasional party or indulgence won't affect you. In addition, your immune system will be stronger and you'll avoid getting sick in the wintertime.
Joshua Rosenthal is the founder of the Institute for Integrative Nutrition, the largest nutrition school in the world. Visit the site for a free "14 Days to a Healthier You" coaching program.