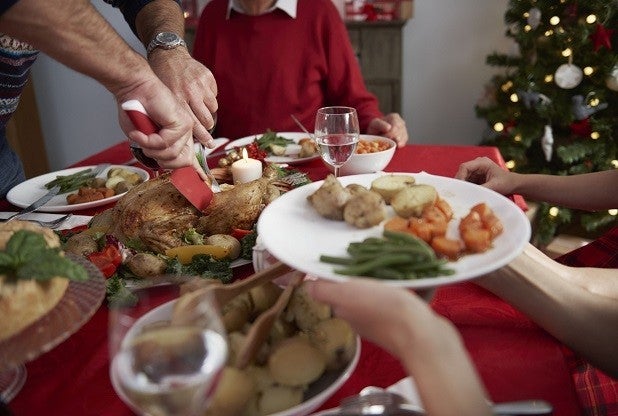 Holiday season is upon us. For many people this is the most joyful time of year, but for those who suffer from chronic disease, the month of December can bring extra planning, dietary restrictions and all-around stress that can negatively affect health.
Whether it is obvious or not, it is likely that several of the individuals you celebrate the holidays with actually suffer from one or more chronic conditions. According to the Centers for Disease Control, one in four Americans has multiple chronic conditions that last a year or more and require ongoing medical attention or limit daily living. That number rises to three in four Americans aged 65 and older.
If you are one of the millions of Americans who find themselves in this very situation, you might find the following tips helpful in getting you through this holiday season healthy, happy and ready for the new year. Considering the rate of chronic disease in America, though, everyone should consider how they can support those who suffer from invisible yet difficult to manage diseases.
Don't be afraid to ask for help
It can be difficult enough to manage everyday tasks if you have a chronic disease. And while it is even more difficult to admit, everyone needs a little help now and then. For chronic disease patients, helping others understand what you need can save yourself and your host unanticipated difficulties or surprises. Getting to and from events, mobility inside a location and access to restrooms are important to consider when planning your holiday schedule. If a helping hand or extra information is required, don't be afraid to ask.
Know what's on the menu
Party hosts and restaurants are accustomed to the dietary restrictions that come with feeding groups of party-goers, although they may not be familiar with your specific dietary needs. If you are having a holiday dinner away from home this year, it is always a good idea to let the cook know what you can and cannot digest. If you don't know what will be served, bring along something pre-cooked that you can enjoy and share with others.
Everything in moderation
This one applies not only to individuals with chronic disease. The holidays can tempt even the most astute health-buffs into having one too many sugar cookies or eggnog. Not too fast. Try to enjoy small portions of the many holiday pies, cakes and alcohol that is sure be spread across dinner tables all through the holidays.
Moderation is not just about over-eating. Getting to and from multiple holiday events can be exhausting, especially if you need to coordinate medicine or treatments. Over-scheduling can lead to undue stress. It's okay if you don't get to go to every party you are invited to this year. When possible, pick events that are easy for you to manage and attend. Unnecessarily overdoing it can cause a chronic condition to flare up, so be reasonable when making your holiday schedule.
Simplify where possible
Living with chronic disease forces you to re-evaluate your lifestyle choices, holidays included. Everybody appreciates decorations and presents, but not at the expense of wellbeing. Take a moment to consider which holiday traditions means the most to you, and phase out the rest.
If you celebrate Christmas, consider incorporating a Secret Santa into this year's gift-giving tradition. Out of the group of individuals you will celebrate with this year, randomly assign each a person to whom they will give one gift. The identity of the gift giver will stay a secret until the gift exchange, keeping the surprises exciting and also cutting down costs.
Remember the deadlines for 2017 health insurance
Jan. 31 is the last day to enroll in or to change a 2017 health insurance plan. After this date, you can only enroll or change plans if you qualify for the Special Enrollment Period. If your health coverage did not meet your needs this past year, now is the time to look into what other options are available.
Have a safe and happy holidays!
Clorinda Walley is the Executive Director of Good Days, a national, independent 501(c)(3) non-profit charitable organization, and one of the nation's largest providers of financial help to seriously ill Americans who cannot afford their medication.