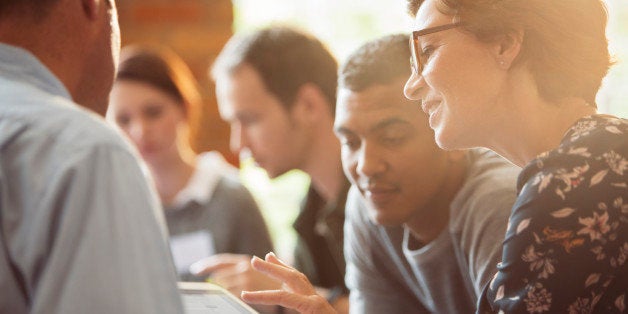 The B2B customer has changed.
Whether they buy software or a new desk, for themselves or their business, they don't do it the same as five or ten years ago. Some people might even say they're not doing it the same way as a year ago, which is exciting but also scary if you're on the sales end. People are constantly evolving the way they execute purchases.
Forward-thinking organizations continually adjust to this. That's what happened with the inbound movement, where thought leaders like Hubspot said that we should stop cold calling, be thought leaders, and people will come to us. The same adjustment is necessary in all B2B sales.
Today, over 70% of the world's goods and services are sold through a channel, through some kind of third-party distributor. As we're changing and evolving our strategies in direct sales, we also need to think about them in indirect -- how we can support those partners who are face-to-face with our customers.
That's what we learned from our interview with Jen Spencer, Director of Sales & Marketing at AllBound. Her advice? Don't neglect your channel partners, especially if they spend more time in front of your customers than you do.
I Want to Help My Channel Partners, but What Can I Do?
This is the main problem with companies who use resellers: they know there's a problem with the relationship, but they don't know what to do about it.
Your channel's been this machine that's chugging along: how do you step in and inject a human element into what's been a hands-off, automated relationship? How do you equip your resellers?

The other problem is lack of engagement. Companies have partners, but they really have no sense of what's happening within their channels.
Allbound's solution solves both problems, and we would all do well to follow suit:
The salesperson who is educated about your product/service, who feels confident selling it, will be more successful.
The Allbound platform offers the ability for their clients to empower their indirect sales reps with knowledge, tools, and training, putting them in a more comfortable selling position--to the benefit of everyone involved.
Allbound also addresses engagement.
Probably the biggest mistake they see is organizations who are so focused on their own message that they forget to include the partner message as well.
Before Allbound, Jen was limited in keeping up with her partners; she had a hard time getting content to them and tracking what they actually used. But with Allbound, you can track everything your partners use, and even gamify it: for example, you can incentivize sharing an infographic on LinkedIn or taking a training and completing a quiz.
If you have a limited marketing budget, where are you going to put those dollars? This allows you to see what content is being effectively used by your channel partners. And sometimes the content that's resonating with your direct sales team is not the most effective in the channel.
If you're a corporation putting together a success story and it has nothing to do with your partners, why should they share it? Think about what added value they have, and build up your partners. They're not just a channel: they're valuable.
Trust Us: They Want What You Have to Give
Resellers tend to be very receptive to shared content. Indirect sales reps are hungry for tools and training.

Jen said that indirect sales reps spend over 35 hours every month just looking for tools and training. That's an entire week. They want access to your help, and delivering it to them in a user-friendly, partner-focused platform is what has made Allbound successful.
Why Should I Use Channel Partners in the First Place?
If you look at any successful organization (i.e. those who jumped from $10 million to $100 million), especially in software, you're going to find a channel. It's the fastest way to grow revenue.
Think about it: you onboard one partner. That partner comes with 10/50/100/1,000 salespeople selling your solution--that many people advocating for your business.
When you do grow a channel, whether getting started or expanding an existing one, it's important to truly treat your partners like, well, partners.
It's easy to fall into a place where you're the alpha pushing your message down on your partners. But an individual rep is your feet on the street, talking to your customers face to face. For all intents and purposes, when your customer thinks of your company, they're going to think of that person.
It's a complicated relationship, for sure. On the one hand, it looks like a way to get your message out en masse, which is true 100%. But be cautious: make sure you're listening to them and they are an equal partner. That will be critical for your ultimate success.
If you treat them well, it'll be like combining powers and using their workforce for your business -- pretty cheaply, too.
You can find the interview that this post was based on, and many more, by subscribing to the B2B Growth Show on iTunes.
___________________________________________________________

James Carbary is the founder of Sweet Fish Media, a done-for-you business development service that guarantees new relationships between B2B companies and their ideal clients. James also co-hosts the B2B Growth Show: a podcast dedicated to helping B2B executives achieve explosive growth.
Calling all HuffPost superfans!
Sign up for membership to become a founding member and help shape HuffPost's next chapter