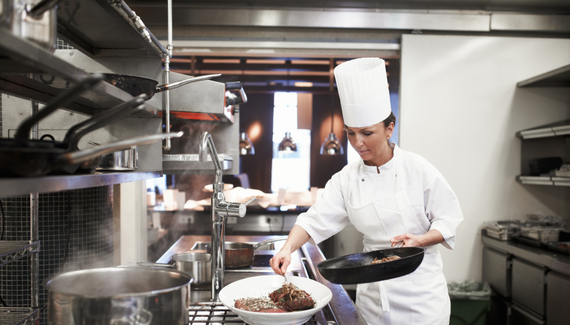 They say you're only as good as your tools, which leaves even the most talented restaurant chef at the mercy of her kitchen equipment. But restaurateurs know that investing in the tools you need to be successful is not cheap.
Although restaurant equipment financing can help ease the financial burden, that doesn't mean you should buy everything but (or including) the kitchen sink. NerdWallet spoke with restaurant consultants David Kincheloe and Lynn Brown to gather a few tips on how your kitchen -- and your finances -- can handle the heat.
Kincheloe and Brown both say examining your menu is the first step in planning your equipment purchases.
"You can go hog-wild on equipment, but you may not need it," Kincheloe says. "Or you may be purchasing the wrong piece of equipment for what you do need."
Kincheloe, who's president of National Restaurant Consultants, suggests planning your menu first, then sitting down and figuring out what equipment you need to execute it efficiently. With a clear vision, you can shop around for the best deal and know that you're investing in the quality and performance of your restaurant.
Brown, who owns Restaurant Equipment Consultants and Portland Restaurant Consultants, adds that nice-looking, light-duty equipment for establishments that don't focus primarily on food, such as taprooms or pubs, can even make a front-of-house appearance. Customers who see or smell goodies being prepared close at hand may be more likely to make impromptu purchases. "It's all about the sell," he says. If there's a pizza oven upfront, he adds, people who may not have planned to order anything may start thinking, "Oh, pizza."
Consider buying some items used
If you're a startup struggling with cash, you may want to scour restaurant auctions for lightly used, top-of-the-line equipment that is selling at a discount. Used gas equipment can be a good investment, Brown says, because there are fewer parts that can be damaged. He cautions that ice machines, deep fryers and, especially, refrigerators and freezers should not be purchased used, because corrosion or damage within the equipment can have serious ramifications down the road.
"If the life of a piece of equipment is 10 years and you buy something that is five years old, half of its life is gone and it no longer has a warranty," Brown says. "If your refrigerator goes down when you're closed in the middle of the night ... you could lose a couple thousand dollars worth of food."
If you do opt for used equipment, purchase it from a local dealer. There are the usual benefits of buying local, such as being able to go to the store and learn about the machine from the seller, as well as being close to a site that can do repairs. These benefits hold true for new equipment as well. But perhaps more important is the ability to inspect used equipment in person before you buy, which is vital to ensuring that you're investing in quality tools. You can verify that "lightly used" equipment is actually lightly used or look for equipment that bears a blue NSF sticker -- an indication from the National Sanitation Foundation that the equipment is up to code.
In terms of kitchen usage, there's a big difference between chain restaurants such as Applebee's or Ruby Tuesday and small, family-run restaurants that seat 40 to 50 people. If your restaurant is small, you can get by with smaller, lighter-duty equipment that will cost you less.
Beyond the size of the equipment, you also should plan around your kitchen layout. Brown says the second thing he does with new clients, after reviewing the menu, is figure out how they can effectively produce their menu in the space they have. "Sometimes kitchens can be quite small," he says. "You have to figure out the flow so you don't waste steps." In the fast-paced restaurant business, efficiency is king. Make sure equipment fits with the flow of your kitchen and minimizes the number of physical steps your cook staff will have to take; it will mean quicker service for your guests.
To maximize your space, you can also consider multifunctional equipment. There are devices available that make a huge difference in saving on labor, Kincheloe says. Such items let you cook and steam food at the same time, for instance, or have pre-programmable settings can help save you valuable time and space. But menu considerations must come first.
"You have to sit down and look at your menu," Kincheloe says. "If you're just doing burgers ... you may not need that sophisticated a piece of equipment."
To get more information about funding options and compare them for your small business, visit NerdWallet's small-business loans tool page. For free, personalized answers to questions about financing your business, visit the Small Business section of NerdWallet's Ask an Advisor page.
Popular in the Community