There are three types of out-of-towners in Austin during South by Southwest.
1. People who didn't know SXSW was happening at all when they planned a trip to Austin and stumbled into their idea of heaven or hell.
2. People who planned months in advance and got a room at Hotel San Jose or the W Austin and are speaking on a panel.
3. Then there's probably you; the person who waited three months too long to book a hotel, hasn't booked a return flight yet, but somehow stumbled into a badge for the Interactive conference, Film or Music festival.
Good news is you have plenty reason to be excited. SXSW is spring break for creative professionals, after all. Bad news is I won't be dishing out any advice on how to find some secret stash of hotel rooms in this post so good luck with that.
However, what I can give you is the scoop on how to experience SXSW like a local. I've attended the festival for years, some years with a badge and some years without. Here is my list of the three most important things to know before coming to Austin for SXSW, especially if you're a newbie.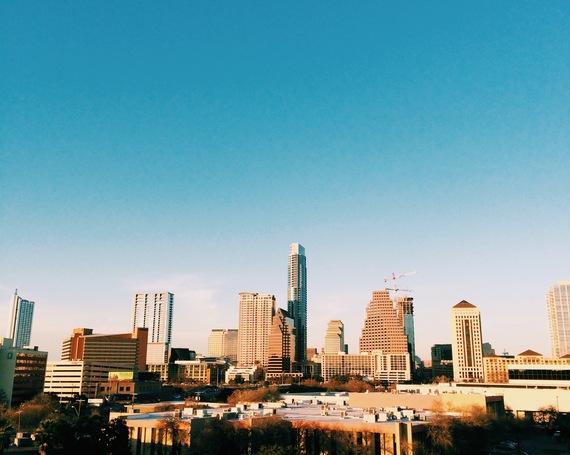 1. SXSW does not have the typical conference or festival layout.
Some of you may remember when you were young and your extended family came over for the holidays and basically took over your entire home? SXSW basically does that for the city of Austin. Roads are closed. Restaurants become music venues. Coffee shops because tech offices. Job interviews and fundraising takes place over beers and breakfast tacos, and big brands hand out free swag as if they're feeding the needy.
Unlike music fests like Coachella or tech conferences like Dreamforce, SXSW doesn't take place in one fairly contained space. This means it's often difficult to know what to wear.
A few years ago, the temperatures dipped into the low 50s during Music, a shock for New Yorkers expecting 80-degree days, and, more recently, torrential downpours welcomed Interactive attendees. Along with the regular casual clothing (think: Bonobos meets Urban Outfitters; both located within Austin's 2nd Street District) make sure to pack comfortable walking shoes, a warm raincoat, some sunglasses and a pair of swim trunks and that should cover most weather conditions.
2. Those SXSW badges aren't all created equal.
The hierarchy of badges starts with platinum and works its way down to locals with Music wristbands. Tipping the SXSW volunteers is not recommended, but getting friendly is advised. Keynote speakers require longer waits and big-time music acts (a la Jay-Z) require hours of lines, Twitter accounts and even AmEx cards.
There are something like 55,000 badge holders during SXSW so there's no way everyone can squeeze in to hear Chelsea Clinton talk about what it was like growing up in the White House or into Stubb's for a concert. You're going to need to get it out of your head that your badge means anything other than the fact that you may be able to walk into those doors if there's room inside. That means you'd better plan ahead and arrive early and befriend the person in line for half an hour with you.
A good rule of thumb with SXSW is that you should only plan to do one thing -- a talk, a show, a film - every few hours so you can leave plenty of time to run into an old friend, shake hands with some celebrity or drink the free beer you stumbled upon.
3. Group planning is the worst planning.
Don't think you're going to spend all your time hanging out with all your friends. You won't. There are simply too many speakers, too many talks, too many shows, and too many awesome parties to stick with more than one or maybe two other people.
I recommend you make your own plan for each day, which sessions you'll go to, which bands you'll see and so forth, and use meals as your meetup windows. With plenty of awesome bars like Peche, stellar restaurants like Lambert's and Second Kitchen, and food trucks like Kebabalicious and Chi'Lantro, planning your drinks and meals together is the best way to experience local in Austin with friends while still maximizing your own SXSW. I know of a pretty cool website and iPhone app that may help you out with these plans, too.
Popular in the Community