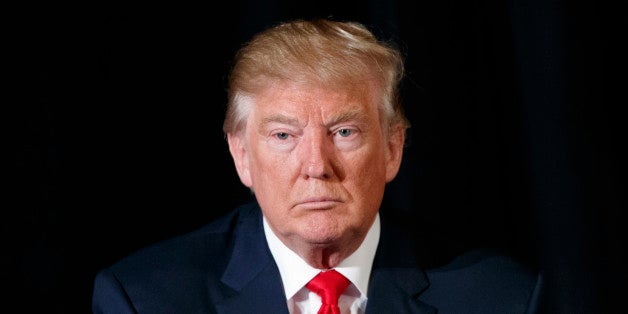 1. "'Oh shut up, silly woman,' said the reptile with a grin. 'You knew damn well I was a snake before you took me in.'"
After all, the foundation of democracy is built on an electoral process designed in a way that empowers citizens to elect a leader that they feel best represents the interest of all Americans.
When your child asks you how it was possible, prepare them for the following vocabulary lesson.
2. Although it may be a heavy term, teach the word "xenophobia" early.
Fear, like heat, is a breeding ground for a bacterium called hatred. When the heat rises, bacteria will capitalize on the opportunity to multiply and spread at an unfathomable rate.
Trump's campaign notoriously used fear to draw followers in. Whether it was profiting off of rural Americans' fear of "immigrants taking our jobs," claiming Mexicans were "killing us," or wrongfully blaming an entire religion for acts of violence, Trump has mastered the art of using latent fear and hate speech to fuel dormant bigotry hiding within his followers.
3. It is never too early to teach hate. But it is also never too late to teach love.
Your child will have many questions. If you are a White parent, your child could one day ask you if their Mexican friend is a rapist because their president said so. They may inquire why they should sit next to their Muslim schoolmate on the bus if their president thinks the schoolmate could be a terrorist.
If you are a Black parent, your child could ask you why they should be fearful of police, since they are supposed to be heroes who promised to protect them.
If you are a Latino parent, your child may ask why strangers make fun of them for speaking another language and bully them into speaking English.
If you are a Muslim parent, your child may one day ask you why classmates make fun of them for not eating the same lunch or praying a different way.
If you are an LGBTQ parent, your child could come home crying because they did not receive an invitation to a birthday party — their best friend's parents don't want their child to play with them anymore.
These are realities that are all too true and already happen today, and it may increase at a rate that we are not prepared to accept. Hold your children close. Let your child know that you will do everything in your power to protect them. The fate of our future resides with them. It is up to us to be strong in our hour of despair and prepare them to stand up when we have fallen.
Comfort your child with stories of heroism. Tell them they have an opportunity to stand up for a friend who may be bullied for being different. Encourage your child to speak up if they see something that hurts their feelings. Arm your child with lessons of resilience, bravery and leadership. But most importantly, remind your child that they are loved and that his or her life matters.