After several years of being divorced, filled with a couple of relationships and a string of dating, I found myself feeling lonely. Now, before you get all "but you're never truly alone," I totally agree with you. But my human mind was doing that whole "if I had _____, then I'd be fulfilled" thing. It's not a cute look, I know, but this is me being honest and open with you all.
My heart craved a partner who gets me, who doesn't laugh when I say I'm waiting to launch my program until after Mercury Retrograde and who appreciates my crazy multi-passionate ways. Yes, I'm all over the place. Yes, I love unicorns and yes, I believe I can manifest them. Oh, and I believe that I can find a partner who loves all of that and the not-so-awesome parts of me too! Yet why couldn't I manifest this super stud of a man into my life?
I was curious as to why I felt lonely, when I know that I'm clearly not alone. Why is it that when a women takes time for herself, she is labeled as selfish. It's time to challenge that myth. We can't fully unconditionally love those around us if we don't take the time to do the same for ourselves. This includes proper sleep, nutrition, soul searching and just playing!
I was choosing to fill my life with food, wine and nights on the town to escape the real underlying issues that haunted me. I didn't want to face the real issue of being scared to be alone. Then after each break-up or fizzling out, I began to question my self-worth or if I could really have it all in a relationship. What was I willing to compromise on and what were the deal-breakers? Wouldn't I just know? I wanted to manifest true love, yet I know that EVERYTHING happens for a purpose and in DIVING TIMING. Damn!
The day has come where I'm sick and tired of being sick and tired, as the lovely Sunny Dawn Johnston would say. That's when it hit me.
"You can't find true love with someone else, until you find it within yourself." -- Dajon Ferrell
I realized I need to be OK with being just me! I want to fall in love with me. I want to find the gift and love in each day and even each moment. This is the day that I decided to start dating myself and add in some other fun practices as well.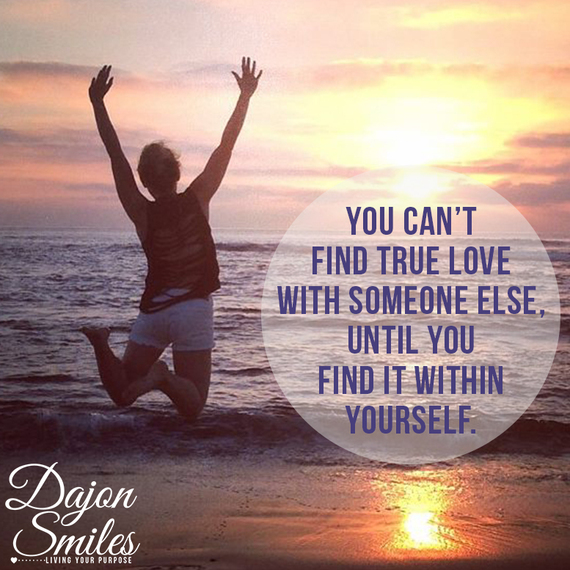 Being the lovely planner that I am, I wanted to start this journey with some intentions!
1. No dating. This does not include hanging out 1-on-1 with friends. Just no dating.
2. Limited alcohol. I would like to enjoy a celebratory drink on my birthday or a glass of wine on occasion. It's all about balance, folks.
3. Meditating daily. My intention is to meditate twice daily, but daily will be a success! Yoga Nidra three times a week.
4. Move that body daily. My intention is to have a good solid workout four times a week, but to include some form of physical activity, breathing exercise or yoga daily.
5. Mindful eating. This is just me setting the intention to be aware of what I'm putting in my body. It's important to listen to our bodies.
6. Take myself on one date a week. Ooh, the possibilities are endless! Sex And The City marathon? Why not!
7. Write one thank-you note a week. My intention is to write most of these by hand, but some might need to be accomplished via email.
8. Focus on what makes my heart sing, instead of what makes money. As a soulpreneur, it's easy to get caught up in the hustle. No more of that for this gal. I'm going to cultivate my core desired feelings and dive back into The Desire Map.
9. Gratitude journal daily. Starting my day by writing out three things I'm grateful for in my journal. It takes less than a minute.
10. One random act of kindness a day. This could be leaving a kind note on a car or helping a stranger in need. Please share your favorite ways to spread kindness!
If you'd like to join me on the journey, please feel free to adopt one of these practices in your life. I've designed a handy guide for you to print or save. I'm doing this from the heart, so I won't be judging myself if I miss a day, but my intentions are set!