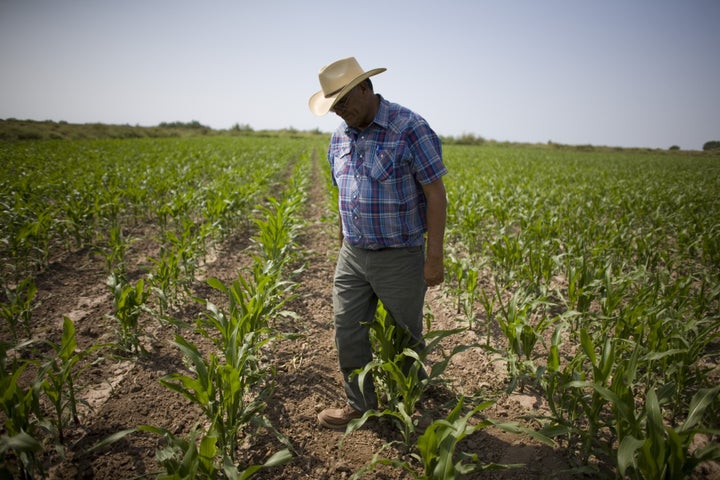 This week, according to UN estimates, the Earth welcomed its 7 billionth person. By 2050, we are likely to hit the 9 billion mark.
You don't have to be a conservationist to have some grasp of the demands on our planet these additional 2 billion people will represent. They will need clean water. They will need food. They will need energy and minerals. And they will need space.
At the same time, rising incomes are lifting hundreds of millions of people out of poverty worldwide. There's no denying that this is a positive development. But as incomes rise, increased consumption will put enormous pressure on the lands and waters we seek to protect.
How can we help the world's growing population thrive without ruining the natural systems that we all depend on for our health and prosperity?
One solution to this challenge is to better integrate conservation and agriculture. Just as we must determine how to produce more energy with less pollution and habitat destruction, we must develop smarter agricultural systems that produce more food using less land and water.
The good news is that bold thinking in this area is not without precedent.
Take brilliant scientist and Nobel Peace Prize winner Norman Borlaug, for example.
When Borlaug was tapped to head up a research institute in Mexico in 1944, his employer at the time, DuPont, offered to double his salary. Borlaug turned DuPont down and headed south.
What was he doing, moving to Mexico for half the pay?
The answer, I think, is that Borlaug looked to the future unencumbered by any notion that it was determined by the past.
As Director of the Cooperative Wheat Research and Production Program in Mexico, funded by The Rockefeller Foundation, Borlaug worked with local farmers to boost wheat production. Where others saw peasant farmers struggling with poor harvests and diseased crops -- not an attractive business opportunity -- Borlaug saw not problems, but potential. Where others saw low returns on investment, long lead-in times and upfront costs in plant breeding research, Borlaug saw opportunity.
Within twenty years, Borlaug's disease-resistant, high-yield crop varieties had helped Mexico double its wheat production. Borlaug next brought his techniques to India and Pakistan, sparking the Green Revolution that is credited with more than doubling world food production between 1960 and 1990, and saving up to 1 billion lives in developing countries.
Borlaug's life was one long demonstration of how the past does not necessarily determine the future, that societies and cultures can transform themselves, and that science, driven by a vision, can achieve extraordinary things.
What business expert or company would have looked at Mexican wheat farming in the 1940s and seen that potential? What bottom line analysis would have identified wheat farming in Pakistan and the Punjab in the 1950s as a good business to be getting into? But that's precisely how things turned out.
The children and grandchildren of the farmers with whom Borlaug worked are now educated, working to scale and achieving yields and returns unimaginable to their grandparents. It is an instructive and encouraging precedent.
So we need to look at the future through the eyes of a Borlaug. Businesses need to think of the bottom line in a more long-term and imaginative way. Conservationists need to work with the agriculture industry to safely intensify food production, minimize the further conversion of land and lessen the impact of intensifying agriculture on nearby wildlife and natural habitat. And governments need to make policies and investments to protect the natural systems that Earth's 7 billion people rely on for their health and well-being.
Throughout history, human ingenuity and technology have broken previous limits and boundaries. If agriculture and conservation work together more broadly, there will be room for the extra 2 billion people we expect by 2050.
There will also be room for wildlife and nature, for ample water, for ample food.
But we have to treat nature and the important benefits it provides to people as something to be managed every bit as smartly as Borlaug designed his seeds and cropping systems to work efficiently.

REAL LIFE. REAL NEWS. REAL VOICES.
Help us tell more of the stories that matter from voices that too often remain unheard.