It seems impolite to talk about Barack Obama's legacy just yet. It also seems premature because he clearly has not finished building it. The latest evidence is the collaboration the White House has just announced to stimulate the flow of grassroots capital into clean-energy technologies.
Some background is in order. As I have written in the past, one of the biggest disconnects in dealing with climate change is that the problem is permanent but our leaders are temporary. Public policies tend to change every few years when new presidents and congressional majorities take power.
A second problem is that we cannot depend on government programs alone to deal with climate change and its impacts. Political leaders disagree about the proper role of government in energy markets, and, again, government programs are vulnerable to changing leadership. Even if that were not the case, governments alone do not have the resources to adequately capitalize America's transition to clean energy. The redirection of today's fossil-energy subsidies into clean energy would help. So would the revenues from pricing carbon. But there is no substitute for private investors from Wall Street to Main Street putting skin in the game.
Among the targets for clean-energy investments, buildings are one of the most important. They account for nearly 40 percent of our energy consumption and greenhouse-gas emissions. Energy-efficiency improvements and renewable-energy systems can significantly improve their performance, with savings for families and businesses, less air pollution, and better health and productivity for occupants. But to fully capture these benefits, building owners need easier access to capital.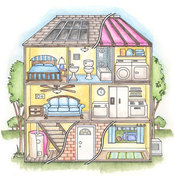 In response to this need, some innovative financing programs have emerged in recent years. Among them are on-bill repayment (OBR) and property-assessed clean-energy (PACE) loans. In OBR programs, utilities loan money to their customers for energy improvements in their buildings; customers repay the loans with a special charge on their utility bills. In PACE programs, states or municipalities loan commercial building owners money for renewable-energy systems and energy-efficiency measures; the owners pay back the loans on their tax bills.
While PACE programs are promising, they also have been problematic. The federal government has effectively shut down PACE loans for single-family homes because of concerns about liens. As a result, most PACE programs focus today on commercial buildings.
On the surface, PACE loans appear to be widely available. Thirty states have passed legislation authorizing them, including 13 in the last two years alone. Unfortunately, only 10 states report active PACE programs. The Center for the New Energy Economy (CNEE) at Colorado State University has been tracking PACE progress. It has found there is little consistency and considerable confusion about everything from the legislation necessary to authorizes PACE financing to loan terms, administrative practices and how to decide which types of commercial buildings should be given priority.
OBR and PACE financing are not federal programs, but the Obama administration recognizes that it can help sort out some of these issues by conducting a pilot project in California. In the initiative the White House has just announced, the U.S. Department of Housing and Urban Development (HUD), the U.S. Department of Energy, the state of California and the MacArthur Foundation will join forces to stimulate OBR and PACE lending for clean-energy investments in multifamily housing, which are in the "commercial" category.
Although the project focuses on California, it could unlock PACE financing in other states with significant results. One quarter of the nation's households occupy this type of housing. Energy-efficiency and renewable-energy improvements have the potential to save a lot of money for a lot of families while preventing a lot of greenhouse-gas emissions.
I have not found a good accounting of how much investment capital is available from federal, state and local government finance programs, but it appears to be tens of billions of dollars. (Federal programs for financing energy efficiency and clean energy are listed in a guide published by the Obama administration; state programs are catalogued on an online database called DSIRE.)
CNEE's founder and director, former Colorado Gov. Bill Ritter, points out that new financing opportunities are spreading among the nation's philanthropies too. More private foundations are making mission-related and program-related investments -- low-interest loans to organizations whose activities are aligned with the foundations' goals. As the loans are repaid, they restore and increase the foundations' capacities for supporting new projects.
All these financing tools -- federal, state, local and private -- could be mobilized in a national campaign to create a low-carbon U.S. economy, and to achieve it more rapidly than any other major energy shift in American history.
The California pilot project is relatively small in scope, but it could model how we can capitalize a clean-energy revolution, using public and private financing tools that already are in place. The economy, society and the environment all would benefit. And President Obama could rest assured that with more private capital flowing into clean energy, the next person who moves into the Oval Office will not be able to stop revolution.
REAL LIFE. REAL NEWS. REAL VOICES.
Help us tell more of the stories that matter from voices that too often remain unheard.