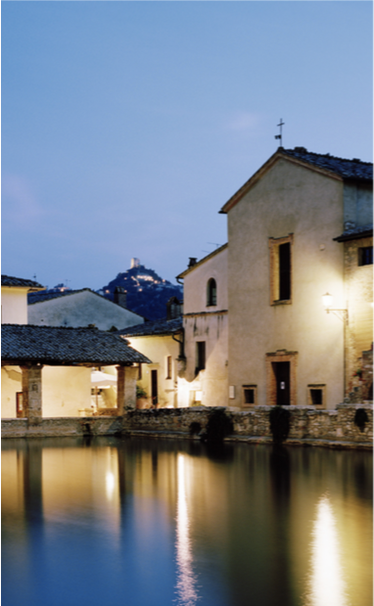 This is the only kind of vacation where the well-being you get is multiplied to the nth degree. All it takes is a few days—even just a long weekend—and you come back from a spa looking (and feeling) like someone who has been away relaxing for days. As the ancient Romans would say, mens sana in corpore sano: a sound mind in a sound body, con rming that the two are totally entwined. So if you take care of the "outside shell" your head will unquestionably bene t from the positive repercussions. Italy has boasted hot springs since antiquity. If you want to plan a vacation around wellness with hot springs, all you need to do is decide where to go.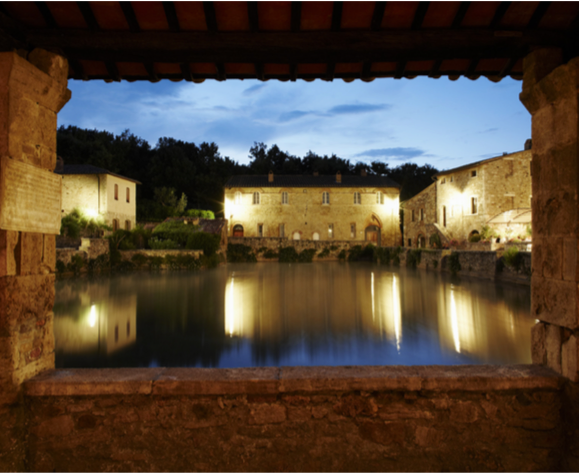 Riccione
Terme di Riccione, Viale Torino 4/16, Riccione (RN)
tel. +39 0541 602201
We're on the Adriatic, but for once the objective isn't pure entertainment. The water at this spa is rich in sulfur, bromine, iodine and magnesium. The strong point here is the offer of mud baths and remineralizing baths, hydromassages and inhalation treatments. In essence, they are recommended for those with dermatological or respiratory problems, but also anyone who simply wants to relax and have fun in one of the most historically famous towns on the coast but without spending all day on the beach. In fact, one of the good ideas for the day is a sensory spa going between pools with a differentiated temperature or a relaxing aromatic massage with essential oils chosen according to personal preference.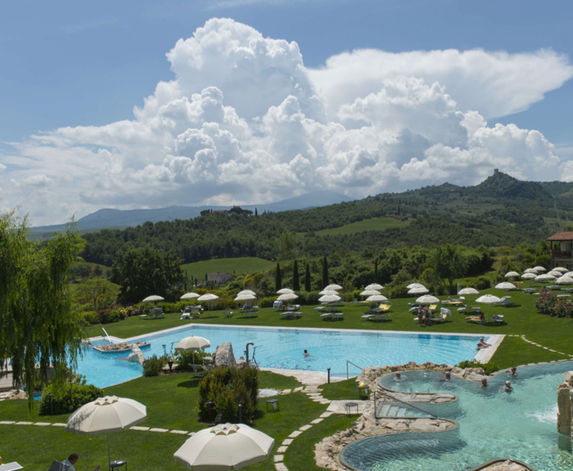 Bagno Vignoni
Hotel Posta Marcucci, Via Ara Urcea 43, Bagno Vignoni (SI)
tel. +39 0577 887112
This little Tuscan town has a dramatic appearance. Part of the municipal territory of San Quirico d'Orcia, near Siena, it has hot springs that have been known as far back as the Etruscans. It is distinguished by the fact that the center of town was built entirely around a large rectangular reservoir, built in the sixteenth century, that cannot be used but that magni cently characterizes the town. In fact, not only does the town look like a movie set, but because of its unique appearance it has been used a number of times for just that purpose. The Posta Marcucci is a simple but historical hotel with a large outdoor pool fed by a cascade of hot spring water, and from here you can enjoy a sweeping view of the Orcia valley. In the small indoor wellness area, in addition to the classic hydromassage, sauna and Turkish bath, there is also a rich selection of massages and treatments.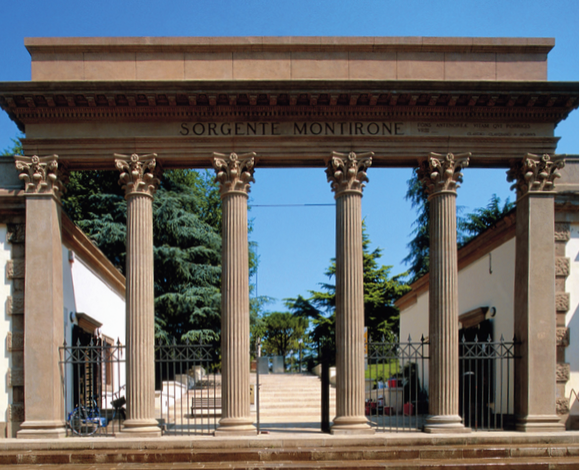 Abano
Hotel Terme Venezia, Via Valerio Flacco 42, Abano Terme (PD)
tel. +39 049 8669800
The thermal areas of the Veneto region, in northeast Italy, are among the most famous in the world for their therapeutic mud treatments and hot springs. Abano is the heart of the Euganean hot springs (set in the Euganean Hills), an extinct volcanic area with mineral-rich waters. In fact, the mud in this area has even been patented to protect its fame and property rights. We are talking mainly about its great anti- in ammatory qualities, and this mud has of cially been classi ed as a natural drug. From a purely cosmetic standpoint, it gets ve stars for its remineralizing and nourishing effect on the skin. Just like a cocoon!