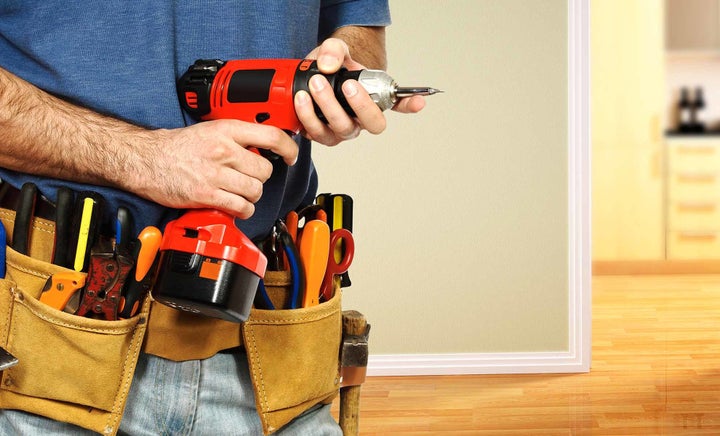 What's the best way to find a good handyman or tradesman to do some work around the house? I've have had some bad luck lately with unprofessional workers who do shoddy work and charge too much.
Hiring a good home repair handyman can be a bit of a crapshoot. How do you find someone who will return your calls, show up on time, do the job right and finish it, all at a fair price? Here are some tips that can help.
Who to Call
While it may seem obvious, whom you call on for help will depend on what you need done. If, for example, you have a small home repair or improvement project that doesn't require a lot of technical expertise, a handyman may be all you need. But if you have a job that involves electricity, plumbing, or heating or cooling systems, you're better off going with a licensed tradesman. Bigger jobs like home renovations or remodeling may require a general contractor.
Whatever type of work you need, the best way to find it is through referrals from people you trust. If your friends or family don't have any recommendations turn to professionals in the field like local hardware or home improvement stores, or even real estate agents.
The Internet can also help. Websites like HomeAdvisor.com can put you in touch with prescreened, customer-rated service professionals in your area for free. Or try AngiesList.com, a membership service that will connect you with contractors and service companies with various types of expertise for free. They provide ratings and reviews of local professionals who've done work for other members in your area, plus details about the type of work they've done, prices, professionalism and timeliness. They also offer an upgraded silver or gold membership for $25 or $100 per year, which offers discounts, a magazine, complaint resolutions and more.
Another option for finding handyman services is through a local or national service company like MrHandyman.com, HouseDoctors.com or HandymanConnection.com. You'll probably pay more going through a company than you would with an independent handyman, but service companies typically promise professional workers who are screened, licensed, bonded and insured.
To find local handyman services in your community check your yellow pages or go to any Internet search engine and type in "handyman" plus your city and state.
Things to Know
Once you've located a few candidates, your next step is to get written estimates that list the materials, costs and details of the project. It's a good idea to get at least three estimates from different sources to be sure you're getting a fair deal.
You also need to find out if your candidates have an approved contractor or tradesman license. Using an unlicensed worker in a state that requires a license is dangerous – you'll have little legal recourse if the job goes bad. (To see which states license contractors, visit contractors-license.org.) Contractorcheck.com is another good resource for researching local contractors.
Also, ask to see their proof of insurance, which covers any damages they may cause while working on your home, and ask for several references from past jobs and check them.
Send your senior questions to: Savvy Senior, P.O. Box 5443, Norman, OK 73070, or visit SavvySenior.org. Jim Miller is a contributor to the NBC Today show and author of "The Savvy Senior" book.
Support HuffPost
The Stakes Have Never Been Higher
Related
Popular in the Community