"I can't find any good people to work for me."
This is the #1 lament I hear from business owners. The awful thing about the last time I heard it, was that the fellow lamenting was standing next to one of his employees.
"You know, he can hear you. He is right there," I replied. "Perhaps he just registered that he is merely a passable hire, but not really a good person. Let's ask him, shall we?"
I'm not above starting an awkward conversation, especially to hammer home a point.
Every time you say, "I can't find good people," a good person hears you, and you lose a big chunk of whatever magnetic power you have.
1. Speak of what you want, not what you don't want.
Consider what you really want. Are you looking for a trained, skilled, licensed, degree'ed professional with perfect posture and witty repartee? It would help if he or she were good looking, too, right?
Well, that narrows the field. What are the chances that person will just show up at your shop? And, if Prince or Princess Charming were available, would he or she want to do things your way? That's one of your requirements, too, isn't it? Good luck running that Help Wanted ad. There are great people looking for meaningful, rewarding work. It is just a bit unrealistic to expect that they will arrive at your shop all "finished" and ready to go.
Consider instead running an ad that says, "No experience needed. Should you be invited to join our team, you'll have the opportunity to learn and master our systems. You can develop skills that will allow you to move up the ladder, develop a career, earn licenses, and make more money. We hire people who are willing to do what is required. We provide training, so that you know how to do what we ask you to do. It's a challenging regime. Not everyone who applies is accepted. We are playing a big game, and are fully committed to the success of each team member."
Also, start saying, "We attract good people to our company. Together, we solve problems and achieve goals. We are creating something really cool." It might feel weird to say something like that, especially if you are in the habit of lamenting. Keep it up. It will feel more natural, and true, as you commit to thoughts and words that reflect what you really want.
2. Publicize the way you pay.
Craft an equitable pay ladder, and post it. You know, they already know what everyone else makes, right? Don't cut side deals. Aim for transparency and fairness. If you have some clean up to do, take six months to restructure the way you pay. Involve key team members in the project. Bring team members up to appropriate levels for their positions on the organizational chart. Then, clarify what it takes to move up the ladder.
Make good on the promises you made in your ad. I believe that each person on the team has the right to be successful. You can create operations manuals, and line up procedures for how to do what needs to be done. Your team will help you write them. Hold new team members to learning and following your systems.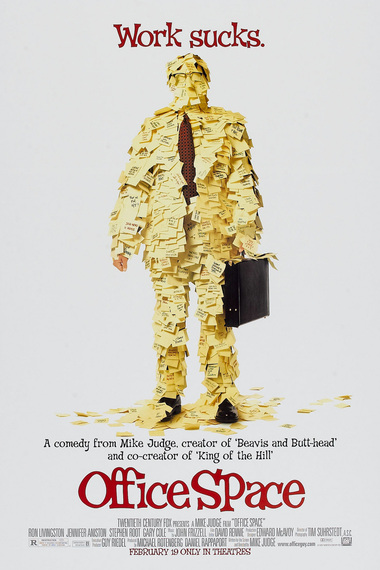 And, keep your ears and eyes open for ways to do things even better. Your team will tell you how to fix every problem and capitalize on opportunities.
Formalize your expectations and training. Did you ever see the all-time-best management training film, "Office Space," with Ron Livingston and Jennifer Aniston? This hilarious movie captures the worst of what it's like to be an employee. I love the scene where Jennifer is dressed down by her passive/aggressive boss for not having enough "flair." She rightly asks, "How much flair do you want?" Work with your team to clarify expectations and training. And if someone just isn't willing or capable of being successful in their position, move them on. Get good or get gone. It doesn't make someone worth any less just because they don't work for you. Which leads me to....
4. Love them, even if they leave.
Recently, I recorded a podcast with a couple of business-loving marketers. We talked about finding great people. I told a story about a team member who took on a project and did a really great job with it. However, that team member no longer works with us. I thought afterwards, "I could've used the opportunity to brag on a current team member." Perhaps I should have. Next time I will. I can't beat myself up too much, because what the fellow did was still a job well done. And, the fact that someone doesn't work with me anymore doesn't mean they are dead to me.
People come into our lives and our businesses. And at some point, they leave. Sometimes we blow it. We ignore them, or do something that isn't very nice. Sometimes they are ready for a change, and a new adventure. Sometimes we discover that they are not winning in their job, and it's time for them to go. Sometimes someone fails a drug test, or shows up late too many times. When someone leaves they may want to come back. You may not have a spot still open, but there is no need to pour boiling oil over the wall.
Perhaps you might also start saying, "Good people find us, and we commit to our mutual success. On my watch, in our business, we help people find purpose and success. When it's time to move on, I take great pride in the part I have played in their lives."
Don't whine about a lack of good people. They are out there. Expand your ability to attract them.
Calling all HuffPost superfans!
Sign up for membership to become a founding member and help shape HuffPost's next chapter