Co-written with Alicia Czarnecki.

With the final exams right around the corner, you must want to just escape campus. Instead of browsing the images of tropical beaches and snowy Christmas markets in Europe on your computer, or dreaming about being with your family right now, let's actually turn your procrastination into finding a perfect international opportunity for next year.
When you think about international opportunities, you might consider studying abroad, finding an internship, or doing research. All of these experiences can be fantastic, and all of them are difficult but doable. Today, let's explore how to find opportunities to do research abroad.
Let me introduce Bennett from Princeton; Peter from the University of Notre Dame; and Prof. Joaquin Ruiz from University of Arizona for advice on doing international research.
1. Bennett: Genomics Research in Czech Academy of Sciences
Meet Bennett McIntosh, now a senior at Princeton. Bennett knew he was interested in life sciences, and early on, he took an Integrated Science Curriculum class, which was very quantitative and very interdisciplinary. Over his academic career, he developed the skillset to look at a lot of different problems in science.
Bennett was thinking of starting with genomics and emailed his professors as a freshman, even though he had absolutely no research experience. He focused on the genomics faculty members, but also considered (and emailed) molecular biology and chemistry professors. He realized that reaching out to faculty is a numbers game, on some level - out of about a dozen of professors that he emailed, half did not get back to him, and a few rejected him. Bennett was not discouraged, though - the faculty he wanted to work with were truly on top of their fields. Eventually, two professors responded and offered him beginning projects in their laboratories. That's what success looks like!
"Bennett started emailing his professors as a freshman, even though he had absolutely no research experience."
Bennett started working with a Research Fellow at the Lewis-Sigler Institute for Integrative Genomics at Princeton. The Institute actually funds students' summer research, so Bennett would not have to ask his mentor for funding early on. He noted how Princeton really tried to make the research opportunities available for people from all economic backgrounds and ensure all student researchers get paid. He worked with the faculty member, started developing research skills, and received a positive recommendation letter.
While he was a sophomore, he applied for the international program at Princeton for the summer between his sophomore and junior year. The idea of the program is that the university assembles contacts with employers or mentors in various fields and various countries, and undergraduate students can then apply. He already had the recommendation letters from his research mentor, as well as a few letters from his professors in classes, so he applied and got matched to the Czech Academy of Sciences to do research in biochemistry and structural biology.

Once in the Czech republic, he also started looking for study abroad opportunities, and made contact with a professor at the University of Sussex. One project led to another, and he also took a semester to study in the UK. Nice job!
2. Peter: Urban Development in Valencia, Spain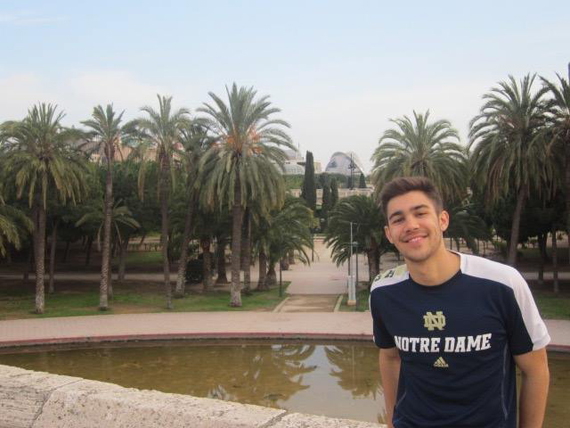 Study abroad opportunities are available for almost all majors; let's see what opportunities are available in social sciences. Peter Fink, a junior Pre-Med and American Studies major at the University of Notre Dame, had the opportunity to participate in international research during his freshman year of college. He received a grant through Notre Dame's Nanovic Institute for International Studies to travel to Valencia, Spain, to do research as part of an Urban Development project. The government of Valencia transformed a dried-up riverbed into El Parque Natural del Rio Turia, a 10 km nature park. Peter's research focused on the countless economic and social implications that the project had on the City of Valencia.
Peter was introduced to El Parque Natural del Rio Turia by fellow Notre Dame student and friend Ben Fouch, who also accompanied him on his research and gave business and finance advice. "He focused his research on the economic implications of the park and opened my eyes to so much I would not have otherwise been exposed to," said Peter, "I definitely owe Ben a huge thanks!"
"Peter's success would not be possible without the help of a faculty member."
Again, Peter's success would not be possible without the help of a faculty member. Notre Dame Professor Gabriel Torres guided Peter in his research and wrote him a recommendation letter for the trip. "If you are interested in applying and are lucky enough to know a cool professor who will write you a recommendation definitely ask them to help you!" Peter expressed. To apply for his international research experience, Peter submitted a proposal, budget and letter of recommendation from his faculty advisor to Nanovic.
"In short, the creation of El Parque Natural del Rio Turia has given Valencia money, made it healthier, and revitalized its character," stated Peter, "It was an awesome example of how creative thinking can turn even deadly problems into real attractions and solutions." Just like Bennett, Peter also caught the travel bug and went on to more traveling: he is currently spending a semester abroad in London through the Notre Dame Study Abroad Program.
3. Professor Joaquin Ruiz: University of Arizona

Of course this column would not be complete without advice from faculty members. I spoke with Professor Joaquin Ruiz at the University of Arizona, whose laboratory does research in chemistry and geology, solving first-order problems in the Earth Sciences, about engaging students in research and providing national and international opportunities.
The University of Arizona takes particular pride in engaging students in serious research; instead of, figuratively speaking, washing Petri dishes, students assist with complex research projects such as missions to Mars. In order to start research, students still have to take a class with a faculty member, develop a relationship, and start a project. Another way is to contact a center for research that also has opportunities for domestic and international research. "Most importantly, students should put effort into developing a good working relationship with a faculty member early on," says Professor Ruiz. Once you have faculty trust, you can move on to get any opportunities that you want.
"Put effort into developing a good working relationship with a faculty member early on."
Internationally, Professor Ruiz has collaborators in Colombia, Brazil, and Mexico; as well as laboratories in Michigan and France. Once students have proven themselves, he would connect them with the collaborators abroad and help them pursue international projects as they wish.

To summarize: if you want to do research abroad:
1)Find a faculty member at YOUR university. See if they do international work
2)Do great work for the faculty member! Obtain their support and a letter of recommendation.
3)Contact the program at your university/ program abroad that does similar research.
Students! If you already did research abroad, let me know in the comments - I'll pick the best submissions for my next story!
Related
Popular in the Community