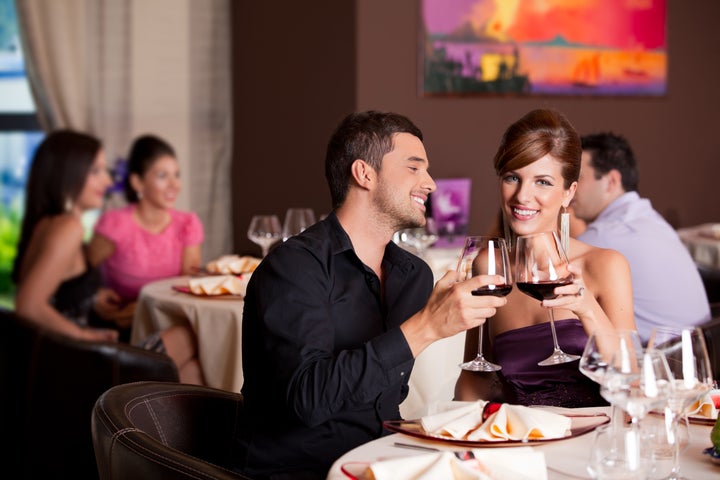 Fall wedding season is in full swing; whether you're a guest or have bridesmaid responsibilities, you're going to want to make sure you're prepared to maximize your opportunities as a single. There's nothing worse than a wedding party that turns into a pity party.
Those who attend a wedding are there to celebrate the love of two people they at least like (if not love), and the atmosphere couldn't be better for having fun. Add in the fact that everyone in attendance is a friend of either the groom or bride and you have yourself a built-in background check, conveniently eliminating the imminent Facebook stalk or questioning whether or not the man you want to go to dinner with is potentially a player, gold digger or worse.
I remember a wedding a client attended last fall where everyone was practically jumping for joy post-ceremony. Good food, champagne flowing and people in the mood for love creates an ideal situation for finding love. In fact, at this particular wedding my client incidentally got asked out by not one but two guys, and I'll tell you how.
1. Do NOT bring a plus one.
First and foremost, unless you're in an exclusive relationship, make sure to head to the wedding solo. Yes, we know you're thinking "How single will I look if I go to the wedding alone?!" The answer? As single as you should look if you want to find love at a wedding this fall! As tempting as it is to bring that guy whom you kind of like but have been on only three dates with...trust me: leave him at home. As the saying goes, do not bring sand to the beach!
2. Be positive!
It can be depressing getting invited to yet another friend's joyful union of love while you're still single, but it's very important to remember that happiness is in fact a choice. So remind yourself that you are, in fact, in the presence of the blessing of a wedding reception (and that guy at the table next to you as well!).
Don't use the wedding as a reminder of your singledom but instead as a launchpad into your next date or relationship. And finally, make sure not to drown any possible sorrows in the free-flowing champagne. Staying dignified is paramount to having a positively good time!
3. Yes, sit at the singles table!
Don't avoid the singles table; getting trapped at a table with couples could be your biggest mistake of the wedding season. You're essentially guaranteed to meet SOMEONE who's at the very least single. (And at the very most someone you really enjoy!) It's not as if you're the only person at the table.
Take the opportunity at dinner to feel out your suitors. Are their conversation skills up to par? Is one dribbling chicken all over his lap? Don't judge too harshly, because they're probably nervous too. But do try to enjoy the meal and be your charming self. You might end up meeting a fabulous new female friend who can be your wing girl for the night, or at least someone with whom you can chat with as you reapply your makeup in the powder room.
4. Get introduced by a mutual friend.
There is literally nothing better than getting introduced to an eligible guy by a friend whom you both know. Getting the thumbs up from a member of the wedding party or a guest equals a much easier path to dating than a blind date at a coffee shop or an online date.
Remind the bride and groom before the wedding to keep their eyes out for you if they think any of their male guests could be your match. This will certainly give you the advantage over the other single gal guests!
If you want to find love at a wedding this fall, adhere to these tips. And most of all, don't forget to have fun!