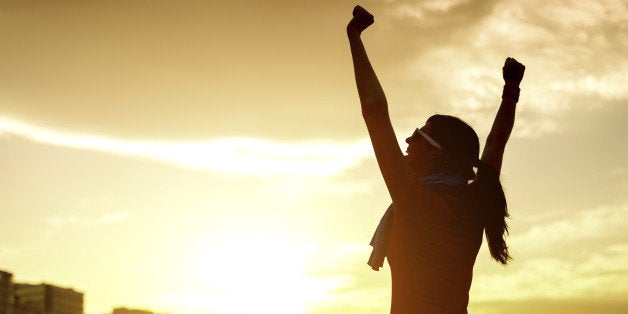 Motivation -- "the reason or reasons one has for acting or behaving in a particular way."
Chances are you have had motivation to some degree in the last two months. Motivation spikes are very common in the New Year as that's the time you often make resolutions. One of the biggest resolutions that are made (and the most common one that I see) is getting in better shape. You tell yourself come January 1st, you will be a different person. Come January 1st, you will make a change and you will stick to it, no matter what. You are now just over a month into your New Year's resolution -- how is your resolution going?
We all want to be healthier, live better, exercise more and of course, be happier. This all sounds like the perfect life but as you know, there is no such thing. You face obstacles along the way and suddenly the 110 percent of motivation you had on January 1st is nowhere to be found. Do you feel like you have by hit by an obstacle and your fitness progress has come to a halt? If so, read on.
I constantly look for ways to motivate myself, my clients, my friends and virtually anyone else that I can help. I realize that motivation comes in all different forms but I have found one thing this past week that has worked like magic for me. This simple concept is beyond powerful if you are willing to apply it in your daily routine. If you are willing to give my recommendation a shot, I promise it will work for you.
Recently, I read about a story of a young comedian who asked Jerry Seinfeld what the key was to writing good jokes. Jerry told him that they key is to write jokes every single day, no matter what. Now here comes the key takeaway of this article. Jerry told this young comedian to mark an "X" on his calendar for every day he wrote out new jokes. Over time, the continuous "X"s will start to form a chain in your calendar. Your goal however, is not to let the chain break. That's it.
You see how this is such a powerful motivator? I'm going to tell you something personal. I was stuck in a fitness slump for the last two weeks and I have no idea why. I started off on the right track in January but the last two weeks have been really difficult for me. I haven't exercised as much as I would like, which has led to poor nutrition choices. When you lack motivation in one area of your life, it often spills into the other buckets of your life. For the last three days, I have exercised every day and have started marking an "X" on my calendar. It's amazing -- only three days in and I already don't want to break my "chain". Like I said earlier, this is such a simple concept that if you physically don't mark the "X" on a piece of paper or preferably a calendar, it likely won't have the same impact.
If you are lacking motivation in any area of your life, I encourage you to use this analogy and try it for yourself. Whether you want to eat healthier, exercise more, or anything in between, place a calendar next to your bed and don't let the chain break!