Finding cheap airfare can feel like searching for a needle in a haystack. It's hard to know when prices will drop, but a new booking feature could help you snag low fares as soon as they become available.
On May 1, Hopper launched a new feature called Secret Fares. By partnering with select airlines, the flight prediction site will now offer exclusive discounted flights to customers. Tickets will be up to 35 percent cheaper than on other booking sites, and customers can expect to save up to $500 on long-haul flights.
Secret Fares is currently available for customers in North America for over 60,000 routes to destinations like Tokyo, Paris and Barcelona. There are currently six airlines participating, including Air Canada, LATAM, Turkish, WestJet, Copa, and Air China, with hopes of adding more airlines. Since Hopper is a mobile-only app, carriers can lower prices and secure earlier bookings without sparking a fare war online because push notifications are a private channel.
If you've already downloaded Hopper, the Secret Fares feature will work automatically.
"Once you search and you get to the prediction screen, the app will say if there are Secret Fare routes available on that route," said Dakota Smith, head of growth and business at Hopper.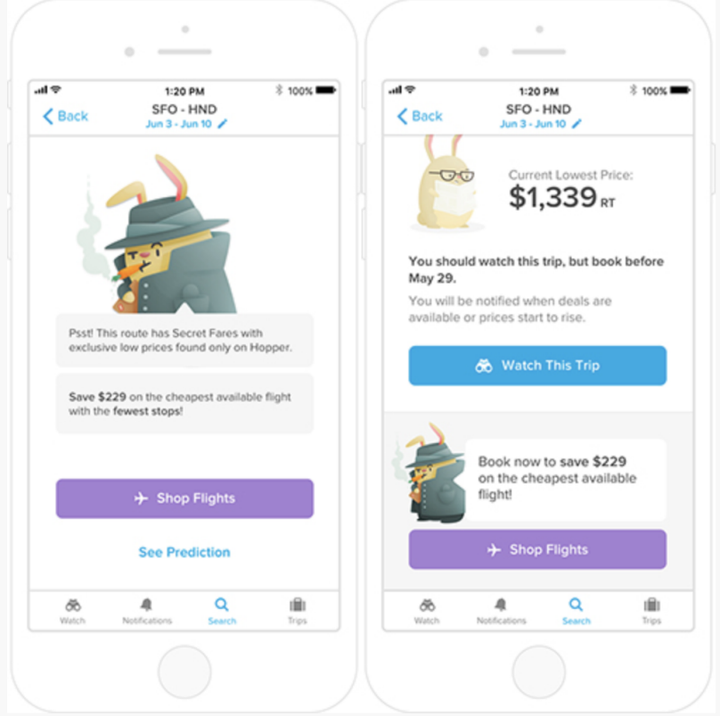 When you select the option to "Watch This Trip," you'll receive notifications on your phone about Secret Fares on that route.
While partnering with airlines legitimizes Hopper's initiative, they aren't the only service offering discounted airfare to consumers. Scott's Cheap Flights is a popular travel alert site known for saving users hundreds of dollars. With this service, consumers are sent an alert when an airline makes a mistake or offers a great sale. Scott's Cheap Flights then emails you with instructions for how to book. The standard email subscription is free, but users can pay for the premium services to get access to the discounts first. The cost of an annual membership is $39.
Another helpful site is AirfareWatchdog, which also sends email alerts to subscribers when airfare drops.
By planning ahead, and signing up for price drop alerts, travelers can finally feel confident that they are getting the cheapest airfare possible.
Brittany is reporter at Yahoo Finance. Follow her on Twitter @bjonescooper.