We have all been "that girl," the delusional dresser, as some may call her. Standing in the mirror of the dressing room, trying on the dress that looked killer on the mannequin, and hey, it kind of looks like that on you, too, right? Next thing you know, you're confidently pulling out your credit card and then slipping into the dress for a night out on the town. The second you step out of your apartment, all of your presumptuous thoughts on this "killer" (so-you-thought) dress are turning into insecurities, as you tug and pull at every hemline and body-hugging area. No one wants to be "that girl," and you don't have to be. Summer is the prime time to wear a dress and show off your favorite parts of your body. It's all about figuring out what looks good on your shape, accentuating what you love about yourself, and feeling confident in what you chose to wear!
Here is our guide to the perfect summer dress for different body types:
Athletic When you have an athletic build, the greatest thing you can do for your body is to create the illusion of curves. Your straight and narrow shape can be easily feminized with the use of cinches and ruffles. Try choosing a dress that is cinched at the waist or even tie an oversized dress with a belt. The overflow of fabric will create a Marilyn-esque figure. The hemlines are rising with the temperature this summer, show off those athletic legs too!
A full-figured woman has so many beautiful attributes to play up: a big bust, curvy figure, and a little junk in the trunk. Sometimes, this can make for a difficult time in the dressing room, trying to figure out how to accentuate the right areas while making the waist look small. Finding the perfect summer-time dress for your body should be fairly easy though. Balancing your top half with your bottom half to create an hourglass look is key. Try a dress that nips, or is banded around the waist to form a slim mid-section, while hiding any tummy insecurities you may have. A sexy neckline works wonders for you, especially during the summer. A V-neck will help emphasize your bust, or let your collarbones show with an off-the-shoulder neck.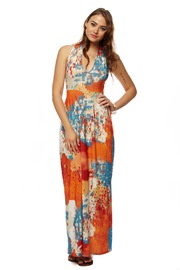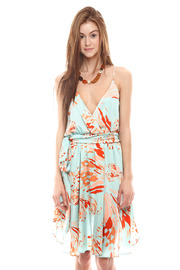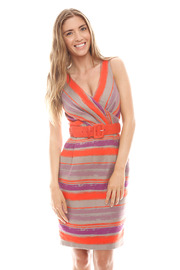 5'4' is the magic number that draws the line at 'petite'. Dressing for your petite body doesn't necessarily mean trying to make yourself look tall, it's more about dressing yourself in a way that is ideal for your height and shape. The main rule when it comes to petite women wearing a dress is to make sure you don't chop yourself in half. Always use the 1/3 rule. If there is a belt, cinch, or hem, make sure it is either 1/3 of the way from the top, or 1/3 of the way from the bottom of the dress. Maxis look fabulous on you because they cause the eye to move up and down, creating length. The same thing goes for vertical stripes. In the summer, no one wants a ton of fabric hanging all over them, lucky for you, as a petite woman, you want to stick with the least amount of material you can get away with. Too much causes you to look like you are swimming in fabric.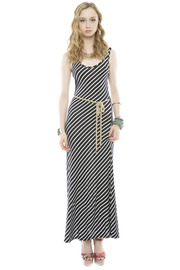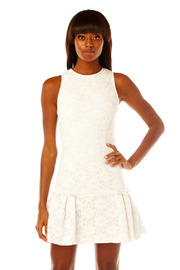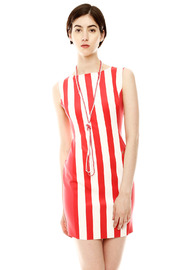 How lucky are you to have a body that allows you to wear so many different styles! The hourglass shape is what every woman is going for when they are getting dressed. There are only a few rules you need to remember when looking for an amazing summer dress. Steer clear of lots of bulk, embellishments, and heavy patterns. You have such a great bod, but, wearing something really busy can throw off your proportions, and make you look unbalanced or heavier than you actually are. A-lines and bodices are styles that are perfect for you to accentuate your feminine shape. Strapless dresses are made for hourglass figures, which is a major plus for you in the hot months of summer!
Shoptiques.com is your online destination for boutiques from Paris to New York.
Related