Helpdesks have it hard. The pressure comes from all sides; budget cuts, smaller staffs, and rigorous client requirements. Users need support from home, while traveling and for a variety of websites, from simple to complex (not to mention those held together by paper clips and prayer).
While it's easy to find rants and complaints from unhappy users, not as many satisfied customers find the bandwidth to actually praise their helpdesk software solutions. Defining the most useful characteristics of helpdesk packages can help businesses find missing puzzle pieces when it comes to cloud business apps and customer relationship management.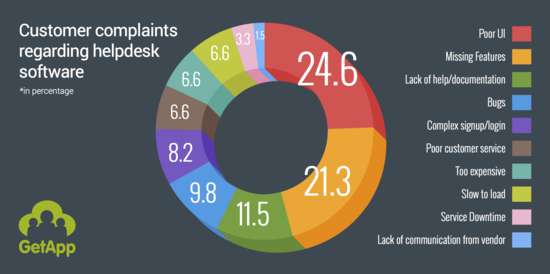 Data from GetApp.com
Your chances of developing, extending and advancing business initiatives can be advanced when helpdesk software is utilized to it's fullest potential. Here are some of the key functions that are crucial to consider when evaluating the many cloud helpdesk solutions in the market.
Performance. Live chat and real time tracking, are central functions in many helpdesk programs. These features are highly efficient and enable customer service/help personnel to scale their ability to assist users. Real time tracking allows staff to observe the status of help tickets and spot check work as it is being done.
Communication. Helpdesk software can offer multiple modes of communication with users. Chat, email and phone assists give users choice in how they would like to interface. By eliminating open tickets and duplicate tickets, greater efficiency and user satisfaction are reported.
Frequently Asked Questions: High quality helpdesk solutions have broad and deep information databases that are pertinent to the most common queries. This tool can sidestep the need for person-to-person interaction, which leaves more time to address complex issues.
A service desk that communicates well and resolves user issues quickly will meet consumer expectations. Sounds simple, right? The fact is that a successful solution calls for a mix of information, technology and processes operating in tandem. When this occurs, the service desk enhances customer service, user experience and overall productivity. Here are a couple of choices that you may not have thought of, but which have been reviewed well by consumers and businesses.
Mojo Helpdesk: Centralizes, assigns and tracks queries. Main feature is it's Google-like interface, which users give high marks.
Helpdesk Pilot: This IT helpdesk management software combines email management, ticket management, issue tracking and reporting. It caters to both IT and customer service helpdesk needs.
M HelpDesk FieldService Software: This unique software is focused on mobile friendly access to job tracking and invoice functionality.
The most important aspect of any helpdesk software solution is that it meets and manages the expectations of those who will be served by it. The best structure for a company may include a tracking system for the time required to resolve incidents. This empowers the customer service team to give realistic estimates based on facts rather than guestimates. An example would be "80 percent of these issues are resolved within one day."
Use Surveys to Connect with Customers at Their Convenience
Since business is conducted 24/7, and outside the traditional 9-5 routine, the best way to inquire about expectations is through surveys. A survey can be more accurate than a call log, as users may not call during hours they don't expect a person to answer.
But these survey questions need to be precisely targeted as SurveyMethods.com confirms. The first question should be the question most important to your customer: "Was your issue resolved?" Allowing your customer to answer that pointed question first, creates a clearing and gives context for all subsequent questions.
Perhaps the most important fact to keep in mind is that an unresolved customer service issue that lingers can cause irreparable harm to a brand's standing, status, and even employee morale. Remember Comcast's recent 'embarrassing' customer service phone call?
Consistently Improve via Customer Satisfaction Metrics
One aspect of building a winning organization is the establishment of metrics for success. Customer satisfaction metrics are valuable for meeting user needs and for measuring progress against goals. To develop these metrics, an organization should explore these questions:
Who are your customers?
What type of survey should be administered to them?
How will satisfaction be measured across the organization?
One popular method for measuring customer satisfaction is known as the RATER model, because it prescribes measuring satisfaction in five key factors:
Reliability - A company's ability to perform the promised service dependably and accurately
Assurance - The knowledge, competence and courtesy of employees and their ability to convey trust and confidence
Tangibles - Physical facilities, equipment and appearances that impress the customer
Empathy - The level of caring, individualized attention, access, communication and understanding that the customer perceives
Responsiveness - The willingness displayed to help clients and provide prompt service
Whether it requires training, creating new processes or making staff changes, the use of metrics can show that a course of change has been successful or needs to be re-evaluated, for an organization to focus on constant improvement.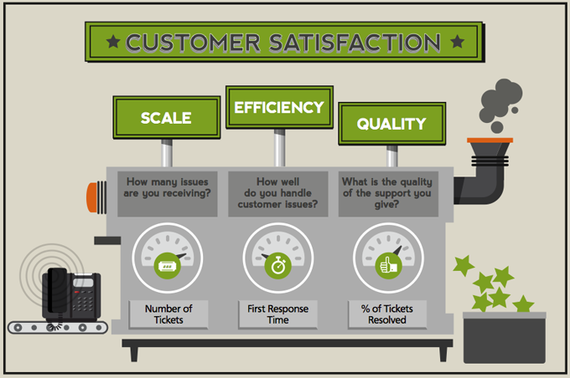 (Source: ZenDesk)
Being alert and agile is key to improving a service desk. While software and technology can help, keeping a tight eye on metrics and an ear to the street for user and staff comments are equally valuable.