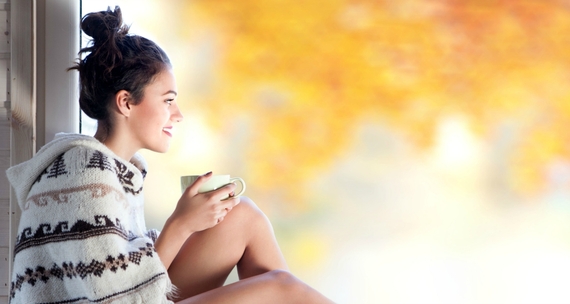 We're so short on time these days. Our schedules are packed from dawn till dusk and finding a moment to look after ourselves in among everything else can just be plain difficult. Like many, I'm prone to looking after everyone and everything else before I consider taking care of myself. Even if you agree with the benefits of self-care the reality is that when you are starting out, the idea of slipping one more thing onto your daily to-do list, even if it is for you, can feel more like a burden than a joy.
Yet self-care is so important. If we don't look after ourselves and make our well-being a priority, we eventually burnout. We simply can't give our best to everything else, including our families, if we are running on empty. Taking care of ourselves helps build resilience and makes us better able to cope with the day-to-day stress we all encounter in our lives. By giving something to ourselves, we can hope to be calmer, clearer and more focused in what we do.
So how can you go about finding some time in your schedule to look after you? Here are my four steps to making self-care part of your normal routine:
1) Make a list of everything that lights you up
It's hard to make time to do things that will fill-up your well-being tank if you don't even know what these things are. Pull out a piece of paper, sit for a few minutes and write down everything that you love to do. No matter how ridiculous, how big, how small (especially how small), how expensive, how time intensive -- write it all down without judgement.
Some of the things on my "Light Me Up" list are: long hot showers, applying hand cream, pedicures, having fresh cut flowers around, meditating, snuggling up with my dog and reading real books.
2) Start small
Once you have the list of things that "Light You Up" single out the ones that only take a few minutes or no extra time at all, and begin with these. As it likely hasn't been part of your regular schedule, it's important to start with things that feel easy to achieve so you don't lose your motivation.
I started with a hot relaxing shower every night before bed. If buying yourself a coffee each morning is part of your routine and something you love, make sure you take a moment to savor it and acknowledge the coffee as a sign of you taking care of your psychological well-being. You can also listen to inspiring podcasts while driving or commuting which will take no extra time at all, or pick yourself up a bunch of flowers while you are doing the grocery shopping.
3) Make it a 21-day priority
Doing something for 21 days is enough time to begin to set a new habit. Once you are used to practicing self-care, it will become easier to maintain. With that in mind, you need to set a 21-day goal to prioritize looking after yourself. For three weeks commit to doing at least one thing daily from your "Light You Up" list.
Look for any small tweaks you can make to your daily routine to help support your intention. It could be giving yourself five minutes after lunch each day to work out what your little self-care action for the day is going to be. Having it as part of your routine makes it easier to achieve your goal.
4) Set up some accountability
Commitment is crucial. We're all better at sticking to goals if there is some level of accountability. One of the best ways to be accountable is to work on practicing self-care with a friend. Touch base daily to make sure you are keeping up with the routine. If that doesn't feel right an alternative is to get a self-care notebook and make a note each day for at least 21 days of what you did to look after you.
Self-care is the cornerstone to resilience. The best place to start is by getting into the small daily habit of carving out a little time just for you. By setting a 21-day goal the hope is that self-care will start to become part of your regular routine and simply become second nature. You'll no doubt benefit from feeling so much more equipped to deal with the regular pressures of life, so in all honesty, you owe it to yourself. Learning how to carve out a little moment of time in your daily routine just for you is a necessity, not a luxury.
Kate is an executive and life coach at www.thrive.how. She helps people who want the good stuff out of life, get it. Through her individual coaching programs, she helps people clarify their thinking, grow into their potential and regain balance. You can learn more about Kate by following her on Facebook or Instagram, or can sign up to get a copy of her free guide 8 Steps Towards a Thriving Life.
HuffPost's GPS for the Soul app is based on two truths about human beings. First: We all have a centered place of wisdom, harmony and balance within us. Second: We're all going to veer away from that place, again and again and again. What we need is a great course-correcting mechanism -- a GPS for the Soul -- to help us find our way back to that centered place, from which everything is possible.
Because no one knows better than you what helps you de-stress and tap into that place of peace inside yourself, it's important for you to create your very own GPS guide -- a personalized collection of whatever helps you course-correct. Email us at GPS@huffingtonpost.com and we'll set you up with your very own HuffPost blogger account to share your guide on the site. If you're already a blogger, we encourage you to upload your personal guide today. We can't wait to see what you have to share.
Related