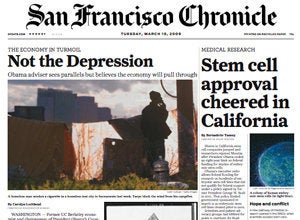 If American journalism is to save itself, it must look to non-profits and universities for funding and support, forging partnerships hinged on hard-hitting investigations and led by a new crop of reporters trained to gather and not simply comment on the news.
That was the message conveyed by media watchdogs who gathered Thursday morning for a two-day conference at Columbia University's Graduate School of Journalism.
"Let's invite a group of our leading private universities and colleges to create, fund and operate a non-profit demonstration model for investigative journalism," said Bevis Longstreth of the Fund for Independence in Journalism, a conference sponsor.
Longstreth dismissed calls for a government-funded media bailout as "crazy, absolutely crazy" because one of the chief roles of an independent media is to report on government abuse. "Being fed by the hand one is trained to bite won't work," he said.
Media partnerships are already underway at schools across the country, said Charles Lewis, founder of the Center for Public Integrity and president of the Fund for Independence in Journalism.
In recent months programs have launched in Wisconsin, Illinois, and the state of Washington, as well as in Boston, Los Angeles and Miami, Lewis said. More established models include Lowell Bergman's UC Berkeley students working on projects for the New York Times and Frontline, as well as David Protess' death row innocence project at Northwestern University's Medill School.
"The diaspora of immensely talented journalists are going out and creating their own centers," Lewis said.
Sheila Coronel, director of Columbia's investigative journalism program, said such partnerships are crucial to a healthy media future. "Most of the watchdogs we have are middle aged - like me," she said. "We need watch puppies, and this is where universities can play a role."
But Lucy Dalglish, a media attorney and executive director of the Reporters Committee on Freedom of the Press, cautioned that relying on a non-profit model might expose journalists to government meddling.
"To me the notion of turning them all into non-profits subjects them to a level of government oversight and interference," Dalglish said. "I don't think you can insulate" media outlets from the government under a non-profit model.
John Dinges, who directs Columbia's radio journalism program, said media entities such as NPR and PBS have successfully navigated government oversight. "We're always in an environment where we face pressure," he said.
Whether such partnerships can take the place of the current, failing ad-driven model remains to be seen. Estimates for media job losses for 2008 range from 11,000 to 13,000. Pro Publica, the largest non-profit investigative outfit in the U.S., employs a reporting staff of 28, according to Longstreth.
Drew Sullivan, an editor at the Center for Investigative Reporting in Bosnia, pointed out that "ninety-five percent of the world's non-profit investigative resources are in this room."
Both intellectual freedom and financing are motivating these partnerships.
"It's not just press freedom," Nicholas Lemann, dean of the school, told the group. "It's also having revenues to actually to the work. Both of those are required."
Lemann cautioned against citing the First Amendment as an argument for the perpetuation of newspapers and other media, because it suggests that somehow the press will exist as a basic tenet of a free society, no matter what.
"There's a little bit of danger in that, because there's an assumption that 'it's just gonna happen,'" he said. A free press "isn't an inalienable right but was created with a lot of struggle and has a fairly tenuous existence."
Paul Steiger, editor-in-chief of Pro-Publica, addressed the fund raising question directly. He acknowledged that a single-donor, non-profit model, such as the one on which his news organization relies, is a starting point and not the magic solution.
Steiger said news organizations need to begin soliciting donations directly from journalists. "Because they're not that well paid and because there's not a tradition of giving, we've got to find ways to get small amounts of money from lots of individuals," he said.
Steiger said the press should also tap into the deep pockets of industries that benefit directly from journalistic content, such as telecommunications and cable, as well as Google and Microsoft.
These are "all relatively wealthy industries that make a lot of use of journalistic content," Steiger said. " I think it's appropriate for them to fund non-profit journalistic activities. I'm going to be making that case to someone tonight."

Calling all HuffPost superfans!
Sign up for membership to become a founding member and help shape HuffPost's next chapter