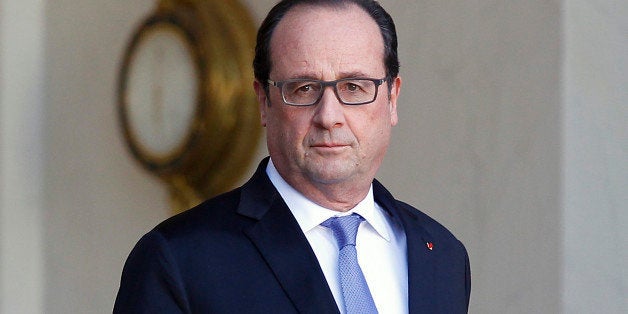 French presidents serve five-year terms. Francois Hollande, the current president, took office in May 2012 and now has less than a year before facing re-election. That is, if he chooses to run again.
Opinion polls peg his popularity at below 15 percent, and there is a good chance that he and his Socialist Party will not make the second round run-off vote in the 2017 election. Odds favor a final contest between the former Union for a Popular Majority, now renamed Republicans (who are likely to nominate former Prime Minister and current Bordeaux major, Alain Juppe, or former president Nicholas Sarkozy) and the leader of the rightwing National Front, Marine Le Pen.
I had the occasion to speak briefly with Hollande a few days after his presidency began. I opposed his new government's economic policies but was nonetheless impressed by his articulateness, his candor, and his sense of humor. He struck me -- to borrow a French word -- as genial. What went wrong?
In three words: ideology trumped economics. Hollande forgot that it is always easier to divide and distribute a growing pie than a shrinking one, and France, unfortunately, has been shrinking.
Hollande launched his presidency by proposing a 75 percent marginal tax rate on wealthy individuals and alienated both wealthy French citizens and many business leaders. One of France's leading actors, Gerard Depardieu, responded by moving his residence to Belgium and accepting Vladimir Putin's offer of Russian citizenship.
Hollande also pledged to reduce unemployment and committed not to run again unless employment rose. What happened? Unemployment remains at 10 percent (versus 5.1 percent in the UK and 4.3 percent in Germany), and youth unemployment remains a staggering 25 percent.
Things did not have to be this way. A few months after Hollande took office, the Paris bureau chief of "The Economist," Sophie Pedder, published what could have been a roadmap for Hollande. Her book, written in French, was titled (in translation) "The French Denial: The Last Spoiled Children of Europe." The book was ignored and dismissed, largely because Pedder is English.
Ms. Pedder's suggestions included a non-ideological, highly practical set of recommendations based on the economic, fiscal, and demographic realities facing France. She explained that France's most cherished features -- early childhood programs, health care, clean nuclear power, inexpensive higher education, generous and early retirement benefits, a 35-hour workweek, efficient trains, and sizeable cultural investments -- have been funded largely through borrowing. France has a debt to GDP ratio above 96 percent, is deeply in debt, and has not had a balanced budget since 1974.
Ms. Pedder notes that French public sector spending is too large a portion of the country's gross domestic product, and there are too many costly administrative regions and departments. These regions and departments, plus a large centralized government, mean expensive and unsustainable government bloat. Her overall diagnosis: France needs "a new social model."
French labor-market rules are among the most byzantine in Europe. There is sustained high unemployment, as many businesses find it risky or expensive to hire new employees when firing them (if necessary) is so difficult. Young people often land contracts (many unpaid) to get some initial work experience, only to find that the contracts are not renewed. Then it's back to the dole. Ms. Pedder suggests that sustained high levels of unemployment really constitute "the first cause of social injustice."
The strikes and civil disturbances that have broken out in France recently are a reaction to the Hollande government's decision - largely through the efforts of its talented Prime Minister Manuel Valls and its Minister for the Economy, Industry and Digital Data, Emmanuel Macron - to expedite legislation to establish much-needed flexibility in the hiring and firing of workers. Some French unions are not happy.
It is unfortunate that it took this long for the Socialist government to do the right thing. There has been too much talk and insufficient action. Ms. Pedder explains that Germany's then-Socialist Chancellor, Gerhard Schroeder, made similar changes between 2003 and 2005. More than 10 years ago, Germany was Europe's sick man. Today, Germany has Europe's strongest economy.
Schroeder's "Agenda 2010" cut taxes, reformed the unemployment system, and modernized labor laws. When he took office, Germany's unemployment rate was 11 percent. He observed in 2012 that pursuing Hollande's initial policies would mean "a real catastrophe" for Germany.
Schroeder lost his re-election bid, but he courageously set the stage for today's German prosperity. In a 2012 speech, he explained that his policies entailed not just "structural" reform but "cultural" reform as well. Likewise, Sweden's Social Democrats modernized that country's social insurance programs while preserving worker solidarity and high tax rates. Britain's Tony Blair kept many of Margaret Thatcher's reforms but forced the British Labour Party to abandon its looney left ideas of the 1970s. And Bill Clinton repositioned the Democratic Party in the center through balanced budgets, international trade agreements, and welfare reform. Clinton courted "business Democrats" and avoided McGovern-era liberalism.
Francois Hollande's presidency has lacked clear purpose. The president seems to vacillate between his economics ministers. His first economics minister, Arnaud Montebourg, antagonized the French business community and made public comments at odds with Hollande's policies. He became an outlier and was dismissed from office in August 2014. Montebourg's successor, Emmanuel Macron (a former Rothschild investment banker), dropped his Socialist party credentials in 2009. He, too, is pursuing a different outlier's strategy by not only championing overdue labor reforms (opposed by many Socialists) but also now hinting at launching his own political movement, announced with the rallying cry of "En Marche!"
This is now Francois Hollande's moment. He must level with the French people and his own party. He must explain that France has lived too many years on unsustainable, unaffordable promises.
Hollande can put politics aside and do what is best for France. He can follow the lead of several successful center-left examples -- in Sweden, the UK, Germany, and the United States -- and do the right thing.
No French person enjoys being lectured to about France, especially by foreigners. In offering these reform suggestions, I request some modest forbearance before the eye-rolling and Gallic shrugs begin. I started learning French at age seven, and I have loved France for nearly 60 years. France has always been part of my personal and professional life. Today, I have a four-year-old son who has U.S. and French passports. France and the United States have a longstanding special relationship of at least 240 years. I want Alexandre's future to be a bright one -- in both of our great countries.
Charles Kolb served as Deputy Assistant to the President for Domestic Policy from 1990-1992 in the George H.W. Bush White House. He was president of the French-American Foundation - United States from 2012-2014 and president of the Committee for Economic Development from 1997-2012.
Calling all HuffPost superfans!
Sign up for membership to become a founding member and help shape HuffPost's next chapter