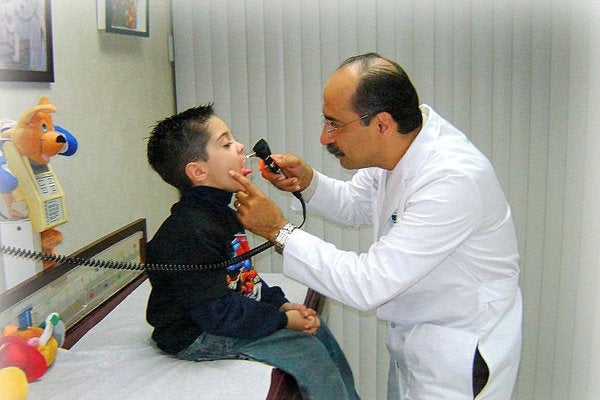 While President Obama and Congress continue to scratch heads, and eyes, over health care reform and reality during this week's bipartisan summit, they would do well to consider the city of Grand Junction, Colorado, where nearly every resident has health coverage, access to top-quality care -- and at just about the lowest cost in the country.
If the country could replicate the way this western Colorado metro area of 120,000 delivers health care, Congress could cut health costs by 30 percent -- at a national savings of $700 billion a year.
And how can they do this? They start by making sure everyone has a family doctor. They offer all pregnant women prenatal care. They focus on keeping people healthy and preventing disease. They work at keeping people with chronic disease in the best shape possible. They make sure that health care pros collaborate and communicate. And they're not afraid to insist that being a doctor isn't about who can get richest the quickest.
If is sounds like common sense, it is.
In a five-day series appearing this week, Colorado Public News examines Grand Junction's model of health care. The community's success initially garnered a brief mention in the June, 2009 New Yorker, in a piece focusing on the opposite extreme: McAllen, Texas, where healthcare is ranked the worst in the country and the costs are nearly the highest. At the other end of the spectrum is Grand Junction, with its mostly nonprofit approach to health care.
Even Peter Orszag on the White House Office of Management and Budget blog commented on the huge differences between McAllen and Grand Junction in his blog.
Medicare spends just $5,873 per year on the average recipient in Grand Junction, compared to a national average of $8,304, according to the Atlas of Health Care published by Dartmouth University. That's less than half the $14,946 in McAllen.
So how did the city's health care professionals make this happen? Colorado Public News, which was founded by award-winning journalists and PBS member station Colorado Public Television KBDI Channel-12, dug in to find out -- and to explore whether the model can be replicated elsewhere.
Yes, it can, say many doctors, insurance executives and patients. The will has to be there, though. That means community and insurers must put patient welfare first, well ahead of shareholder profits, they say.
Calling Grand Junction "a great example for the nation," Len Nichols, a health policy economist with the New America Foundation, says providers here have found a way to stem "the natural impulses of excessive competition and the medical arms race."
"They have an impressive combination of commitment to the community, plus incentives" to boost quality and keep costs down, Nichols says.
Not everyone is convinced. One critic, health care blogger Daniel Gilden, calls the Grand Junction advantage an illusion. He says the area has lower costs primarily because it has fewer residents with serious chronic illness than most places like McAllen.
"In Grand Junction, there are many fewer low-income Hispanics with combinations of diabetes and heart disease," than in the Mexican border town of McAllen, Gilden says. "Years of exposure to environmental risk factors, poor diet and limited access to preventive care lead directly to high rates of chronic disease and high health care costs."
Yet Grand Junction doctors say they deserve some credit for their healthy population, because their system emphasizes primary, preventive care. They believe that promoting and fostering health forestalls disease, saving skyrocketing costs when people wait too long to see a doctor.
As Cindy Sovine, a political consultant for the Colorado State Association of Health Underwriters, notes, "We need a societal change in thinking. Away from, 'How come insurance companies can't lower prices?' to, 'What we are doing as a society to change the focus on sick care to a focus on improving the health of our population?' "
Grand Junction's system has its roots 30 years ago, when nearly all the primary care doctors and most of the specialists in the community formed an Independent Physicians Association. The goal was to be accountable for the health of the entire community, and the group sought a sympathetic insurer -- and found it -- in a company called Rocky Mountain Health Plans.
Three decades later, as detailed in Colorado Public News' investigation, the specifics of the Grand Junction model include:
-- All pregnant women are guaranteed prenatal care, reducing prematurity, improved babies' health, and cutting expensive days in the intensive-care nursery.
-- Nearly all patients have a personal doctor for primary care. Such "medical homes" coordinate and improve care, and reduce expensive care by specialists.
-- The regional hospital subsidizes a clinic next door for the uninsured, who receive faster care than in the hospital emergency room, saving millions of dollars annually.
-- Health care agencies work together to recruit physicians, and increase the ratio of primary care physicians to specialists. That has been shown to reduce expensive procedures.
-- A regional system of electronic medical records allows all providers to be warned of allergies, complications and medical history. The system also cuts duplicated tests and collects statistics for peer review.
-- A local family medicine residency program has trained 50 doctors who stayed to practice in Mesa County, locally easing a national shortage of primary care physicians.
-- The one dominant home health agency is nonprofit, not owned by doctors ordering treatment that brings them revenue.
For more detailed information on the Grand Junction healthcare system, see the five-part series at www.coloradopublicnews.org. Health care in Colorado is also scheduled to be the topic of discussion during a live, call-in television broadcast on the Colorado Public News' sponsoring PBS member station, KBDI-12 in Denver at 8 p.m. on Wednesday, Feb. 24. The program will be available online after the show.