WASHINGTON -- Obamacare is here to stay. That's the message from President Barack Obama and other supporters of the Affordable Care Act after their victory at the Supreme Court last week. But dodging a lethal legal bullet is not the same thing as ensuring long-term success. And if health care reform is going to achieve the latter, it's going to need reforms of its own.
"We've got more work to do," Obama acknowledged after the high court ruled in his favor on Thursday.
The Affordable Care Act has notched some notable successes, like reducing the ranks of the uninsured by millions of people, and Obama must build on that progress to sustain it. Through the rest of his presidency, Obama will face a host of problems with the health care system -- problems his reforms didn't fix. Whether or not the president can find common ground with Republicans, the public is going to keep looking to him for solutions.
Here are five key ways Obamacare could be strengthened:
Cover More Of The Uninsured
Subsidizing health insurance and expanding eligibility for Medicaid coverage through the Affordable Care Act led to the biggest drop in the uninsured rate since the creation of Medicaid and Medicare themselves. Even though more than 10 million people bought private coverage via a health insurance exchange and millions more have gained Medicaid benefits, enrollment data from this year show that the pace was slower than during the first sign-up period. That makes sense, because the uninsured people who were most eager for coverage, as well as the people who could get the lowest-cost insurance, enrolled as soon as they could.
Just 36 percent of the people who could be enrolled in an exchange plan actually are, according to a Henry J. Kaiser Family Foundation analysis of data from the Centers for Medicare and Medicaid Services. The hard part will be tracking down and signing up the people who remain uninsured, especially among groups with high rates of uninsured, like Hispanics.
A huge part of continuing the success in covering the uninsured will be making in-person help available to people trying to sign up, said Ron Pollack, executive director of Families USA, a nonprofit organization. "The most important thing to do is to have adequate numbers of navigators and assisters," he said. Families USA released a report outlining its health care reform priorities in January, and Pollack published an op-ed on the subject in the journal Health Affairs on Monday.
Make Health Care More Affordable
It's right there in the name of the law, and for the people receiving generous health insurance subsidies or no-cost Medicaid coverage, it's a promise fulfilled. That's not true for everyone, though. People who earn between three and four times the federal poverty level -- in other words, about $35,000 to $47,000 a year for a single person -- only get small tax credits to cut their insurance costs. People who make more than that get nothing. And health insurance is expensive when you're paying full price.
Add that to deductibles that can exceed $6,000 for an individual and $13,000 for a family purchasing the cheapest policies on the exchanges, and it's clear there's an affordability gap.
Health insurance companies opted for high deductibles in many of their plans to keep monthly premiums lower, but Pollack believes they could be more creative. For example, every insurer could offer at least one policy at each "metal" level -- i.e., Bronze, Silver, Gold and Platinum -- that would feature smaller deductibles, but would charge fees when a customer received medical care. Or more insurers could exempt things like primary care physician visits from the deductible.
Big deductibles, which aren't exclusive to the Obamacare exchanges, can discourage people with insurance from getting health care and can present a barrier to uninsured people trying to sign up, Pollack said. "We want to deter people not getting insurance because they look at the front-end cost of the premium and the deductible and they say, 'That's unaffordable,'" he said.
Expand Medicaid In More States
Obamacare has survived two Supreme Court challenges, but it didn't come away unscathed. In 2012, the court ruled that states could opt out of the law's Medicaid expansion, which is the main tool with which the ACA sought to provide coverage to the poorest working-age adults. Twenty-nine states and the District of Columbia have joined the expansion so far, but many states with high uninsured rates, like Florida, Louisiana and Texas, still haven't, leaving their poorest residents with no help.
Obama will visit Tennessee Wednesday to promote Medicaid expansion, which Gov. Bill Haslam (R) hasn't been able to get past the GOP-controlled state legislature. The administration has worked with other Republican governors and state legislators, including Indiana Gov. Mike Pence, to get forms of the Medicaid expansion in place. It plans to keep negotiations open while states like Alaska and Utah continue their internal debates.
"I am optimistic about the Medicaid issue," Health and Human Services Secretary Sylvia Mathews Burwell said last week. Burwell outlined parts of the administration's health care agenda in an op-ed for CNN on Thursday.
Because of a quirk in the way the Affordable Care Act is worded, low- and moderate-income families aren't eligible for subsidies on the health insurance exchanges if one family member's employer offers health benefits for only that worker, not including a spouse or children, that the law deems "affordable" -- meaning it costs less than about 9.6 percent of household income. For a single person, this policy is meant to ensure those who can get affordable health coverage at work do so, rather than obtain federal subsidies. But the law ignores that family policies are much costlier, and still applies the same standard of affordability. That means family members might go uninsured because they can't afford the premiums for the employer's plan nor the unsubsidized cost of a policy from the health insurance exchange. It's called the "family glitch," and it's estimated to affect as many as 4 million people.
A fix would be simple, and expensive: Congress could merely amend the Affordable Care Act to say people in this situation can sign up on the exchanges and get tax credits. "How quickly that'll get fixed, I don't know, because it does cost more money," said Pollack. "But I think it's got to be a significant priority."
Tackle Rising Prescription Drug Prices
During the late 2000s and early 2010s, prescription drug prices were rising more slowly than before, mostly because big brand-name drugs, like the cholesterol medicine Lipitor, had become available in generic form. But we're in a new era now, with next-generation pharmaceuticals like the hepatitis C cure Sovaldi hitting the market at costs of up to $1,000 per pill or even higher. For people with health insurance policies that require them to pick up a bigger share of their medical costs out-of-pocket, these new miracle drugs are largely unaffordable.
Health insurance companies and others in the private sector have engaged in hardball negotiating with drugmakers to bring down prices, but to limited effect. In the rest of the developed world, governments intervene when pharmaceutical companies charge such high prices. Obama has proposed allowing Medicare to set the prices it pays for these medicines the way it does for hospital services and other things, but the law currently forbids that and the drug industry is strongly opposed.
"Right now, there's no control over what those costs should be," Pollack said. "There probably ultimately will need to be some kind of control in prices. I don't think our country is ready for that... I don't think we're going to see any relief in the short term."
CORRECTION: A previous version of this article inaccurately described the nature of the Affordable Care Act's "family glitch" affecting the spouses and dependents of low- and moderate-income workers who are offered health benefits by their employers. The article has been updated with an accurate explanation of this issue.

Support HuffPost
The Stakes Have Never Been Higher
Before You Go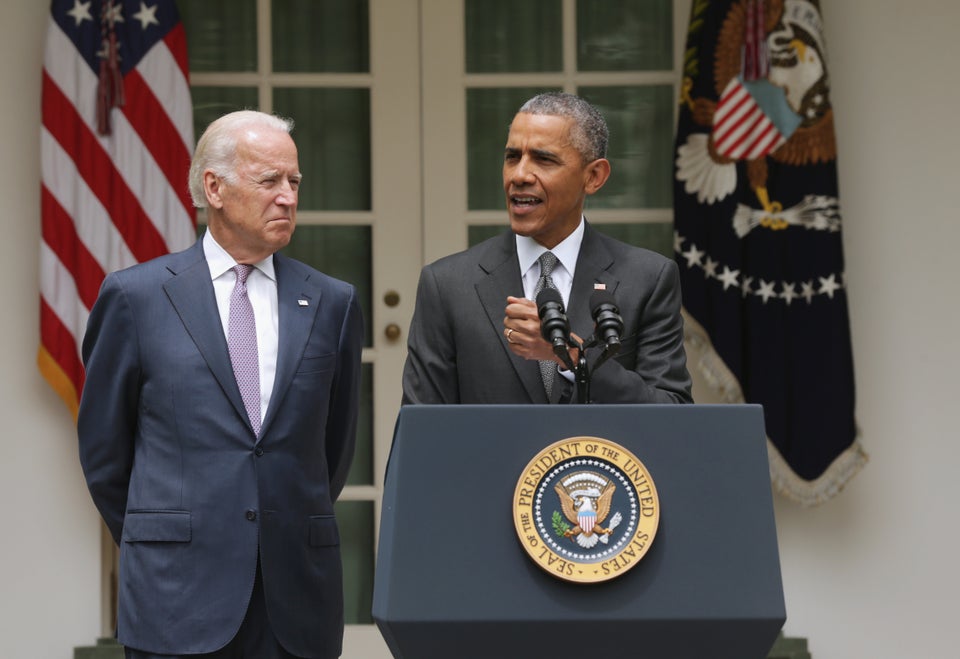 Political Figures React To SCOTUS Upholding The Affordable Care Act
Popular in the Community