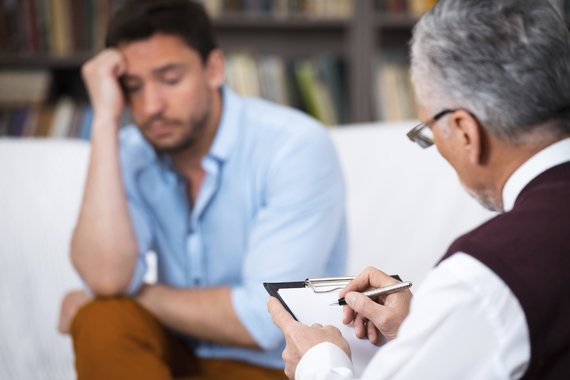 By Shani Dowd, Director, Culture InSight, at the Harvard Pilgrim Health Care Foundation and Dr. Nicholas Covino, President of William James College
The mental health system in our country is broken, but this comes as no surprise to many Americans. We've talked for years about redeveloping the mental health system, refocusing our attention on mental health and picking up the fragments left behind after the deinstitutionalization of statewide mental hospitals. There has been a great deal of talk that has, sadly, led to little action.
Nearly one out of four Americans (61 million Americans) suffer from mental illness in any year and one in seventeen have a seriously disabling mental illness, according to the National Alliance on Mental Illness. Yet these people don't get the same degree of attention, funding or care as those with physical ailments, because mental wounds don't bleed. Instead, these individuals suffer, often in silence, often times not seeking help until it's too late. Fixing the broken mental health system, and the people depending on it, requires major surgery, not a Band-Aid. We have got our work cut out for us.
Part of the challenge involves undoing work that began in 1955 with the deinstitutionalization of state psychiatric hospital systems, according to the Kaiser Family Foundation. Lasting until around 1980, this effort involved moving patients from these state-run facilities into community-based care, especially if they responded well to psychotropic medications. But resources were tight, and patients often did not receive the quality or quantity of care they needed. As the system was dismantled, many people got left behind and promised systems failed to materialize, leaving many on the streets or imprisoned. One-third of the country's homeless population suffers from mental illness, along with more than one out of five of those in prison.
The country spent a great deal of time and resources getting people out of state hospitals, but now we face the opposite problem -- drawing people back into the mental health care system. Unfortunately, it's tough to find care that is accessible, affordable, and covered by insurance. Twenty-one states cut their mental health budgets by $4.35 billion between 2009 and 2011, impeding progress that had been made, and leading some mental health patients to seek help in emergency rooms because they had nowhere else to go. The Affordable Care Act expanded on the Mental Health Parity and Addiction Equity Act of 2008 (MHPAEA), requiring all plans on the Health Insurance Marketplace to cover mental health and substance abuse disorders, but coverage for mental health care also varies depending on the state where the patient lives.
The other benefits are less tangible, but equally important. Integrated care, which involves the help of a primary care provider, a care management staff of nurses, psychologists and social workers, and a psychiatric consultant, makes it easier to communicate referrals. A team that knows each other as well as they know their patients will work more efficiently together to provide effective care. For multicultural patients, this approach also gives them more chances of being seen by providers who understand their language and culture, and can effectively communicate with them. After all, mental illness, which affected approximately 1 out of 7 whites, 1 out of 8 blacks, and 1 out of 6 Latinos living in my home state of Massachusetts in the last year, does not discriminate.
Beyond the statistics and the cost savings, integrated care ensures a brighter long-term future for our country and our workforce. Implementing this model will not be easy, but it will be worth it. In Massachusetts, we are making progress. The Commonwealth's Health Policy Commission, in collaboration with the National Committee for Quality Assurance, has developed a program that highlights the importance of behavioral health integration in primary care. Known as PCMH PRIME Certification Program, primary care providers can only receive this certification after going through an application process and demonstrating that they are helping their patients receive the behavioral health care services they need.
As we look forward to more initiatives like PRIME being developed around the country, we must continue to think about the people suffering from mental illness now and the ones who will continue to suffer until we do something to change this. We have got our work cut out for us, but consider this a call to action. If we start immediately, we will see the impact in our lifetime, while knowing that we're helping future generations to thrive.
Related