Every year, the Academy Awards run long. They run so long each year that the presenters' banter starts to feel like a series of taunts and watch parties begin to resemble hostage situations. The awards run so long that the academy is forced, annually, to get into a defensive crouch about how this could be allowed to happen again.
And every year, we are offered one scapegoat: the winners, who often ramble on for more than their allotted 45 seconds. Yes, we are told, it is not the academy that is to blame for extending our fun Sunday night TV event into a miserable Monday morning TV ordeal. It is the self-absorbed actors, documentarians, makeup artists and cinematographers who simply can't stop yammering on about their moms and the plague of racism and other stuff no one cares about.
Well, this year, I refuse to buy into this convenient, academy-exculpating narrative. This year, I say "enough!" to Leonardo DiCaprio talking for two and a half minutes while documentary short directors and sound mixers are played off stage after 30 seconds in the name of brevity. This year, I say it is time to leave the poor speeches alone and instead, at last, to burn the dumbass skits to the ground.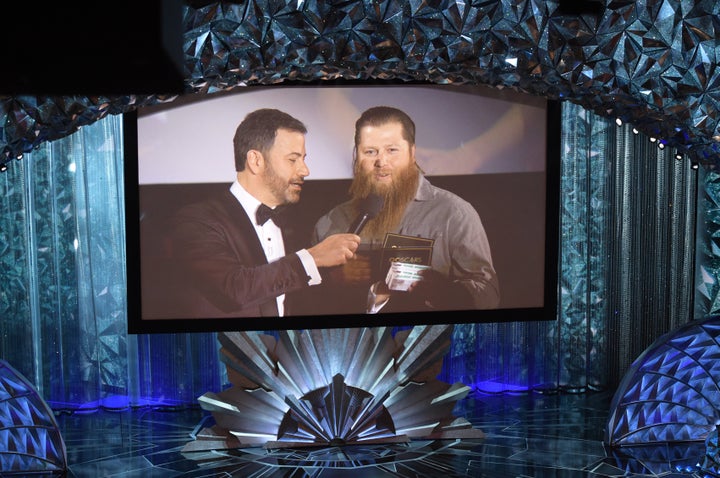 Oscars speeches might sometimes be dull, but they are almost always sweet, a moment of genuine joy and gratitude. Sure, we can hear from Matthew McConaughey whenever we want, and in fact far more often than we want. But most speeches aren't by McConaughey; they're by sound editors and costume designers experiencing a rare moment of glory in recognition of their craft. This is literally the point of the Academy Awards, and it should be left alone.
For the terrible, unfunny, smug skits, there is no such excuse ― and yet each year, the Oscars dedicates precious time to them. Take Sunday night's ceremony, which managed to include one of the most dull and needlessly patronizing Oscars stunts in recent memory. 
On the occasion of the 90th Academy Awards, host Jimmy Kimmel invited several stars ― including Gal Gadot, Emily Blunt, Lupita Nyong'o, Armie Hammer and Ansel Elgort ― to duck out of the Dolby Theatre and join him in crashing a screening of "A Wrinkle in Time" at a neighboring cinema. They arrived with baskets full of Red Vines and launchers full of hot dogs, ready to shower a crowd of ecstatically grateful proles with snacks and, more crucially, proximity to their celebrité.
The moviegoers, in fact, reacted with tepid applause as their film was interrupted by a group of self-satisfied actors in couture bearing junk food they likely wouldn't deign to sully their own digestive tracts with. 
"This is so much better than the Oscars!" shouted Gadot, who certainly could have gone to a "Wrinkle in Time" screening instead of the Oscars if she wished.
The jaunt was framed as a thank you to moviegoers, we heroic consumers without whose ticket-purchasing prowess Gadot and Elgort would be naught but normies themselves. But I don't watch movies to make Gadot and Elgort happy, or to make them rich, or to enable them to spend four hours feting their craft and perfect cheekbones on national television each year. 
Much like celebrities and other humans, I do things out of self-interest, without any thought as to how I'm serving the rich and famous. A skit that suggests celebrities view us as saintly but pathetic serfs isn't an act of gratitude ― it's an act of smug condescension.  
The bit, which seemed to go on for days, actually took up at least four and a half minutes of screen time and was certainly less enjoyable to watch than a beaming sound editor experiencing the pinnacle of his Hollywood career. 
That wasn't even the only casually snobbish bit of the night. Kimmel also made a running gag of offering a prize to the shortest speech-giver, as an incentive to be timely. The prize: a Jet Ski and a getaway to Arizona's Lake Havasu. Oscars attendees roared with laughter as a promo reel played for Lake Havasu, a perfectly lovely vacation spot. 
Kimmel is particularly prone to this sort of backhanded comedy when hosting the Oscars. Last year, he ushered in a busload of Hollywood tourists, a skit driving to the punchline that frumpy Midwesterners who take tour buses somehow exist in the same universe as glamorous 90-pound actresses in sequins. He also enlisted his mom to make peanut butter and jelly sandwiches for the attendees, another skit premised on the idea that ordinary people can't even comprehend the opulence of a celebrity lifestyle. PB and J! At the Oscars! LO fucking L. 
Even Oscars skits that wisely avoid positioning the glitterati as benevolent demigods among schmucks in sweatpants rarely seem worth the effort. Sometimes they endeavor to make celebrities seem relatable with junk food ― Ellen DeGeneres ordered pizza for everyone in 2014, because stars eat crap too! (Sure they do.)
Or forget the painful attempts to make us relate to celebrities. Chris Rock's PricewaterhouseCoopers ballot-counting joke in 2016, in which he introduced three children of Asian descent as the accounting firm's top representatives, added nothing but a sour note to the evening. 
I get it. The Oscars are excruciatingly dull, and skits break up the monotony of award after award after award.
But the Oscars are also excruciatingly long, and the correct way to make them shorter is not to spend valuable time offering a Jet Ski to a documentary filmmaker with a powerful message about human rights in exchange for shutting up faster. It is to cut the Jet Ski bit and the celebs-bless-normies-with-their-presence bit. Then speed the fuck through the awards until they're over and we can all go to bed.
Calling all HuffPost superfans!
Sign up for membership to become a founding member and help shape HuffPost's next chapter