I have a soft spot for indie films about characters in their twenties who are trying to make sense of their lives. After all, it can be tricky figuring out what type of work to do, who to date and why love can be so damn ephemeral. Granted, there's no shortage of content about post-college, pre-adult malaise, but so much of it feels rehashed and predictable, or twee and desperately irreverent. How to Follow Strangers, the debut feature from Late Night With Seth Meyers writer-director Chioke Nassor, doesn't overly concern itself with "saving the cat", nor does it feel like 90 minutes of embodying Bov Iver's aesthetic. (Thankfully.)
How to Follow Strangers is an exercise in minimalism with a story that delves deeply into two primal concerns: the struggle to connect with another person in a sea of humanity (in the film's case, New York City) and the acceptance of the fact that one day we're all going to die. While the latter may sound bleak, the film is not. It just feels... real. And it's refreshing.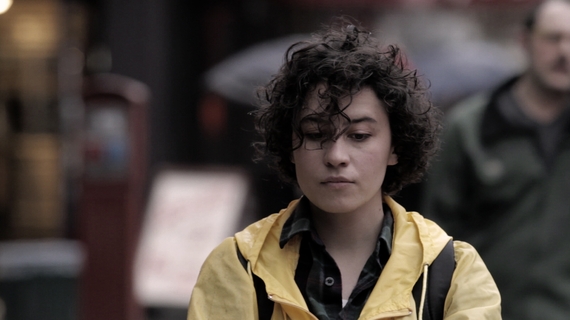 The story centers around Ellie (played by Ilana Glazer, who's currently killing it as co-creator and co-star of Broad City), a street canvasser who becomes fascinated by Casey, a man she sees several days straight on a subway platform. One day, Casey (played by Chris Roberti of the brilliant web series "High Maintenance") stops showing up, leading Ellie down a strange rabbit hole in which she literally starts to follow him. What transpires is an honest story about the difficulty associated with forging connections and finding meaning, conveyed with a light and often comedic touch. I'm reluctant to give away too much, as it's a film that just needs to be experienced. (There are many gems in the dialogue that you'll be thinking about for days after viewing.)
How to Follow Strangers is an ideal film for a digital release in 2014. While the cinematography looks great (lots of NYC exteriors and natural light) on the big screen, the intimacy of the story translates perfectly well to your flat screen TV, laptop, iPad, etc. The film is currently available through FilmBuff on iTunes, Amazon Instant Video, through cable On Demand, Google Play, Xbox Video, Sony Playstation and Vudu. How to Follow Strangers is a great change of pace from the processed and predictable, and it's absolutely worth checking out.
Calling all HuffPost superfans!
Sign up for membership to become a founding member and help shape HuffPost's next chapter