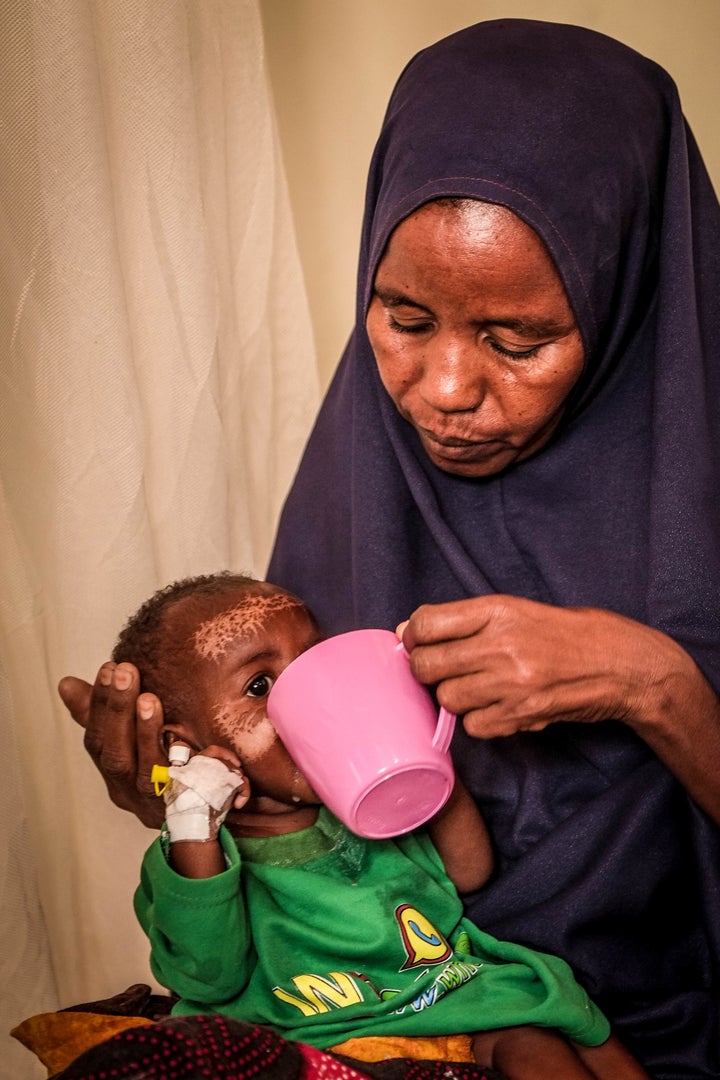 When you look at 7-month-old Samira (name changed), it's hard to think of anything other than whether she'll survive.
Two weeks ago, her mother trekked 30 kilometres to bring Samira to Save the Children's emergency nutrition clinic in the sprawling city of Baidoa, southern Somalia – the epicentre of the country's hunger crisis.
Weighing just 9 lbs, little more than a newborn in the UK, and suffering from severe pneumonia, Samira was in a coma by the time she arrived. She is one of many fighting desperately for their lives in areas where new surveys show one child in every 14 suffering from severe and acute malnutrition.
Those who reach help in time can be saved with intravenous drips and fortified milk substitutes. But what are the prospects for such children of a future free from hunger?
That question hangs over the whole of Somalia. Is the country destined to remain trapped in an endless cycle of drought, conflict and hunger? Or can the cycle be broken, with Somalia – the ultimate failed state – embarking on the road to peace and prosperity?
In Baidoa and the capital, Mogadishu, I saw not only the extent of the suffering but also the scale of an opportunity for the international community to build on its response to the current crisis. Much will depend on whether it seizes or squanders this chance. The early signs are not promising.
Humanitarian action in Somalia has saved lives. Six months ago, a full-blown famine was in prospect as the worst drought in living memory tightened its grip. That famine didn't happen. Instead of repeating the mistakes of the 2011 drought, when people were dying before the aid flowed, major donors acted early and at scale. So far, $667m has been delivered in 2017.
Even so, the number of acutely malnourished children has risen by 50% since the start of the year, to 1.4 million. Many face a real and immediate risk of starvation.
Recent surveys have documented severe and acute malnutrition in excess of 7% in central and southern Somalia (the World Health Organisation threshold for an emergency is 2%).
More than 700,000 people have been displaced by the drought this year, and conditions in the camps set up for families who are walking for days to reach Baidoa and Mogadishu are deteriorating. There is not enough water to go round.
Having averted a repeat of 2011, when 260,000 died, the danger now is that the international community moves into soft-pedal mode. That would be fatal.
The critical Gu rains, which fall between April and July, started late and ended early, bringing a renewed threat. Production of cereals is expected to be 40-50% below average. Livestock herds have been decimated. Real recovery would take at least two to three good seasons of rainfall.
A new report from the Food Security and Nutrition Analysis Unit warns that deaths are already rising, even though emergency help is reaching 2.5 million people a month. There are 3.1 million people – a quarter of the population – in urgent need of scaled up humanitarian assistance, the report says, adding: "A risk of famine continues through the end of the year in the worst affected areas."
Under any plausible scenario, most of the country will remain in a food emergency. Yet only one-third of the UN appeal for nutrition has been funded. Despite outbreaks of cholera and measles, health financing is limited. Overall, donors have delivered less than half the UN's $1.5bn appeal for 2017.
To make matters worse, few donors have made provisions for financing beyond the end of the year. The UK's Department for International Development (DfID), which provides multi-year financing, is one of very few exceptions to the rule of endemic short-termism.
The continuing threat of famine in Somalia calls for more than a sustained humanitarian response: long-term development finance is vital.
This month's UN General Assembly gathering in New York provides an opportunity for donors to commit the funding needed to avert the renewed threat of famine. But imperative as a scaled-up humanitarian response may be, it will not be enough.
Somalia's hunger crisis is the result of a collapse in livelihoods. When drought strikes, cereal farmers lose their crops and pastoralist herds die as pasture shrinks and fodder prices rise. Lacking savings or access to insurance, families are pushed into destitution.
There is no adequate health system to deal with the diseases that come with hunger, poor sanitation and shortages of clean water. Conflict, especially in the southern part of the country, magnifies the impact of drought by disrupting markets.
Changing this picture will take long-term investment. With dams and reservoirs, the rivers that flow across the country could be channelled into irrigation systems for farmland. Cash could be transferred on sim cards to provide a cushion when drought strikes. Investing in health and education would save lives and create hope.
None of this will happen without sustained international support. The new Somali government headed by President Mohamed Farmajo has demonstrated an early commitment to economic reform. But this is a government with a revenue base of just $144m a year, almost all of which is swallowed by security forces engaged in combating Al Shabaab.
The World Bank could play a central role in supporting a transition from humanitarian response to long-term development financing. Last year, donors committed $75 billion to the Bank's soft-loan arm, the International Development Association, on the understanding that more resources would be directed to conflict-affected states like Somalia – and IDA support could unlock wider sources of funding.
One of the barriers to holding back an effective international response is the country's debt. Because Somalia is in arrears to the International Monetary Fund, the rules restrict the World Bank's financing options. The simple solution is to write-off what is an unpayable debt and to change the rules by allowing Somalia access to IDA funding.
The good news about baby Samira is that with medical help, she has won her battle for life. Next week, her doctors will watch her leave the hospital in Baidoa and go home with her mother. Her survival is a minor miracle. But her future, like that of millions of children across Somalia, will depend on the world not turning its back on her.
Related
Popular in the Community