When we bought our first home last spring, we moved from a 1-bedroom apartment with approximately 600 square feet. Needless to say, the little bit of furniture we owned didn't go very far towards furnishing a 4-bedroom, 2,210 square foot house.
As a new homeowner, I understand the temptation to run up credit cards and charge accounts with furniture stores so your home can be decorated and finished as quickly as possible. However, my husband and I are committed to furnishing our home completely debt-free. Here's how we're doing it: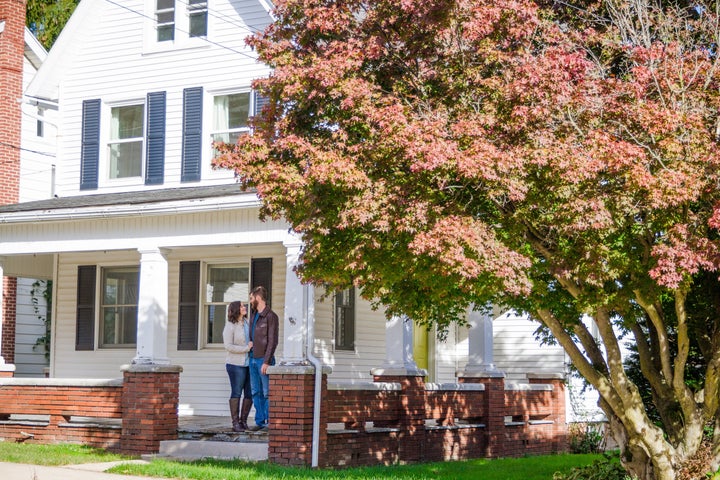 1. Rank rooms by priority and tackle your decorating in stages
There's no rule that says your house must be completely furnished 6 months, or even a year after you move in. A house is a longterm commitment. Slow down and let your decorating happen at a relaxed pace. Number one: you'll have better ideas because you won't feel so rushed and number two: you'll give yourself time to save up for big purchases.
For us, our first priority was the living room since it's where we will spend the majority of our non-sleeping time at the house. After that it was the dining room and next up will be our master bedroom.
2. Accept hand-me-downs (after considering these 3 things)
It is possible to incorporate hand-me-down furniture in your new home while still creating a cohesive space, but you're going to have to be a little selective. If your experience is anything like ours, news will spread like wildfire that you are buying your first house and soon even distant relatives, your parents coworkers, and casual acquaintances will be offering up their old furniture to help you get started. While it's such a kind and generous gesture on their part, if you aren't thoughtful about what you accept, you could end up with way too much furniture and not love any of it. Ask yourself these 3 questions:
Is this piece in good working condition?
Does it fit my style and/or can it be modified with new stain, paint, knobs, etc. to work with the design I have in mind?
Can I think of exactly which spot and in which room I would use it?
If you hesitate on answering any of these three questions, there's probably a piece out there that's a better fit for your space. Which leads me to...
3. Add Craigslist to your bookmarks bar
I'm at the point where I can't even count the number of things in my home that I bought off Craigslist. Searching through new listings on CL is a much a part of my daily routine as putting on deodorant or checking my email. You can score absolute gems on Craigslist, but the key is patience and consistency. You may not find what you are looking for the first time on the site, but if you keep checking back over the course of a few weeks, your odds of finding the perfect piece are much better. Don't be afraid to negotiate price and of course, be safe! Research the neighborhood before you go, bring a friend, and try to schedule pick ups in during the daylight hours and in a public place if at all possible. Use your best judgment, if you are at all uncomfortable during your interactions online or in person with a seller, leave the situation immediately.
4. When buying new, ask for a cash discount
While I get the majority of my casegoods (wood pieces) second-hand, there are two things I highly suggest saving up for and buying new: your mattress and your living room sofa. Aside from the obvious sanitary reason for purchasing a mattress new, did you know that the lifespan for most mattresses is only 8 years? Even if your old college mattress still feels semi-comfortable, there's a good chance that it's not giving your spine the proper support that it needs. None of us are getting any younger, so do what you can to avoid unnecessary back aches and discomfort while you still can!
After your mattress, your living room sofa is probably going to get the most use out of any other furniture piece in your home. You don't want to go bottom of the barrel for this purchase or you'll end up with a sagging, uncomfortable sofa by this time next year. When shopping at furniture stores, ask about durability and how many years of use you can expect to get from the different sofa brands they carry. Avoid any 0% interest financing offers and instead ask if they offer a discount if you pay for your purchase with cash or check. It might not be a very big discount, but it will be even easier to relax on that new sofa knowing it is paid for in full.
Related