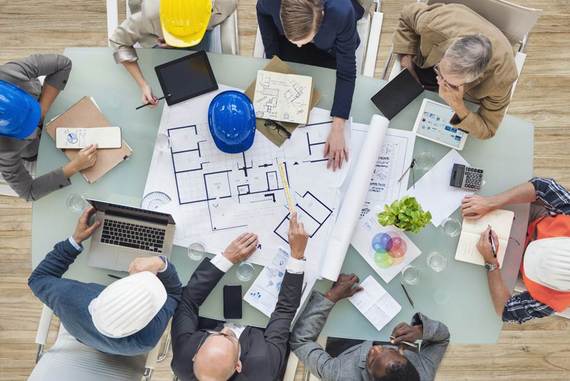 Technology has enabled us to work anywhere and the locations of work have extended beyond the office building, into a variety of public spaces, fundamentally altering how space is used over time, by blurring the boundaries between corporate, retail, hospitality and residential uses. This suggests that we can plan places to be more multi-functional and to re-invent single occupier under-utilized office buildings into intensively used hubs of social connectivity and interaction -- yet only a few places are equipped for this unprecedented demand.
The most significant new players in this field are hotels, many of which are now providing highly developed work related services and workspaces. I had a very productive and inspiring work day this week in the public spaces of Citizen M Hotel.

I was able to concentrate and focus, as well as having a number of productive meetings in wonderfully curated meeting rooms, with all the equipment we needed and an interesting array of artefacts to inspire our creativity. We had a delicious organic lunch outside and caught up on emails in the library before ... going back to the office. Citizen M embraces the idea of taking work out of the workplace by providing expertly designed environments that bring 'style and inspiration to the mobile citizens of the world'. Its popularity highlights the opportunities for real estate developers and corporate office users to rethink the way they use their real estate to help them adapt to changing market conditions faster and often, to stay competitive.
The arguments in favor of more flexible working practices are powerful and here to stay. Findings consistently suggest that workers gain better work life balance, are more productive, can concentrate better and experience reduced stress and commuting times,when they have choice of where and when to work. The environmental benefits of less travel are significant. Flexible ways of working also enable office buildings to be used more intensively, as workspace can be used on a shared, as-needed basis.
From a developer, or owner's perspective, embracing this approach is a way to mitigate the risk of the large scale single use office building, with its reliance on corporate tenants all using space in the same way, with little opportunity for change or diversity in tenant type and patterns of use. Typically, tenants 'uncertain' about the future of their businesses, put pressure on developers to get lower rental per square foot or to take less space, so developers feel that they have no other choice but to throw money at the problem by offering extended rent free periods or a free fit out which result in a spiral of diminishing value.
New ways of supplying and servicing workplace are needed. Assuming an overall reduction in space requirements for office users given intermittent patterns of occupancy and increased sharing of space over time, landlords can plan for less real estate to be better used. This densification approach can be used as part of a wider strategy to make workspaces more valuable and command higher rents by finding new ways of adding value for tenants by activating spaces outside of the four walls of the office that they lease to be used as alternative places to work. This allows the landlord to sweat the real estate asset, provide flexibility to their tenants and in addition, the building itself can become a destination which would not only attract new tenants but also retain them beyond a normal lease period as it would be viewed as a vertical vibrant community.
Unfortunately, the traditional way of providing corporate real estate gets in the way. The typically linear and often prescriptive process of real estate design and delivery allows no opportunities for a co-creative process where stakeholders work together in a genuine way. Instead decisions are made by looking to the past and assume, that tenants require desks for all their people, that the design and furniture procured will be 100 percent perfect for the tenant on Day 1 and will require minimum change over the life of the tenancy. The irony is that usually the tenant requirements are very different by the time of move in from the time of inception and the fixed capital costs and long term leases minimize any opportunity for adaptability and change.

Rather than enabling business agility and employee engagement corporate office buildings become obsolete containers that trap organizations into maintaining old behaviors, waste money and carbon and zap employee energy and creativity.
So how do we ensure that what an organization invests in today will be relevant for tomorrow --how do we best future proof their work environments?
What if... a building was designed for continuous adaptability;
Projects weren't only about "getting it right" on day one;
Tenants never had an 'old' tired space...;
Space could be adapted for business shifts in 'real-time' and be continually re-aligned with core business objectives;
Space was able to be continually informed with real-time metrics;
True sustainability in terms of workspace was able to be directly measured not only as environmental, but also financial, productive, cultural, market competitive;
All these scenarios have a consistent theme; they are dynamic and fluid much like the use of space in cities. Recent 'models' of the workplace; Distributed Working, Hoteling, Tele-Working, Agile Working, etc. are dynamic in principle but primarily relevant to maximise efficiency and cannot deliver the real flexibility unless they embrace a wider real estate context. Developers and landlords need to start thinking of their buildings as vibrant communities and create a new approach to provide optimum (and timeless) versatility and adaptability for new ways of working by shifting traditional ownership and lease constraints to pay as you go, and provide workplace as service.
Some developers are starting to experiment and ThePorter is an interesting model. Thinking of the whole building as a community and leveraging an open platform collaboration of service providers Lend Lease with Haworth x Friends breathed new life into 1 O'Connell in the center of Sydney. The design is aligned and adapted in real time to reflect how organizations actually operate and provides access to shared spaces and amenities within the building as well as being a vibrant destination for the community.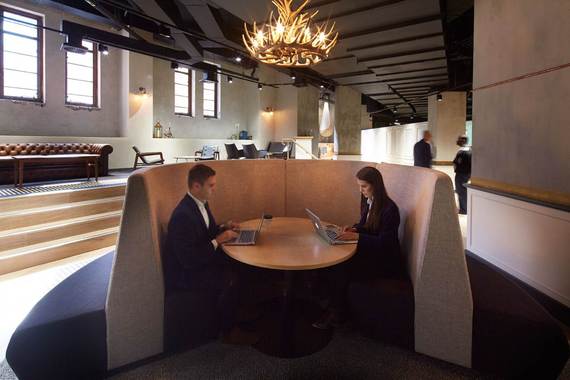 In this shift from owned or leased spaces to space being provided as a service, we see a focus on the experience of work itself and user choice and control over when, where and how work happens. Work is being staged in environments which are dynamic rather than static and adaptable to change as often as work itself changes, by the hour, day and week. Increasingly, workspace will be event driven, a curated experience in which space, tools, and technologies are provided to support the ever changing daily needs of groups and individuals to create the successful conditions of their own work. For larger organizations, this shift may affect only part of their real estate portfolio and some of their workforce; nevertheless, it represents a new dynamic in the real estate market and a big shift in expectations about space and real estate. As with the best public spaces, these new workplaces can stitch together private institutions to provide a sense of place and inspiration which is greater than the sum of its parts.
REAL LIFE. REAL NEWS. REAL VOICES.
Help us tell more of the stories that matter from voices that too often remain unheard.