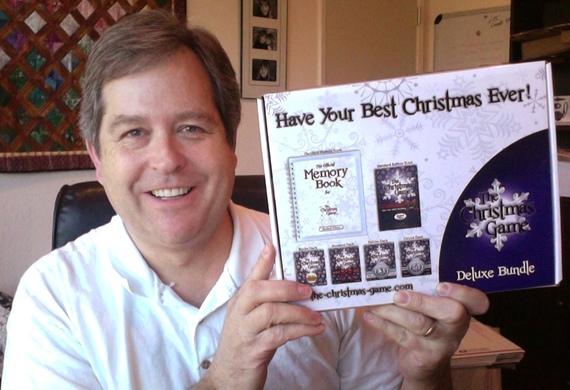 By Shelly Albaum, The Christmas Game
We all have romantic visions of meaningful Christmas celebrations, which are recorded in movies and books about the season. But for many families, real life is often much less satisfying - stress, shopping, opening presents, and suddenly it's over.

Commercialism pressures us to see Christmas as the time when everyone spends money on everyone else. Kids in particular are urged to focus on Santa's big bag of presents and what's waiting for them under the tree.

So one year we did something about it: We invented The Christmas Game, which we sell through our Shopify store.

On Christmas morning, instead of opening presents, we turned over cards that would direct the family to do all kinds of different things - maybe open a present, but other things, too. The kids were suspicious of this proposal, especially when one of the cards told them to go make their beds! But after a day devoted to acts of kindness, togetherness, new family traditions, shared memories, and games, they were hooked.

Shopping and gift giving were no longer central to the celebration, because we spent much more time inventing fun and meaningful ways to spend time together and to help others. Each year, we would audition new cards that might become family traditions: a paper airplane contest, giving surprise gifts to strangers who had to work on Christmas Day, parlor games revived from the 19th century, or picking up litter around the neighborhood.

After a few years, our kids' friends started asking how they could introduce The Christmas Game to their own families. We did a little research and discovered that more than half of the families in the United States had been experimenting with different ways to tame the gift-giving tradition - maybe drawing a name from a hat, or limiting the amount of money that could be spent on a present.

But cutting back on the presents is only half the equation. To make a truly magical Christmas, you have to replace the presents with activities and traditions that bring people together in ways that are fun, meaningful, and memorable.

So we knew that lots of families were searching for something like The Christmas Game.
And we knew those families were evenly distributed all over the country -- perhaps all over the world -- so we would have to sell online, which we did not know anything about.
Then we found Shopify, which made that possible. Shopify was high-powered, easy-to-use, flexible, and would integrate with our website, so we didn't need any software expertise at all to make it work. With ecommerce that easy, there was no reason not to try out the business.

So we designed and printed a beautiful Christmas Game set - much nicer than the index cards we had been playing with - and added an heirloom-quality spiral-bound Memory Book to hold a decade's worth of memories. We figured even if no one in the world liked The Christmas Game, at least our own annual tradition would be much improved!

But people did like it. Early adopters experimented with this new tradition, and success stories began pouring in. One family in Louisiana told us that they were just about to "pull the plug on Christmas," but that The Christmas Game transformed the holiday "from being an exercise in selfishness to a wonderful family day that they all enjoyed for reasons other than what was under the tree." And similar things were happening across the country.
Perhaps ironically, The Christmas Game is not religious, but instead celebrates the universal values common to all religions. So our number one customer request after our first year was to create a Christian version that added some bible-themed activities to the mix. Now families are taking back their holiday, regardless of whether they want to put Christ back in Christmas or just nudge Santa out of the spotlight.

Sales have increased by an order-of-magnitude, and we expect that to continue, as more and more people share their answer to the perennial question: "What are you doing for Christmas this year?"
Marketing is a great challenge. Trying to talk to people about Christmas at Christmas time is like yelling into a jet engine. But using Shopify to sell online ourselves was the right choice. Now we have a small retail outlet, a retail distributor, and we're available on Amazon. But most of our orders are coming through Shopify.
As your family gathers this week, perhaps you'll think of ways to incorporate The Christmas Game into your own family traditions.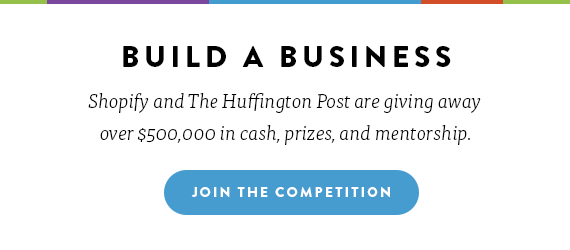 Shelly Albaum, J.D., is a California attorney and has held executive positions at Thomson West, Oxford University Press, and Courtroom Connect. Chiara Bacigalupa, Ph.D., is a professor of Early Childhood Education at Sonoma State University (CSU Sonoma). Chiara and Shelly met as students at U.C. Santa Cruz, and they now live in Sebastopol, California. Their two daughters, Gianna and Toni, who are now students at UC Berkeley and UC Irvine, helped design The Christmas Game.
This year, Shopify's Build A Business Competition is bigger than ever. Shopify is giving away more than $500,000 in cash, prizes and mentorship in its fourth annual competition. Contestants create a store and try to sell the most in their category for a chance to win $50,000 and a VIP trip to NYC to meet their mentor.
Calling all HuffPost superfans!
Sign up for membership to become a founding member and help shape HuffPost's next chapter