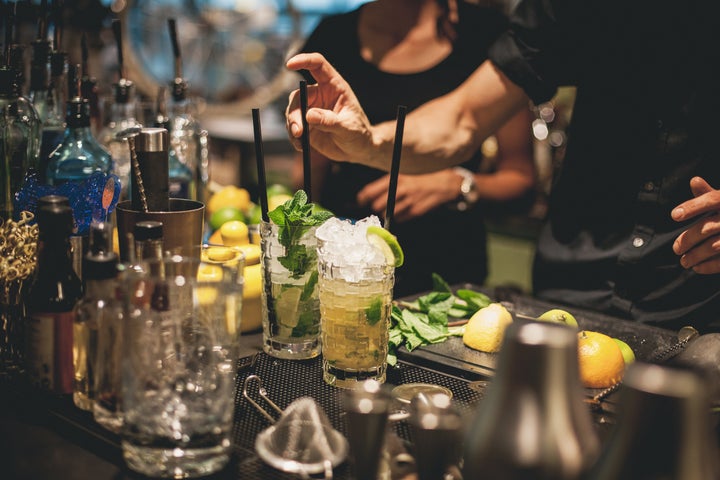 Set the scene: It's most likely dark, crowded and noisy, and all you want is a nice, cold drink. Yep, you're in a bar, and you're hoping to somehow stand out and get the bartender's attention in a sea of thirsty people who want the exact same thing. So how do you do it?
We spoke to two bartenders to get some insight into how to get them to notice you and to learn what makes you a good customer (or a bad customer, of course).
Most of the advice both bartenders offered can be summed up in two words: Be patient. Gita D. has been a bartender off and on for the past 12 1/2 years, working in Los Angeles, California, as well as Florida. She told HuffPost her biggest pet peeve is when customers clearly see she's busy and interrupt her to try and sneak their order in.
"You're running around and sort of talking to yourself ― 'That guy needs a Stella; this guy needs a margarita, an Old-Fashioned and a martini; I need to close the Jones tab,'" she said. "The biggest pet peeve is if someone interjects into that and throws you off track ... assuming that I'm not doing anything, even if I'm clearly standing at the computer."
Will D., 27, is a full-time bartender in Alabama, and he echoed Gita's sentiments.
"You aren't the only person we're taking care of," he said. "Yes, you are important to us, but allow us to distribute our time with other guests when talking or even when asking for more things."
If you want to grab the bartender's attention, Will said "a simple wave or eye contact will suffice." Gita also suggested eye contact, but she added that staying off your phone and having your cash or card ready to go can help.
"If you're ordering drinks for more than just yourself, have them all prepared. Know what your friends want to drink," she said. "If you've got a credit card or you've got cash, that's a signal that you want to order something. If you have it out, in your hand, ready to go, that's my best signal."
As for tipping, both bartenders said 20 percent is the standard. Will told HuffPost some customers will leave $1 per drink for smaller orders, which usually suffices. Gita suggested that before tipping, consider the style of the bar and the complexity of your drink.
"If you're at a fancier place, and it takes four minutes to construct your drink, depending on the quality of the drink and the style of the bartender you may want to throw them an extra buck, or two or three," she said.
Bartenders are, after all, only human, and they can help you out when you're in a bind.
"I can't tell you how many times I've been yelled or cursed at for making a very minor mistake at work and how much that affects my attitude for the rest of the shift," Will said. "Be mindful of how you talk to us!"
And bartenders are often excellent resources for things other than your delicious drinks.
"If you're getting too drunk, ask your bartender to call you a cab. That's what we're there for," Gita said. "If you're on a really bad date, let your bartender know ― sometimes you want to get away from [the date], sometimes you're scared for your safety."
She added later, "Our job is to help you loosen up ... we're a part of the party, and it's a fun gig to have."