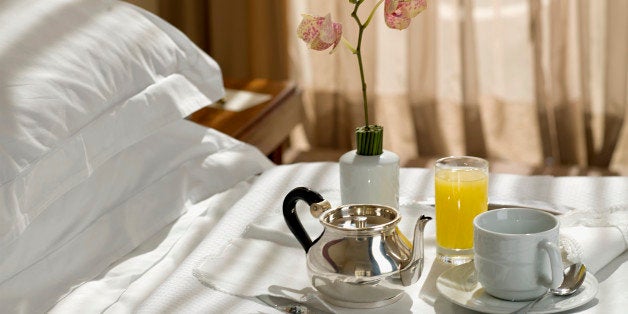 One of the most common questions Travelzoo Deal Experts are asked by friends and family is "How can I get a free upgrade at a hotel when I'm on vacation?" We've found there's no exact science to the art of asking, but here is some advice to consider:
1. First and foremost, use your manners: For all the suggestions below, and especially for those bold enough to just straight-up ask for an upgrade, niceness is the best policy. (This is also a good reminder for all travelers.) Front desk employees work long hours, often including shifts at night and over the weekend. Seasoned travelers will tell you that the front desk employees literally hold the keys to bigger rooms, ones with more windows, locations farther from the elevators, places on the corner and many other common requests. Make your mom proud by remembering your pleases and thank yous.
2. Be loyal: Joining hotel loyalty programs brings all sorts of perks to guests who stay frequently and by enrolling ahead of time could actually help your chance of bumping up to a higher room category. It's in a hotel chain's best interest to keep their most frequent guests happy, and oftentimes it's not a great expense for them to upgrade the guests if an inquiry is made. Also, if you have a brand's credit card, be sure to use it if you can at check-in. Travelzoo Tip: Be sure to have your account number ready for the front desk or the correct email address with which you registered. Make it as easy as possible for the front desk employee should they be so inclined to give you that empty suite.
3. Tardiness may pay: Looking for a free hotel upgrade is one of the few instances in which the early bird will (probably) not get the worm. The later in the afternoon or evening, the better sense the front desk will have about the occupancy for that night or the next few days. Last-minute travelers or even staycationers could cut into a hotel's open room inventory. But by checking in later in the day, the numbers for that evening will be more firm and there may be more room to negotiate.
4. Try out the new kids on the block: Because so many travelers are brand loyal (see Tip No. 2), it can negatively affect recently opened hotels trying to lure new and repeat guests. When guests book at new properties that want to grow a dedicated fan base, those hotels may be more willing to offer upgrades to get people talking about their property and accommodating staff as well as in hopes of getting some repeat business in the future.
5. Make the initial investment: Paying a little more upfront may translate to big savings later on. Some travelers have found that booking a mid-range room, at least one step above the basic room type, can result in front desk employees being more open to upgrading them further. If a room is booked at a very low price, a hotel isn't making as much money as a stay in a higher room category. Travelers serious about looking for an upgrade should consider spending more in the beginning. Travelzoo Tip: Each week our Top 20 newsletter contains hotel deals including a variety of room types and upsells to suites.
6. You say it's your birthday: We do not condone making up a special occasion, but if it is one -- anniversaries, birthdays, etc. -- by all means say so. Who wouldn't want to add to the merriment, if possible?
7. Shhhh: Because there may not be enough to go around, here's a small piece of advice: try not to ask for an upgrade around other guests. Front desk employees will not want to start a chain reaction, so play it smart (or very quiet) when inquiring about upgrades
Hilary Solan is based in Chicago. Travelzoo has 250 deal experts from around the world who rigorously research, evaluate and test thousands of deals to find those with true value.