For BRIDES, by Elizabeth Mitchell.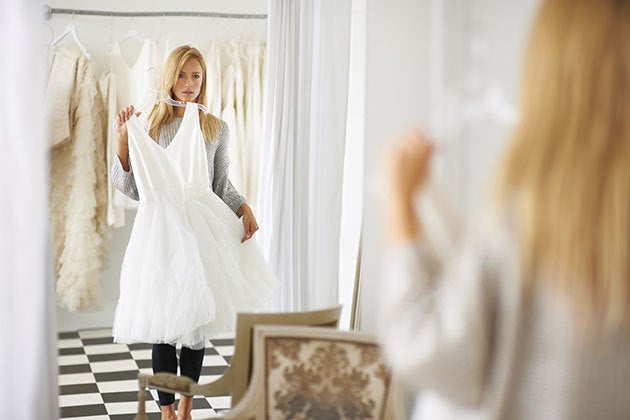 If you're like us, you're always on the hunt for a good deal. And when it comes to your wedding, the more money you can save (without sacrificing style of course), the better, right? We certainly think so. Of course, one of the most important elements of your big day, the wedding dress, is likely to set you back. Fortunately, we've got the inside scoop on how to score a sick deal on the wedding dress of your dreams, courtesy of a few fab bridal salon owners and experts who so graciously let us pick their brains. Here, their tips for getting the best bang for your buck when it comes to your wedding dress.
Shop trunk shows Stalk your favorite bridal designer on social media to find out where they might be having a pop up trunk show in your area, suggests Lacy Pool, buyer and stylist for Serendipity Bridal in Austin. "Typically, boutiques will extend a discount and often offer free customizations at these, such as true to fit length. This will save you some serious coin with dress alterations." Lace and embroidered or beaded trim can cost up to $600 to hem, she notes, so if you have the opportunity to cash in on this added bonus during a trunk show, definitely take advantage.
Hit up end of season and sample sales Divisional Merchandise Manager for Bridal, Lingerie and Flower Girl at David's Bridal, Lori Conley, tells us one way brides can score a great deal on their dream gown is by shopping end of season styles. "Retailers are looking to make room for their next collection of gowns and will often discount previous season's looks at a high percentage of the ticket price." Another way to keep your dream dress under budget is to hit as many sample sales at your favorite stores as you can, says Pool. "Don't worry if you're not sample size. Anything too big can always be taken in, and if you're a bit curvier than the sample, creative seamstresses can work magic by adding fabric, corset backs and other simple solutions to get a great fit!"
Buy during summertime Psst! We'll let you in on a little secret brides-to-be — did you know that sample sales are seasonally timed in the summer, which is traditionally a bridal shop's slowest period? According to Malinda Macari, owner of Your Dream Bridal in Sudbury, MA, it's true. "Be strategic as to when you buy your dress to take advantage of these discounted collections," she advises.
See if you can purchase the sample Many stores will sell you their sample piece off the floor, and sometimes at a discount, reveals Carrie Huyett, Designer and Owner of Carrie's Bridal Collection. "This helps the store move inventory, and you could get a great deal. It also saves you on shipping costs and rush fees." Speaking of rush fees, she urges brides to always order at least 6-8 months in advance, at a minimum. "If you wait too long, most designers and retailers add on extra costs."
Can't snag a dress deal? Consider renting your accessories Sometimes, no matter how hard you try, you simply can't get a decent deal on the wedding dress of your dreams. However, you can cut back in other areas, like the accessories for your gown (which you should calculate into your dress budget anyway). As opposed to purchasing, consider renting items like the veil, jewelry, or a chic headpiece, suggests Brittany Haas, CEO and Founder of Happily Ever Borrowed. That way, you have more wiggle room in your budget to splurge on the dress.
Rent the dress or buy it secondhand Get last season's look for way less by either renting your dream wedding dress or purchasing it secondhand (AKA nearly new since it's only been worn once, right?). "Sites like Borrowing Magnolia, Nearly Newlywed and PreOwnedWeddingDresses.com all offer fabulous deals on bridal gowns," notes Haas.